CHICAGO — Loretto Hospital's board of directors has stuck by two of the hospital's embattled executives as they face controversy over the West Side hospital vaccinating ineligible people at Trump Tower, at a ritzy Gold Coast business and in the suburbs.
The board met Monday after Block Club reported on how the hospital vaccinated ineligible people at a luxury Gold Coast watch and jewelry store where Loretto's chief operating officer, Dr. Anosh Ahmed, is a high-spending customer. Afterward, a Loretto spokeswoman said the board "has decided not to issue a statement. They have developed a corrective action plan and stand by the statement that was issued on Friday."
But what punishments, if any, have come to Miller and Ahmed have remained secret.
The hospital's board met Friday. Afterward, in a statement, members said they had taken "appropriate actions of reprimand against Miller and Ahmed for their role in the mistakes of judgment." State Rep. LaShawn Ford and state Sen. Kimberly Lightford, who are members of the board, declined to comment on how Miller and Ahmed were punished.
Ahmed has donated at least $12,000 to election efforts for Ford, and Miller has donated at least $2,500 to a political fund run by Lightford, a public database shows.
When asked about Loretto's "corrective action plan" Monday, the hospital's spokeswoman said she had no additional information. Ford and Lightford did not respond to repeated requests for comment Monday.
The hospital and its leaders have faced heavy criticism from city officials, who said they lost the trust of the community they are meant to serve and let people they know cut the vaccine line instead of prioritizing residents of the West Side, which has been hit hard by the pandemic.
The city's health department is investigating Loretto to determine if it's been properly vaccinating people and reporting those vaccinations. The health department has cut off Loretto's supply of vaccine doses until it's confident the hospital is following city rules.
"I fear that we're gonna hear more stories, which is why we pushed 'pause' on giving Loretto more doses," Mayor Lori Lightfoot said Monday. "They've got work to do I think to rebuild trust in their own community. … We have already put plans together for other providers to kind of take up the work that Loretto was doing. But clearly they've got to have better systems in place, better controls.
"I don't expect them to be coming back online anytime soon. … But it's unfortunate that it's come to this."
The investigation started after Block Club reported on ineligible workers getting shots at Trump Tower, where multiple hospital leaders — including Ahmed — live. The criticism intensified after Block Club reported Ahmed had told people he vaccinated millionaire Eric Trump. He later claimed he was joking.
Ineligible Cook County judges were also offered shots at Loretto, according to a WBEZ report.
On Friday, Block Club reported shots were also administered to more than 200 members of the suburban church attended by Miller, who is also longtime friends with the church's leader.
And on Monday, Block Club reported that Loretto also vaccinated ineligible people at a luxury Gold Coast jewelry and watch shop, Geneva Seal, where Ahmed is a frequent customer.
The city's health department does not feel comfortable providing doses to Loretto given the controversies, its commissioner, Dr. Allison Arwady, told reporters Friday. She said her "biggest concern" is the hospital was vaccinating people who aren't eligible — but she is also concerned officials prioritizes vaccines for people "who were well-connected, really letting them jump the line."
"It's disappointing where providers that we are prioritizing are not choosing to really live by the mission [of] their organization, and I think it seems that was the case here," Arwady said.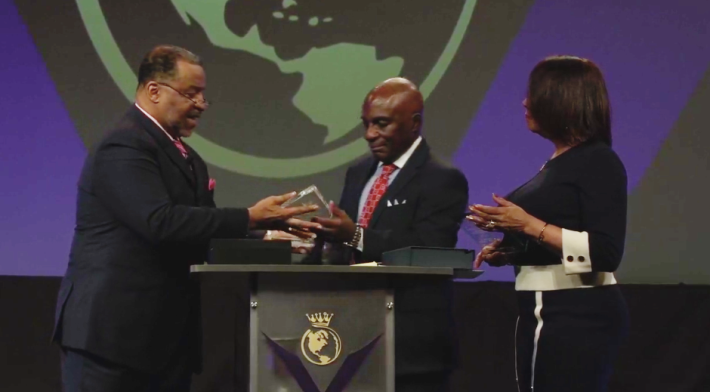 The Loretto Board of Directors is conducting an audit of all off-site vaccination events, and it will share its findings with the Mayor's Office and Chicago Department of Public Health, the hospital's spokeswoman said. 
Loretto Hospital is a small, 122-bed hospital that operates on the underserved West Side, where people of color have been hit hard by coronavirus and few people have been vaccinated. Trump Tower and Geneva Seal are in the Downtown area, where the virus's impact has not been felt as much — but where more vaccinations have been done.
The city has highlighted Loretto's work as an example of its goal of equitably vaccinating people — even insisting on having the city's first vaccine doses administered there to show how Chicago would prioritize West and South side communities that are often ignored.
But the hospital is now shrouded in controversy.
A Loretto Hospital staff member — who asked to remain anonymous because they fear retaliation — said the controversies are "infuriating" because "people are calling every day, waiting in line to get vaccinated" on the West Side.
The staff member said West Side residents — already under-vaccinated but disproportionately affected by COVID-19 compared to the rest of the city — are effectively being punished by having their supply of vaccine doses cut off because the hospital's leaders broke vaccination rules by steering doses to ineligible people who don't live in the area.
On Monday, that staff member said many of their coworkers at Loretto are "frustrated" and questioning how anyone at the hospital can be held accountable. The board should have fired Miller and Ahmed, the staff member said.
"We sort of have lost trust in the leadership at Loretto Hospital. We've lost trust in the board," the staff member said. "It seems very, very corrupt, and it seems like their self-interests are much more important to them than serving the West Side of Chicago, which so many of us are passionate about, and so many of us are at the hospital for this reason."
The staff member said there is "very little accountability" at Loretto, and the board's decision hurts the hospital, its employees and its patients by damaging Loretto's reputation. The board has not addressed staff members, the employee said.
"I as well as many of my coworkers are frustrated, and I think Loretto has held many town halls over the recent months about the vaccine, and Mr. Miller always talks about how he and Dr. Ahmed got the vaccine on TV because leadership is as leadership does," the staff member said. "But if this is what leadership does — can we just do whatever we want?
"Why should I work for or trust an organization that fails to hold its leaders accountable?"
RELATED COVERAGE
Luxury Gold Coast Watch Shop That Got Improper Vaccinations Has Very Important Customer: A Loretto Hospital Executive
Loretto Hospital Execs Reprimanded For Going Rogue After Letting 'Well-Connected' People Skip Vaccine Line
Loretto Hospital Vaccinated CEO's Suburban Church — While West Siders Were Calling Daily For Shots
Vaccine Doses Not Being Sent To Loretto Until City Can 'Confirm' It's Vaccinating, Reporting People Properly
City Won't Give Vaccines To Hospitals That Let People Cut In Line, Lightfoot Warns After Trump Tower Controversy
Cook County Judges, Spouses Were Given Chance To Be Vaccinated At Loretto Hospital, Report Says
Chicago Hospital Executive Bragged About Vaccinating Eric Trump On Day His Hospital Vaccinated Workers At Trump Tower
Improper Vaccinations At Trump Tower Disappointing, Mayor Says As She Vows City Will 'Dig Deeper' To Verify West Side Hospital's Story
Chicago Hospital Executive Bragged About Vaccinating Eric Trump On Day His Hospital Vaccinated Workers At Trump Tower
Trump Tower Workers Got Vaccines From West Side Hospital — Whose COO Owns A Condo In Luxury Highrise
Trump Tower Vaccinated Staff At Luxury Hotel, Saying It Was Part Of Program Meant To Help Hard-Hit South And West Sides
Block Club Chicago's coronavirus coverage is free for all readers. Block Club is an independent, 501(c)(3), journalist-run newsroom.
Subscribe to Block Club Chicago. Every dime we make funds reporting from Chicago's neighborhoods.
Already subscribe? Click here to support Block Club with a tax-deductible donation.