WEST LOOP — The melting snow left behind a dog poop mess on Chicago sidewalks and lawns, and a group of West Loop neighbors are now taking matters into their own hands.
The neighbors organized an effort to hang dog poop bag dispensers around the West Loop. Dispensers are attached to signs thanking people for picking up after their dogs. They've placed on fences and outside businesses and condo buildings.
Resident Julie Darling got the grassroots effort started after noticing an uptick in people not picking up after their pups.
"The idea is to offer a solution instead of depending on somebody else or depending on the city when the city has so many bigger things to take care of right now," Darling said.
Last week, Darling reached out to Pet Care Plus, a dog training, daycare and boarding facility at 350 N. Laflin St., to help resolve some of the poop problems being talked about on neighborhood Facebook pages.
They settled on a sign with dog waste bag dispensers. After gauging interest on neighborhood Facebook page Real West Loop, Darling said the initiative took off with many people offering to help.
Over a span of a few days, 30 condo buildings and businesses have committed to hanging the signs on their fences and others offered up donations, said Holly Marusarz-Narvaez, Pet Care Plus director of operations.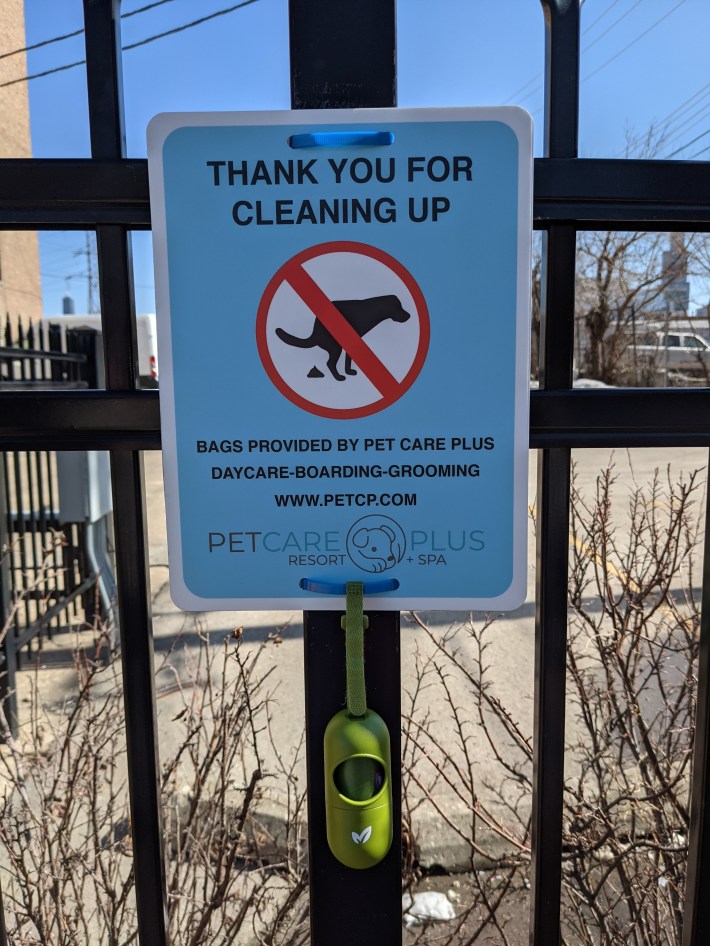 So far, Pet Care Plus has put up 18 signs across the neighborhood and will add 12 more once condo associations give the green light at places where residents have expressed interest, Marusarz-Narvaez said.
Pet Care Plus is donating the signs, equipment to hang the signs, dog poop dispensers and bag refills. Some neighbors will help restock the sites, while Pet Care Plus staff will check the other sites a few times a week to make sure they aren't empty, Marusarz-Narvaez said.
In a short amount of time, neighbors from other parts of the city including Noble Square, Ukrainian Village and South Loop have expressed interest in the initiative to keep areas clean, Marusarz-Narvaez said.
"We are hoping that people will get away from the excuse that they didn't have a bag with them," Marusarz-Narvaez said.
"In a perfect world, we would like to have them on every block. In the meantime, we are hoping people get excited to hang them on their facility and we can keep expanding," Marusarz-Narvaez said.
After winter snow melts away, there always seems to be a dog poop problem but "not to this degree," Marusarz-Narvaez said. "It's really bad this year."
In addition to it being a source of frustration, Marusarz-Narvaez said if there's a dog infected with a parasite of some sort and another dog passes through that could be susceptible to an illness.  
"There's a big health concern behind it. … It's a lot bigger problem than just there's poop on the ground," Marusarz-Narvaez said. "It's a safety hazard."
In 2016, City Council tried to crack down on dog poop on private property. As part of the measure that failed to pass, property owners would have faced citations of $50-$500 if they failed to clean up the excrement. The measure was aimed at soaring rat numbers in the city.
Officials at the Montessori Academy of Chicago hope the free bags will make people think twice before neglecting to pick up after their dogs. The facilities manager at the school near Randolph and Ada streets noticed an exorbitant amount of dog droppings around the school, sidewalk and in their parking lot recently, said school Chief Operating Officer Craig Fitzgerald.
Earlier this month, they posted signs from the aldermen's office and on Monday they posted the signs with the doggie bags, Fitzgerald said.
"We are using every tool in the tool belt to keep the place clean and sanitary. … Hopefully having actual bags will make that much easier to try abide by the rules. It's going to be a work in progress," Fitzgerald said.
West Loop dog owner Linda Grogan, who helped with the initiative, doesn't want waste left behind to reflect badly on dogs and other dog owners.
"Every dog owner has walked out the door without a bag. What these bags are there for are emergencies," Grogan said. "We aren't trying to shame people. We've all been there. It's a resource for when you are in a pinch and forget your bags."
Subscribe to Block Club Chicago. Every dime we make funds reporting from Chicago's neighborhoods.
Already subscribe? Click here to support Block Club with a tax-deductible donation.