BUCKTOWN — Neighbors are raising money for renovations to Ehrler Park in Bucktown, where local park leaders say the old playground is dangerous.
Park advisory council member Dan Sandler is spearheading a GoFundMe fundraiser to raise money for the renovations. The park at 2230 W. Cortland St. has not been renovated since 2002.
Because lot sizes in Bucktown are relatively small compared to other neighborhoods, the park adds a lot of value to the community, Sandler said.
"Lot sizes in Bucktown are usually 25 by 100 for single family homes. That doesn't leave a lot of outdoor space in your own yard," he said. "[Besides] rooftop decks … all we have are parks and our public spaces. We want them to be nice for everybody."
While final designs will be fielded by neighbors during future community meetings, the council's early ideas include:
Replace surface tiles, which are coming up — "Kids run and trip very easily," Sandler said
Update equipment to include pieces suitable for older children
Replace sandboxes
Install a turf field
Replace muddied grass areas
Create an area for adults, such as a bocce court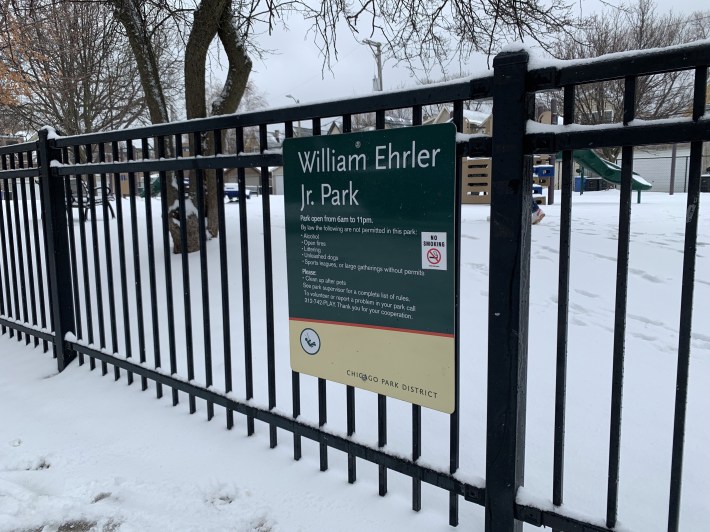 Including a contribution from Ald. Scott Waguespack (32nd), the council has raised around $180,000, Sandler said. He hopes to get that number to $200,000 in the next month.
The Chicago Park District committed to providing an additional $100,000, spokeswoman Michele Lemons said in an email.
With a total of $300,000, Sandler said the council could knock out a few of the planned renovations, but he hopes to raise even more money — and find community partners willing to help.
The artificial turf, for example, is estimated to cost around $100,000. If a neighborhood developer would donate and install the turf, the council could afford more new park equipment, Sandler said.
If the council can meet its fundraising goal in the next month, Sandler said neighbors can get the ball rolling with community feedback meetings. Then, he said, construction could hopefully begin after the summer.
The goal is to have the renovations done by summer 2022, Sandler said. Because of the pandemic, the park was closed last summer, and the council does not want the park to be closed this summer, Sandler added.
The Chicago Park District established what was then known as Cortland and Oakley Park on city-owned property in 1964, according to the park district's website. A decade later, the park was renamed to Daisy Park as part of a citywide program to name parks for trees and plants.
The Bucktown Community Organization asked the park district in 1989 to rename the park for late Bucktown resident William J. Ehrler Jr. (1944-1988). A computer analyst for the Chicago Transit Authority, Ehrler led the Holstein Park Advisory Council and the Bucktown Artsfest.
Soon after renaming the site, the park district built a new playground. Ornamental iron fencing along Cortland Street was added in 1998.
Neighbors in 2019 raised money to renovate Walsh Park, 1722 N. Ashland Ave., on the eastern edge of Bucktown. Neighbors are also raising money to update the Churchill Dog Park, 1825 N. Damen Ave.
RELATED: Bucktown's Brand New Walsh Park Playground Is Complete
Subscribe to Block Club Chicago. Every dime we make funds reporting from Chicago's neighborhoods.
Already subscribe? Click here to support Block Club with a tax-deductible donation.