POLISH TRIANGLE — The 103-year-old Chopin Theatre will survive the pandemic thanks to donations from supporters.
The owners of the theater at 1543 W. Division St. launched a fundraiser last year to help manage monthly operating costs, which total $12,000 and cover a mortgage, insurance, property taxes, utilities and various state and city fees.
Since December, more than 600 people donated over $72,000, ensuring co-owners Lela Dyrkacz and Zygmunt "Ziggy" Dyrkacz can pay their bills despite being unable to generate income at the theater due to coronavirus restrictions.
Many of the donations were accompanied by personal notes, including memories of time spent at Chopin Theatre as a performer or guest.
"It was really overwhelming," Lela Dyrkacz said. "The funds … give us some breathing room. The letters that came with them, the notes and the phone calls, that's what gave us new energy. … We want to thank everyone. We're looking forward to seeing them and we're optimistic, despite everything."
RELATED: 102-Year-Old Chopin Theatre Asks Public For Help Surviving Pandemic
Since Zygmunt Dyrkacz bought Chopin Theatre in 1990, its stages have hosted 2,000 events, from live performances to community meetings to church gatherings. 
Independent theaters and music venues were among the first businesses to close when the coronavirus pandemic swept into Chicago in March 2020 — and they will likely be the last to open, industry experts say. Theaters are now allowed to open, but with capacity limits that would make it difficult for some to cover the costs of opening their doors.
The Dyrkaczes hope to reopen Chopin Theatre by summer, but performers have been hesitant to book shows, Zygmunt Dyrkacz said. Some artists who previously committed to fall dates have already canceled.
Dyrkacz said he's worried about how the longterm closing of theaters will affect society.
Without witnessing and participating in art and debate in person, people are further siloed into their own communities and ideologies, he said. Chicago will lose artists as it loses independent performance venues, he said.
"I think there is an incredible need right now for people to express themselves," he said. "Chicago's greatness … one of the most important values is still the art community. People come to Chicago because there is a critical mass of artists."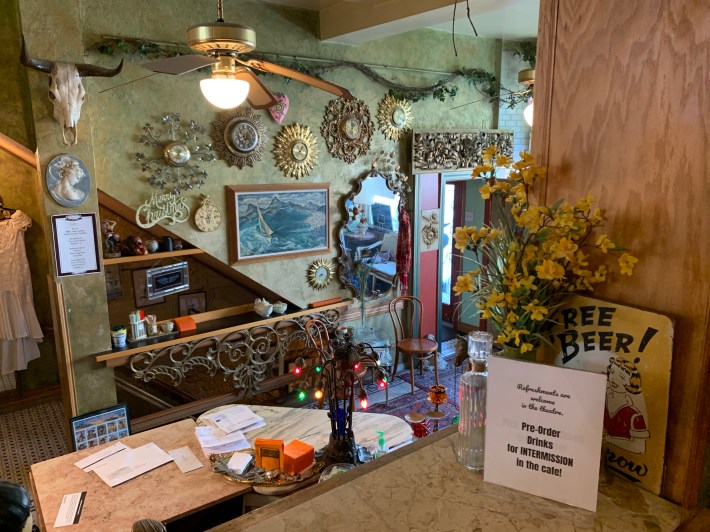 Over A Century Of History In Wicker Park 
Built in March 1918 as the Chopin Theater, the venue changed names a few times before becoming a bank in the 1950s. The facade of the building, designed by architects Worthmann & Steinbach, had bullet holes in it when Dyrkacz bought it. 
Dyrkacz reopened the theater in 1991 during the Around the Coyote Arts Festival, initially calling it "the Gallery" because he was interested in visual arts. A year later, he brought back the original name.
RELATED: 100 Years In Wicker Park: The Chopin Theatre's Revival Brought Elegance To Gritty Polish Triangle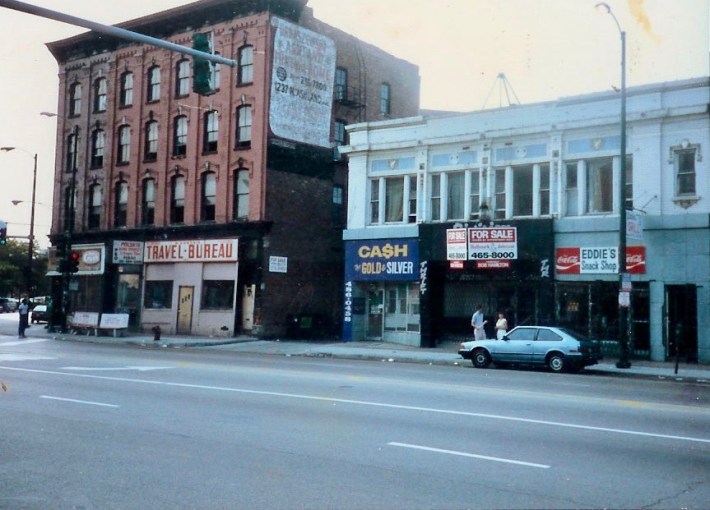 Chopin's second show in November 1991, "Fear and Loathing in Las Vegas," was produced and directed by actor John Cusack, just one of hundreds of performers from dozens of theatrical and musical troupes who've called Chopin home over the past three decades.
The Dyrkaczes spent three decades restoring the building to include the Main Stage, the Cabaret Studio, the Pregnant Buffalo Lounge and a cafe and art gallery. The lobby of the Chopin Theatre is packed with antiques and artwork plus a wine and coffee bar, which is open during performances.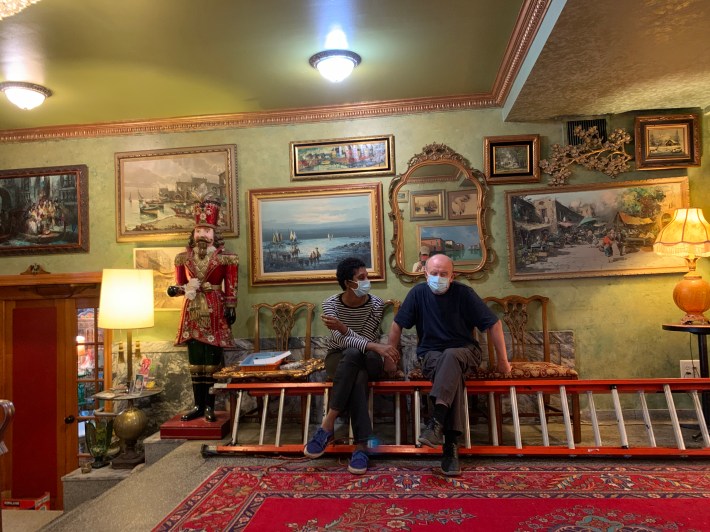 Chopin has presented more than 120 original productions and has hosted performers from all 50 states and from more than 40 countries. The theater's "I-Fest," an international festival of solo performances, brings 17 international artists from Austria, England, Finland, France, Germany, Lithuania, Poland, Russia, Slovenia, Switzerland and Ukraine to Chicago.  
Despite facing financial struggles, the Dyrkaczes gave back to the community during the pandemic.
Before the Nov. 3 election, they invited Chicago artist Mac Blackout to paint a mural outside the theater that said "VOTE." Ahead the holidays, they replaced the deteriorating fountain cover at the Polish Triangle.
In February, artists from Heart & Bone Signs painted a new floral mural that states, "Create your garden." The Dyrkaczes are working with Loyola University to provide Zoom-based classes. They donated old wood from the theater to neighboring restaurant Lawn, whose owner used the wood to build custom tables.
Supporters can still make a tax-deductible donation to the nonprofit theater here. 
Learn more about Chopin Theatre here. Get in touch with Chopin's owners by emailing info@ChopinTheatre.com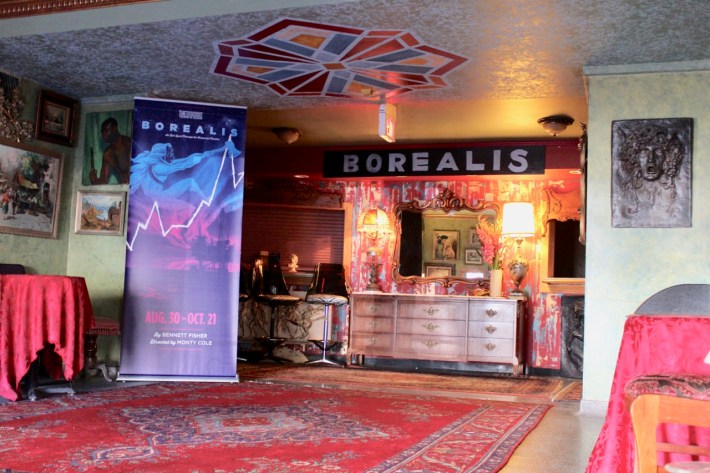 Do stories like this matter to you? Subscribe to Block Club Chicago.  Every dime we make funds reporting from Chicago's neighborhoods. 
Already subscribe? Click here to support Block Club with a tax-deductible donation.