LINCOLN SQUARE — Dozens of neighbors support a volunteer-led effort to install lights at Welles Park for night softball and baseball games — but they also say they are concerned about parking, noise and light pollution.
The Welles Park Parents Association wants to add lights at four of the park's five diamonds. If neighbors support the proposal, the lights could be ready to use by spring 2022.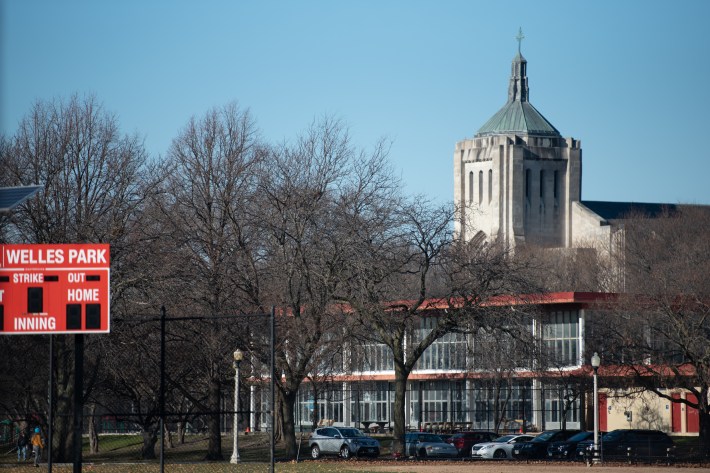 The association was founded in 1990 and serves more than 1,600 kids and teens ages 5-19. Despite hosting games at a half-dozen North Side parks, the association says it still has a yearly waitlist with dozens of children.
Playing games at night could add much-needed capacity for the youth programs. The association estimates the field lights could add about 280 slots during the association's spring season, which runs mid-April to mid-July. The lights would be used for a combination of team practices and games and add two hours of field use each day during the season. 
"My kids have friends who moved into the area later and couldn't get into the league," said Ernesto Cruz, who has coached at Welles for the past seven years. "This will help fix that. And it'll help fix the rain-out makeup problem, which is rough on the kids every season."
The association has offered to foot bill for the installation by fundraising and applying for grants. They estimate it would cost about $600,000. But before it begins any fundraising, association leaders want support from neighbors and local business owners. 
At a Thursday night meeting with more than 150 people, some neighbors were enthusiastic about the proposal.
"Loving this idea. The kids needs it. The community and businesses need it," said neighbor Matt Rich. 
Another neighbor, Chris Grimes, said the noise from the nearby baseball diamond is already overwhelming at his apartment. He said he works from home 50-60 hours per week, sometimes during the evenings, and worries the "hysterical cheering" from parents and players will get worse if with night games.
"During games, [I] can barely hear my TV or phone even with my windows closed," Grimes said.
David Saunders, the association's secretary, and Ross Kerr, president of the association, said they would mitigate the issue by not playing music for players coming to the mound or using microphones. Kerr also urged neighbors to alert him and the association if parents are "acting out of order."
"It's something we take extremely seriously and we tackle it right away," Kerr said. "We've actually removed families from the league in the past … so if that is something that you ever see, day or night, please bring it to my attention right away."
Neighbors also said they were worried about having bright lights activated near their homes late into the night. 
Saunders said vendor Qualite Sports Lighting was selected by the association because of its experience installing LED light systems designed to illuminate targeted areas, reducing light pollution. Additionally, the association's officials said they would set a 9:30 p.m. curfew on practices and games.
"I am torn," neighbor Carmen Valdez said. "I am still seriously concerned about curfew changing in the future as [the] Park District is ultimately in control."
Welles Park Supervisor Becky Kliber said if the lights are installed, they'd only be used for baseball and football activities at the park, and the district would enforce turning them off by 9:30 p.m.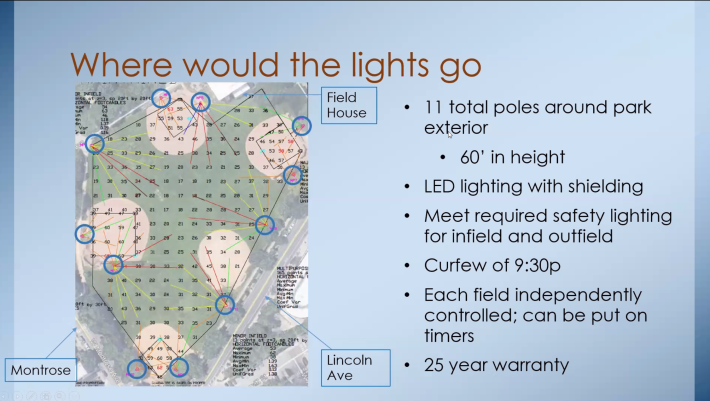 Neighbors were also concerned the added games and practices would add to traffic and parking congestion, and they asked if the association had looked into a traffic study of the area. Saunders said they haven't been able to find a company who would do such an analysis for a nonprofit organization, but they said many families who attend practices and games don't drive because they live near the park where their child plays.
Saunders and Kerr said increased foot traffic around Welles Park during evening practices and games could benefit the neighborhood's businesses. 
The North Center Chamber of Commerce, Lincoln Square Ravenswood Chamber of Commerce, North Center Neighborhood Association and 23 other businesses have said they support the proposal, Saunders said. 
Rudy Flores, executive director of the Lincoln Square Ravenswood group, said the added two hours of evening activity could give local businesses a boost similar to the night market the chamber launched 12 years ago. 
"That's why I think this would be successful for the community. Some of the restaurants that are right there, like Gideon Welles, families are their target audience," Flores said. "And then right across the park L&M Fine Foods is opening a bistro on the corner, which is a great location to be at if the park hosts games later."
For more information about the proposal, visit the association's website. They are asking neighbors to send them feedback at lights@wppachicago.org. 
RELATED:
Lincoln Square Group Wants To Install Lights To Host Night Games In Welles Park
Subscribe to Block Club Chicago. Every dime we make funds reporting from Chicago's neighborhoods.
Already subscribe? Click here to support Block Club with a tax-deductible donation.