CHICAGO — Three aldermen are pushing a proposal to launch a universal basic income pilot-program, sending monthly, no-strings-attached checks to a small group of city residents.
A new measure led by Ald. Gilbert Villegas (36th), Ald. Maria Hadden (49th) and Ald. Sophia King (4th) would take funding from federal grant money and private partnerships among other sources to support the direct payments for residents and families.
Villegas said dollar amounts or the number of people who would receive the money hasn't been decided. He suggested a $500 per month to 5,000 Chicago families for one year, totaling $30 million.
At a Thursday hearing on the issue, Villegas said he wants Mayor Lori Lightfoot to allocate a portion of the $1.9 billion in federal stimulus funds for Chicago for the program to "go towards working people, the people that are struggling on a daily basis." The stimulus is expected to be signed by President Joe Biden this week.
"We have got to get money, cash into people's hands so that we can keep our economy going," Villegas said at a meeting of the city's Committee on Economic, Capital and Technology.
The new round of federal stimulus funding would allow the city to be bold, he added.
"It allows us an opportunity to discuss a pilot and then if we want to expand and make it permanent, and demonstrate to the corporations and philanthropic folks in the city that we've got skin in the game, I think that would allow for the program to become permanent," Villegas said.
A similar pilot program is currently underway in nearby Gary, Ind. In that program, 125 residents making $35,000 or less per year are eligible for $500 monthly payments, no strings attached. Recipients will be chosen though a lottery system, WLS reports.
Some details, including the total investment, are yet to be solidified. After the meeting, Villegas issued a joint-press release with Economic Security For Illinois touting a proposed $50 million investment to make "Chicago home to the nation's largest publicly funded guaranteed income program."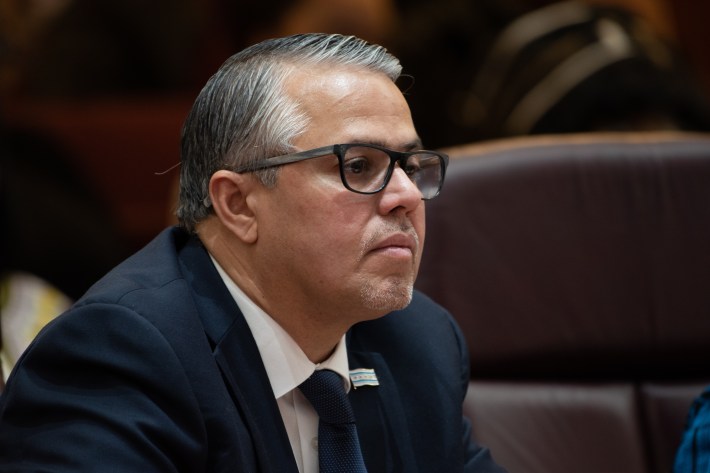 Thursday's hearing included testimony from mayors and city officials from across the country that have launched, or are preparing to launch, similar programs.
Former Stockton, California Mayor Michael Tubbs said the pilot program he launched, sending out $500 monthly checks to 125 people residents was a success.
When preparing for the project, Tubbs said he heard all of the common arguments against such programs: that recipients of $500 a month would stop working, that the money would be spent on drugs and alcohol or that such a direct payment program was "unAmerican."
Tubbs said results from the program showed recipients actually worked more, partly because they were able to take risks that led to full time opportunities. They had more economic security than the general population and rates of depression and stress levels went down.
"A lot of people are stuck where they are, not because of a pathology, but because of a lack of opportunity," Tubbs said. "Because when you're living paycheck to paycheck, you don't have paid time off, so to interview for another job is tantamount to taking a risk that could cost you money" otherwise earned for a day of work.
Officials from Los Angeles, St. Paul, MN and Providence, R.I. also discussed details of their programs. Each is planning to send between $500 to $1,000 to a limited pool of recipients for between one year to 18 months. 
In St. Paul, checks would be directed toward people who faced specific COVID-19-related income loss. In Los Angeles, a pending program is aimed at single-parent households. In Providence, unlike other programs in the country, recipients would be income-eligible up to 200 percent of the federal poverty level.
Tubbs said a program in Chicago would be "special," because of the "place you occupy in the national imagination."
"Folks often times look to Chicago for inspiration, and we also know conservatives look to Chicago as a punching bag," he said. The pilot represents an opportunity "to illustrate that the issue with poverty isn't the people in poverty. The issue with poverty is the structures in place and the policies and lack of opportunities that creates poverty."
Villegas said the measure was personal to him. His father died when he was child and the monthly social security check his mother received allowed her to keep her "dignity" as a working mother, he said.
"That assistance did not go towards offshore accounts, or bank accounts, or fancy expenditures, it went to basic needs," he said. 
Hadden said the costs of living are outpacing what people are able to earn in income. Spending a portion of the federal dollars on the pilot program is an "opportunity to make Chicago stronger" on the other side of the pandemic.
"We need to make the high costs of what we've paid in people's lives, people's economic security, their jobs, their businesses, we need to find some way to take what we've lost, and learn to come out better and stronger," she said.
Villegas said he will introduce an ordinance to launch the program "as early as next month."
"Chicago families and the economy will benefit from the economic boost and stability that guaranteed income would give to our most vulnerable residents," King said. "Simply put, cash is king." 
Do stories like this matter to you? Subscribe to Block Club Chicago. Every dime we make funds reporting from Chicago's neighborhoods.
Already subscribe? Click here to support Block Club with a tax-deductible donation.