BUCKTOWN — A laid-off Bucktown bartender pursued her side hustle during the pandemic — and now has a popular neighborhood business.
Last year, bartender Sara Gronowski launched Just Ask Sara, which provides homemade black truffle popcorn and hot chocolate bombs. This month will mark one year of Gronowski's unemployment from Twin Anchors in Old Town.
Neighbors and area businesses stepped up to support her, Gronowski said, including The Stop Along, TaKorea Cocina, Phodega and Fifty/50.
"The community coming together has been amazing," she said. "It's an awesome feeling. Everybody seems to be really be working together as a team."
Gronowski had bartended at Twin Anchors for 16 years until the coronavirus pandemic hit Chicago. She was laid off March 21, when the stay at home order started.
Though Twin Anchors has reopened for limited dine-in, the bar has been converted into a takeout counter, she said.
Gronowski noticed a friend posting online about "side hustles" this fall. Gronowski has been famous among friends and family for her black truffle popcorn recipe, and she wondered if strangers would be into it, too.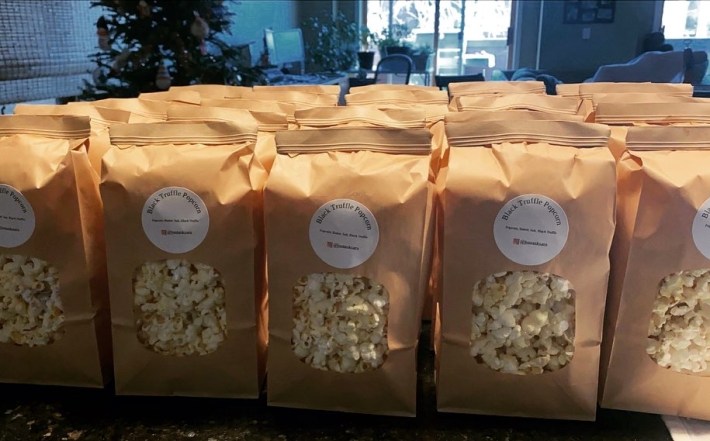 Before Thanksgiving, she posted in a Bucktown neighborhood Facebook group that she planned to mass produce her popcorn, and neighbors should let her know if they wanted to buy some. She received 150 orders in two days.
And neighbors who bought the popcorn came back for more.
Gronowski uses a salt and truffle blend that she imports from Italy, and it's a distinctly different flavor than the bagged truffle popcorn at Trader Joe's.
"It's just got this really rich, certain flavor," she said.
After Thanksgiving, Gronowski's son showed her a video on TikTok of "hot chocolate bombs." Gronowski began making those and sold them to neighbors during Christmas and at a Pilsen market during Valentine's Day.
She's received her certification to produce food products at home and will soon acquire a license to sell her popcorn at farmers markets.
She's taking orders now for St. Patrick's Day Lucky Charms-themed hot chocolate bombs.
"Even though it really sucked being laid off, I do miss everybody … . For now, I kind of turned it around …," she said. "I started a new little career out of this being laid-off deal."
Gronowski encourages neighbors to keep an eye out for other laid-off hospitality workers who are giving their side hustles a go during the pandemic.
"Support your neighbors. Good karma will come to you," she said. "What goes around comes around."
You can buy Gronowski's popcorn at Web Pub, 2026 W. Webster Ave. Or, send Gronowski a message on Instagram to place an order.
Subscribe to Block Club Chicago. Every dime we make funds reporting from Chicago's neighborhoods.
Already subscribe? Click here to support Block Club with a tax-deductible donation.