Editor's note: This article mentions suicide. If you or someone you know is struggling with thoughts of suicide, call the national prevention hotline at 1-800-273-8255.
UKRAINIAN VILLAGE — Restaurateurs and mental health industry groups are teaming up to provide free meals to hospitality workers next week.
The meals will be provided by various restaurants on St. Patrick's Day, which is March 17. The initiative — organized by TaKorea Cocina owner Robert Magiet's nonprofit West Town Feeds, mental health industry group Darkest Before Dawn and community building collective A City United — comes a year after the start to the pandemic.
Participating restaurants include TaKorea Cocina, Fatso's Last Stand, Bartoli's Pizza, The Stop Along, Luella's Southern Chicken, Emerald Isle, Bixi Beer, R Public House and Soul and Smoke.
It was just after St. Patrick's Day weekend that officials shut down indoor service at bars and restaurants due to the quick spread of COVID-19. The stay at home order followed just days after. Restaurants and hospitality workers have been devastated by the pandemic's effects.
"We're just trying to do something nice for our industry friends," Magiet said.
Workers can place an order for a free meal online. Carryout and delivery options will be available Offerings include pizza, tacos burgers, BBQ and more.
Those who wish to donate to the effort can do so here.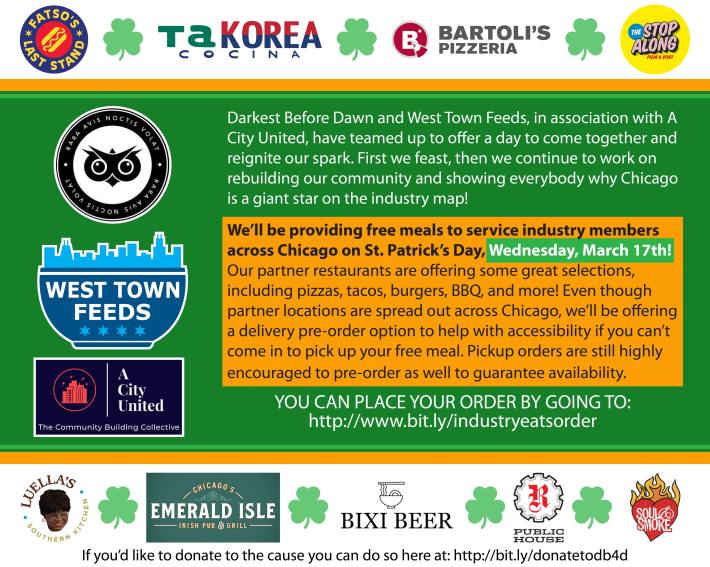 Typically uninsured and working long hours with unstable pay, service industry workers faced unique mental health obstacles going into the pandemic — and coronavirus only heightened these stressors, said Dann Szymczak, co-founder of suicide prevention group Darkest Before Dawn.
"We were supposed to be out of work for two weeks," he said. "It's been a year."
Because of the nature of tips, unemployment benefits for hospitality workers were either unattainable or not representative of a person's true earnings, Szymczak said.
Though restaurants and bars have reopened, the restrictions in place limit the number of people they can serve. And, anecdotally speaking, the customers who are dining out are not tipping as generously as they did pre-pandemic, Szymczak said.
RELATED: Indoor Dining Returning In Chicago, But With Safety Rules, As State Lowers Mitigations
Szymczak's heard stories of customers leaving no tip at all. One customer wrote on a server's check, "get a real job," he said.
"That [may] not be the majority of people out there," he said. "The people going to restaurants and the people indulging themselves [now] tend to be the people who are less understanding of how and what the service industry does."
Many service industry jobs do not come with paid time off or health insurance, so employees are often working through illnesses — mental and physical — to pay their bills. That, too, has been exasperated by the pandemic, Szymczak said.
"It's feast or famine, all the time," Szymczak said. "Depending on the weather, outdoor events … you don't really know week-to-week. It's a very difficult world to budget. A lot of the stressors all come back down to having safety and stability."
RELATED: To Protect Staff From Virus, Some Restaurants Stick To Carryout — But They Face 'Mass Extinction' Without Help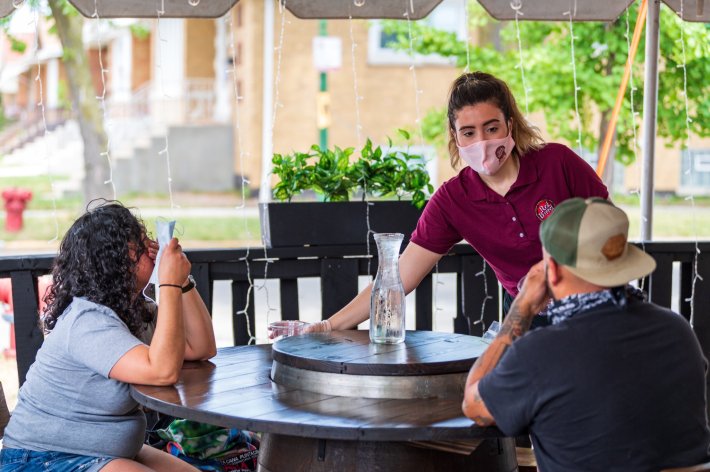 Szymczak co-founded Darkest Before Dawn in 2015 after a close friend from the industry died by suicide.
"My heart in Darkest Before Dawn is a continuation of my promise to my friend," he said. " … The service industry can be a very dark place. We want to find a little light and show there's people who care."
RELATED COVERAGE
This Restaurant Owner Is Buying Out Tamale Vendors To Get Them Out Of The Cold — And Giving Away Food To Those In Need
Chicago Chefs Team Up To Bring Hot Meals To Chicagoans Experiencing Homelessness
After Providing 1,300 Thanksgiving Meals, West Town Restaurants Plan Christmas Meal Giveaway
Block Club Chicago's coronavirus coverage is free for all readers. Block Club is an independent, 501(c)(3), journalist-run newsroom.
Subscribe to Block Club Chicago. Every dime we make funds reporting from Chicago's neighborhoods.
Already subscribe? Click here to support Block Club with a tax-deductible donation.