OLD IRVING PARK — The effort to rename a Northwest Side park in honor of a German and Jewish writer who was killed in the Holocaust is gaining international support — including from one of her relatives, who lives thousands of miles away. 
Late last year, neighbors began a campaign to rededicate Kolmar Park, 4143 N. Kolmar Ave. in Old Irving Park, in honor of poet Gertrud Kolmar. Kolmar was born in Berlin in 1894 and died in the Auschwitz concentration camp in March 1943. She wrote more than 450 poems, two short novels, short stories and other writings, continuing her work even while persecuted by the Nazis before and during World War II.
The park is named for the street on which it sits. Kolmar Avenue got its name from a town on the border of France and Germany, according to the Chicago Park District website. Kolmar was the name of two towns in Germany, but after World War I changed the borders in 1919, the towns separated and now have different names. 
After Block Club reported on the rededication effort, Kolmar's great-nephew, Paul Chodziesner, who lives in Australia, reached out to express his gratitude for the neighbors' work. He said he hopes it will keep his family history alive and teach younger generations about the Holocaust's ramifications on families.
"I'm passionate about [the Holocaust's] impact on families and our lives," Chodziesner said. It "not only took the lives of millions, but also reduced the family lines such that large families with many potential branches were reduced and many disappeared forever."
Chodziesner said he received Block Club story's from distant relatives in Germany and sent it to his cousin in Brazil. He has since sent a letter supporting the renaming to Michael Kelly, Chicago Park District general superintendent. 
The neighborhood effort has received backing from dozens of residents and organizations, including State Sen. Sara Feigenholtz, who advocates teaching the Holocaust in schools; State Rep. Jaime Andrade; the Illinois Holocaust Museum and the Auschwitz-Birkenau Memorial and Museum in Poland. 
Neighbors also started an online petition with signatories from Chicago, Canada, Germany, England and Belgium. 
Dank Haus, the German American cultural center in Lincoln Square, has offered to co-sponsor an educational component while the Old Irving Park Association has set aside more than $1,000 to pay for a plaque should the renaming be approved.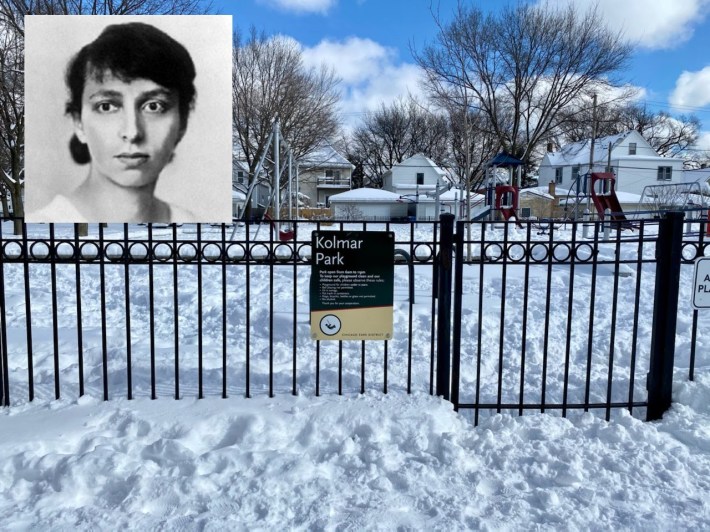 Keeping Chodziesner Family History Alive
Gertrud Kolmar, born Gertrud Käthe Chodziesner, was the eldest of four children and the only one of her family to remain in Berlin as Nazis persecuted Jewish people before and during World War II. Her Chodziesner family members settled in various countries, including Australia, Switzerland and Chile.
Kolmar was the poet's pen name, but she legally kept her family name, which originates from the Polish town of Chodzież. It is believed she changed her name to a more German-sounding pseudonym for her literary work but one that still honored her Polish roots, as the German name for Chodzież is Kolmar, Paul Chodziesner said. 
"A lot of people think she got the name from the German town, but Chodzież was renamed Kolmar after it was invaded by the Germans — that's the urban myth where we believe she got the name from," he said.
Paul Chodziesner is one of the only members of the Chodziesner family still living, along with his brother, his sister and his father's 88-year-old cousin, who lives in Brazil. 
Chodziesner's grandfather, Georg, was Kolmar's only brother. He had one son, Wolfgang "Ben" Benno, Chodziesner's father.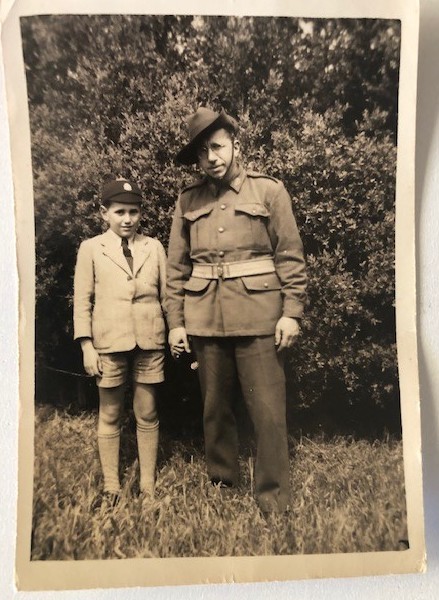 Georg Chodziesner died in 1981 and Ben Chodziesner died in 2018. Ben Chodziesner went back to his home country in the '90s for the first time since the Holocaust, and went again with his sons over the years. In 2010, the family traveled to Weimar, Germany, for a symposium on Kolmar's works.
In a video interview from the symposium, Ben Chodziesner said the event opened up his understanding of his own family and the interest in Kolmar from other parts of the world.
"It has been a powerful demonstration of how many learned people are researching her work and allowing it to be more readily available to the general public," he said. 
Since his father's death, Paul Chodziesner has learned more about his family history and the effects the Holocaust had on his relatives. He said he has also learned about Kolmar's work, mostly through literature, biographies and the little memories his father and grandfather shared with him.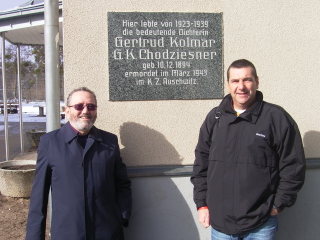 "Gertrud was an amazingly talented poet and was very caring and sacrificed many things for her family," Chodziesner said. "I don't have a poetry bone in my body, but in some ways, her work gives you a vision of what she was like as a person." 
Kolmar published three poetry collections during her lifetime, which primarily depicted the experiences of women as mothers, childless women, lovers, mourners, travelers and the persecuted. 
Although Kolmar was not well-known during her time, her poetry and literary works have been likened to that of famous poet Emily Dickinson. Only after her death and in the aftermath of the Holocaust has her work and influence been celebrated in Germany. 
Berlin renamed a street in her honor, steps away from the Memorial to the Murdered Jews of Europe. The original family home in Finkenkrug, a small town west of Berlin that is now a kindergarten, has a plaque to remember her and the Chodziesner family.
'There Are People In The Future Who Will Hear You'
The local effort to rededicate Kolmar Park would spread the poet's work internationally and keep her alive for future generations, Chodziesner said. 
If it gets approved, Chodziesner said he would come to Chicago to celebrate the rededication and see the park, provided the pandemic wanes enough to allow safe travel. 
"I wouldn't think twice about it. I'd definitely come and represent the family," he said. "I think if dad was still around, he would have, too." 
Merry Marwig, who lives near the park and is a board member of the Old Irving Park Association, is spearheading the effort. When news reached her about Chodziesner's support and his desire to be involved, she said it "blew her mind." She said she did not know Kolmar had any living relatives. 
"I got teary-eyed and it touched my heart," Marwig said. "What came to mind was that Gertrud Kolmar's voice still resonates today. She's been gone for 78 years, but the words she wrote down are still reverberating. How beautiful that she has inspired generations after her to keep her legacy going."
Marwig said she hopes all the international support to rededicate the park shows the Chicago Park District how much it means to so many people. She hopes the honor will be approved in time for neighbors to organize a summer celebration.
A Park District spokesperson said the application for renaming Kolmar Park was received and the board is reviewing the decision.
Marwig said Chodziesner's willingness to share his family history is exactly why she wants to help locals learn about the past. Documenting history in this way can bring better awareness and hope for the future, she said.
"Telling those detailed histories of his family through documentation [and] continuing education to this aspect [will ensure] a lot of people know Gertrud's story," she said. "There are people in the future who will hear you even if you are not being heard at the moment."
Do stories like this matter to you? Subscribe to Block Club Chicago. Every dime we make funds reporting from Chicago's neighborhoods.
Already subscribe? Click here to support Block Club with a tax-deductible donation.