ROGERS PARK — An empty and fire-damaged property on Morse Avenue has been an annoyance for some neighbors, but not all are on board with a proposal to divide the lot and build two homes.
Developer Ilya Pisarenko is seeking a zoning change to build two homes at 1952 W. Morse Ave., which now contains a three-unit home and a rear coach house. The existing home is vacant. Its previous use as an apartment building did not conform to zoning codes. Its coach house was badly damaged in a 2019 fire.
Pisarenko plans to demolish the existing structures, divide the double-wide Morse property and build two single-family homes. He wants a zoning change that would allow him to build closer to the property lines than is currently permitted in the area.
The plan would alleviate the issue of having a fire-damaged house there. But the modern homes could crowd a leafy part of Rogers Park filled with old homes on double-wide lots, neighbors said at a community meeting Tuesday.
Like many of the remaining properties on the block, the home at 1952 W. Morse Ave. was built as a single-family home but has operated as three units plus a coach house since the '60s, said Ellen Baren, a neighbor and real estate agent who sold the house to the developer.
But the house was never properly zoned for apartments, officials said. It is unknown how long it has sat vacant.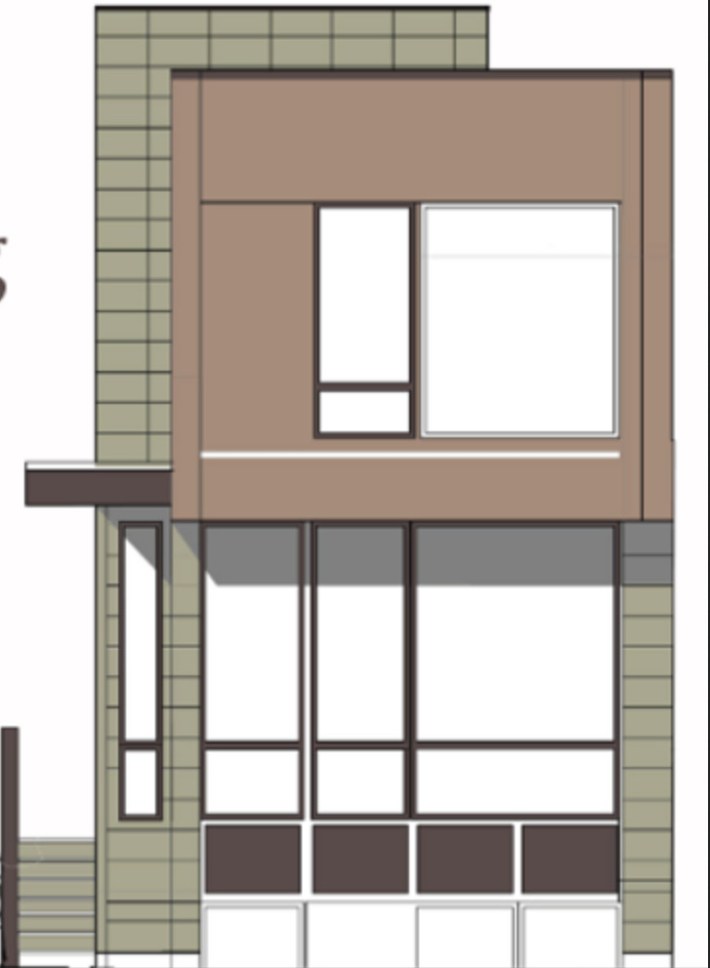 Pisarenko bought the property in 2018 for $312,500, Cook County property records show. In 2019, "squatters" started a fire in the coach house, he said.
The fire-damaged coach house was not demolished and has been a source of complaints to Ald. Maria Hadden's 49th Ward office, officials said. The ward appealed to the Department of Administrative Hearings for help, but a backlog in building cases has prevented action, said Torrence Gardner, director of economic and community development for the ward.
Some neighbors said Pisarenko allowed the building to fall into greater disrepair and did nothing to address the fire-damaged property. Pisarenko said the buildings were not in a salvageable condition when he bought it.
"It's been an eyesore for over a year now," he said. "We're trying to address that issue."
The two single homes would rise 30 feet and include 3,000 square feet, three bedrooms and detached garages. They would like be priced at $700,000 -$750,000 each, he said.
"In our opinion, it would beautify this lot and would fit well with what we have in the neighborhood," Pisarenko said.
Not everyone agrees. Building homes that would be just 6 feet apart — which Pisarenko is proposing — would not fit in with the rest of the neighborhood, multiple residents said Tuesday.
"I do think it will change the nature of this community, which people feel strongly about," Heidi Korthase said.
Patsy Walsh said she moved back to her childhood home on Morse from Old Irving Park, where you can "touch the house next door."
"I moved back to this house because of the space we have here, because of the uniqueness," Walsh said. "I don't believe it fits."
Other neighbors said the two-house proposal works better for the area than a multi-unit development.
"I think this is generous to the community," Marty Olson said. "I'm glad it's not becoming 12 units."
Hadden said Rogers Park is roughly 75 percent renter. There is a demand for single-family home ownership in the neighborhood, and one way to address that is through reducing lot size and building there.
"I think it's actually pretty beneficial to try out what it looks like to cut down on some of our lot sizes and add a bit of diversity of housing that we could use in the ward," Hadden said.
Hadden is considering resident feedback before formally weighing in on the zoning change. Residents who would like to submit feedback can fill out the survey by clicking here. For more information on the project, click here.
Subscribe to Block Club Chicago. Every dime we make funds reporting from Chicago's neighborhoods.
Already subscribe? Click here to support Block Club with a tax-deductible donation.