CHICAGO — More appointments will open up at the United Center — but the process, already marred by confusion and frustration, is still unclear.
Vaccinations started Tuesday morning at the United Center, though they'll ramp up Wednesday. People lined up, excited for their coronavirus vaccine shots, while local, state and federal officials held a news conference where they touted the mass vaccination site and the 6,000 doses they'll be able to administer per day there.
But the signup process was confusing and chaotic — and officials did little Tuesday to clarify how people will be able to sign up for future appointments.
Officials originally said any eligible Illinoisan would be able to get vaccinated at the site, but that changed abruptly. Just 45 minutes before appointments were set to open to more people Sunday, the Governor's Office sent out a news release saying only Chicagoans would be allowed to sign up using Zocdoc — the only way people could sign up at the time.
Zocdoc itself crashed and didn't work for long periods Sunday. Dozens of people contacted Block Club to report issues with the website and confusion about who was eligible to sign up. City officials later said the site was visited by more than 300,000 people and, at its peak, was booking 754 appointments per minute.
The state said the Federal Emergency Management Agency — which is providing support for the site — recommended the last-minute eligibility change, while the federal agency has said it does not run the site.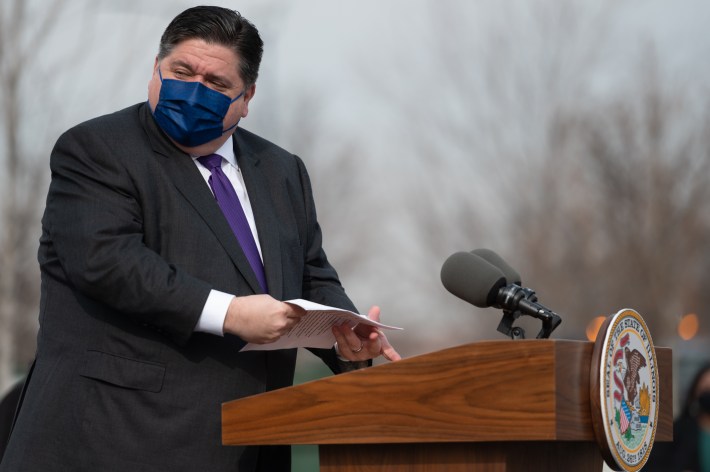 At Tuesday's news conference, officials defended the change, saying it was needed because too many appointments were going to non-Chicagoans. The site is meant to provide vaccinations equitably — and officials hope it can be used to get more Black and Latino Chicagoans vaccinated since those communities have been hit hardest by COVID-19.
About 40,000 people signed up between Thursday and Sunday, when any Illinoisan 65 and older was allowed to snag an appointment, officials said.
Of those, about 63 percent were non-Chicagoans — and 75 percent of them were white or Asian, said Dr. Allison Arwady, head of the Chicago Department of Public Health.
"Obviously, that is not representative of the communities that have been hardest hit," Arwady said at the news conference.
Of the Chicagoans who had signed up by then, 40-45 percent were Black or Latino, better reflecting the communities the United Center is meant to help, Arwady said.
The last-minute change made it so only Chicagoans could sign up for appointments starting 4 p.m. Sunday. About 10,000 people grabbed appointments, at which point Zocdoc said no more were available.
Officials acknowledged available appointments were full during Tuesday's news conference, but they offered different amounts when questioned about how many people had been able to sign up.
Mayor Lori Lightfoot said 40,000 people had signed up. Toni Preckwinkle, president of the Cook County Board, said all 110,000 appointments had been filled.
At the end of the news conference, Arwady said, in all, about 50,000 people were able to sign up. Health department spokesman Andy Buchanan later said 56,394 appointments have been booked so far.
In all, there will actually be 336,000 doses administered at the site, with 110,000 administered during the first three weeks.
While all appointments were booked for the site's first week, some were left open for the second and third week, Arwady said.
Officials had also previously said they'd reveal Tuesday how non-Chicagoans will be able to sign up for vaccination appointments at the United Center. But they did not address that, instead saying appointments will open back up later this week for Chicagoans and people who live outside the city.
Lightfoot said officials are "assessing what the equity numbers look like" before they reopen vaccination appointments.
"We have to do this in a way that is consistent with equity," she said. At another point, she said, "We want to make sure that we are [being] very targeted and very focused on bringing people from those neighborhoods and ZIP codes that have been significantly challenged throughout the pandemic around infections and deaths."
Optimism As Vaccinations Grow
Despite the snags with the United Center site, officials — and people lining up for their shots — were optimistic.
Up to 6,000 people per day will get shots at the site daily for at least eight weeks. Those doses will come from the federal government, meaning they won't eat into Chicago's and Illinois' limited supplies.
The site will provide a badly needed boost to the area's vaccination campaign. More than 3 million doses have been administered in Illinois so far — and officials said the city and state have seen significant drops in deaths, new cases and positivity rates since the fall surge.
"We're getting closer every single day to the end of this pandemic, but we're not there yet," Gov. JB Pritzker said.
State Sen. Patricia Van Pelt praised organizers for opening the site on the West Side, which has seen fewer vaccinations despite facing more deaths and confirmed cases of COVID-19.
Van Pelt said the vaccinations will provide everyone with a route out of the pandemic.
"Finally, with the vaccinations, I'm going to be able to hug my mother again," she said. "I'm going to be able to kiss her again. I'm going to be able to reach my grandchildren again. We're defeating COVID!"
Despite the hiccups during the signup process, people who were lined up Tuesday said the vaccination site was run well and moved quickly.
Ronald Hargraves, of Edgewater, said he can't wait to travel with his wife once they're fully vaccinated, through he is thinking of their children and wants to make sure they get shots once eligible.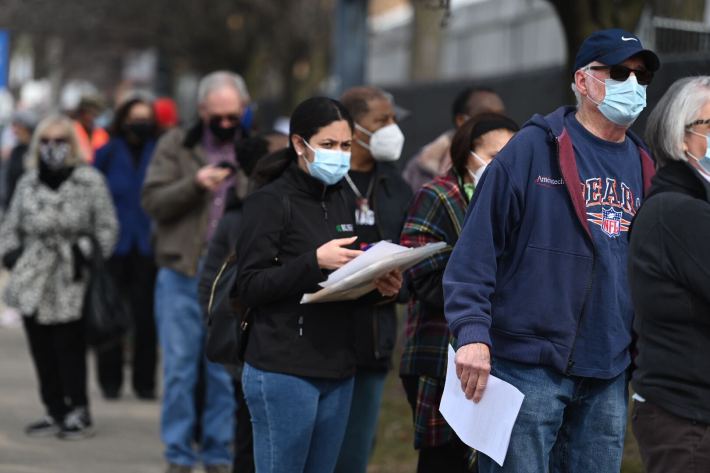 Sarah Novak, 90, a Chicago native who now lives in Woodridge, said her two daughters helped her sign up for an appointment at the site.
"I feel very grateful that I was able to get in here…," she said. "It's important, Everybody I'm sure has the same feeling that they'd like to have this done."
Across the site, people shared a common goal: They want to get their shots so they can safely see their family. Novak said she can't wait to see her friends and family together. Sylvia Douglas, of Rogers Park, said she hasn't been able to see her mother in a year.
"Her 90th birthday had just gone, and I want to surprise her for her birthday," Douglas said.
Similarly, Dawn Ramones, of Rosemont, said she is excited. She and her husband arrived early for their appointment. She can't wait to safely visit with her son.
"I haven't physically kissed him in a year," she said.
What's Next
More appointments will open at the United Center, officials have said, though they have not said when those slots will be made available.
Here are our resources to help you get vaccinated:
How To Get Updates
You can sign up with Chi COVID Coach to get updates from the city's health department on its vaccination campaign.
You can check the health department's website for information.
You can also contact Block Club's free coronavirus hotline with questions or sign up for our free text alerts for breaking news.
Block Club Chicago's coronavirus coverage is free for all readers. Block Club is an independent, 501(c)(3), journalist-run newsroom.
Subscribe to Block Club Chicago. Every dime we make funds reporting from Chicago's neighborhoods.
Already subscribe? Click here to support Block Club with a tax-deductible donation.