HUMBOLDT PARK — After months of uncertainty, The California Clipper, closed since last spring, is set to make a comeback.
Landlord Gino Battaglia said this week he is close to finalizing a deal with an operator who plans to reopen the beloved 1930s bar at 1002 N. California Ave. and keep it "exactly" the same.
Battaglia wouldn't share any details about the operator but said he expects The Clipper to come back "very strong."
"It's really going to be good for the neighborhood because these people are really focused on the neighborhood. They're neighborhood people; they're Chicago people. It's not some big corporation," Battaglia said.
Reopening the tavern, known for its cozy booths and live music, comes after Battaglia resolved a months-long legal dispute with previous owner Brendan Sodikoff, who abruptly shut down the Humboldt Park staple in May.
It also is one of multiple projects that could soon revive the once-lively intersection of California Avenue and Augusta Boulevard. A restaurant is in the works for the area and a tenant is eyeing the former Cafe Marie-Jeanne space. Both buildings are also owned by Battaglia and his wife.
"We're very excited with what's happened with all of the development on the corner. By next year, you're going to see some very exciting things happening there," Battaglia said.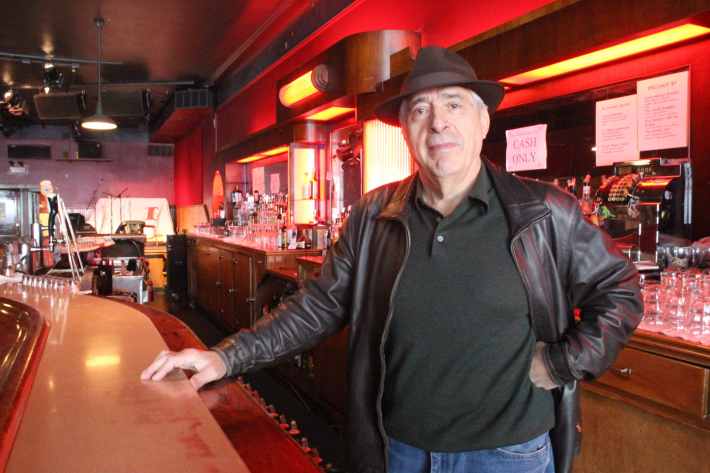 'We've Been Made Whole'
In May, Sodikoff blamed the pandemic — and inadequate support — for the closure of the nearly 85-year-old bar. The restaurateur said he wasn't able to reach an agreement with Battaglia that would have enabled him to keep the bar and C.C. Ferns open during the pandemic.
Sodikoff owns several hugely popular restaurants and bars in Chicago, including Au Cheval and Green Street Smoked Meats.
"Why would a business shutter if it had adequate support, financial reserves and a clear path to recovery?" Sodikoff said in an email at the time.
Battaglia said they tried to help save the bar and offered Sodikoff deals on rent, but Sodikoff "just wanted out of the lease." Sodikoff stopped paying rent before quietly shutting down The Clipper and C.C. Ferns over Memorial Day weekend.
RELATED: California Clipper Landlord Says He Tried To Help Owner Save Beloved Bar, Hopes It Will Carry On
Battaglia said neighbors called him to let him know Sodikoff was moving out his furniture, which was a "total surprise."
Two months later, the Battaglias sued Sodikoff for $18,000 in unpaid rent and $46,000 in damages. The parties reached a settlement in the case last week, Battaglia said.
The deal allows for a fresh start. Battaglia said they're "very happy" with the agreement, but he wouldn't say how much money they received. Sodikoff didn't respond to a request for comment.
"We've been made whole all the way around," Battaglia said.
Throughout the legal battle, it was unclear if a new operator could use The California Clipper name. Battaglia said the settlement gave them the rights to name, which they plan to pass on to the new operator.
The Battaglias had also sued Sodikoff for building two additions without permission at Small Cheval at 1732 N. Milwaukee Ave. and for failure to pay rent at 958 N. California Ave. The couple owns both properties.
Now that the legal battle is over, Battaglia said they're focused on finalizing the deal with the new Clipper operator. He said he's spoken to several bar operators interested in taking over The Clipper over the past several months and he finally has a tenant lined up. He said he was in the middle of finalizing the lease with the operator Monday. The tenant is also looking to revive C.C. Ferns, he said.
"It feels great that we're able to continue the tradition of The Clipper, the name, the trademark — it's just a continuation," Battaglia said. "We may be able to sign it this week … . They're going to bring it back to what it was before — exactly."
In the meantime, Battaglia has rented out the bar to Lionsgate. The film production studio is using the bar as a filming location for the next few months, Battaglia said, which is why a "Dr. Parker's Office" sign recently went up and film crews have taken over the area.
Beyond The Clipper, a restaurant with a large outdoor patio could be coming to another Battaglia-owned building at 958 N. California Ave. Battaglia said they're in "serious conversations" with an operator, but he wouldn't say more because a lease has not been signed yet.
And a new establishment is taking over the former Cafe Marie-Jeanne spot at 1001 N. California Ave., according to a source. The popular European-style café closed in November due to the pandemic. It wasn't immediately clear who the tenant will be or what their timeline will be to open.
Subscribe to Block Club Chicago. Every dime we make funds reporting from Chicago's neighborhoods.
Already subscribe? Click here to support Block Club with a tax-deductible donation.