WICKER PARK — City officials signed off on a property owner's plan for an addition to his historical Wicker Park home over the objections of neighbors, the local alderman and preservationists who say the land never was meant to be built upon.
The Commission on Chicago Landmarks voted unanimously Thursday to allow the construction of a three-story addition at 1512 N. Hoyne Ave. The structure will occupy a vacant lot at 1514 N. Hoyne. The property is part of the Wicker Park Historic District.
Many disagree about the characteristics of the space at 1514 — whether it was meant to be a side yard for the existing building at 1512 or if it is a separate lot altogether where construction could be allowed.
Property owner Cullen Davis did not address the commission Thursday but previously told Block Club he would not have bought the home and side lot if he wasn't confident the addition was allowed. 
He cited a 1989 city report that says vacant lots within the district would receive the guidance of the commission for "new buildings" if construction was ever proposed.
"As a matter of law, as a matter of zoning, there is no question this lot is buildable. I have an absolute right to build here," Davis said. "I am a real estate developer by trade. … I know what I'm doing." 
Neighbors who opposed the construction argued the city's 1991 landmark designation for the Wicker Park District meant for lots like the Hoyne one to be preserved as open spaces.
Construction would adversely impact the overall streetscape, fabric of the neighborhood and adjoining buildings, including the one at 1520 N. Hoyne Ave., which has five historical windows facing the vacant lot, neighbors said. 
RELATED: Wicker Park Neighbors Try To Block Construction On Vacant Side Lot In Historic District
"There was no explicit intention to build on this lot that was ever located, despite an extensive historical search. And the fact remains it has been a vacant … lot for all these decades," Ald. Brian Hopkins (2nd) said. "That precedent must carry some weight."
Ultimately, the commissioners sided with Davis to approve the addition.
"This is a difficult one," Commissioner Paola Aguirre said. "I'm generally challenged because I really believe in the public benefits of historic districts beyond the physical interaction that we have with spaces."
Commissioner Tiara Hughes said she understood where neighbors and Hopkins were coming from, but she voted to approve construction.
"I want to echo that we're not almighty and powerful and overrule the laws at play," Hughes said. "It is indeed a separate lot. It is not a side yard. A side yard is open space within a property line."
'While We May Not Like It, It Is A Buildable Lot'
An affordable housing developer and Chicago native, Davis bought the 1884 home and side lot for $1.65 million in August, Crain's reported. 
Davis said he bought the home to become his family home. Growing up, he enjoyed visiting Wicker Park and hanging out at concerts. Now, he wants a home where he can walk his dog and raise his children.
He praised the aesthetic of the proposed addition, designed by architect Gary Beyerl of BBA Architects. He also invited neighbors to a cookout at his property.
"Empirically, it's really excellent," Davis said. "I don't do mediocre." 
Beyerl told commissioners the addition is 3 feet narrower than the existing building. As the project is built, he hopes history-inspired design decisions will alleviate the concerns of neighbors.
"Our goal is the work and refine the project as we go forward," he said.
Larry Shure, Department of Planning and Development staffer, said he considers the property a vacant, buildable lot — not a historically protected side yard. 
Examples of historically landmarked landscapes include the Alfred Caldwell Lilly Pool, Wicker Park and the Clarence Buckingham Gardens, Shure said. 
As proposed, Davis' three-story addition was "compatible" with the district, Shure said. He recommended the city require Davis maintain a cast iron fence and review window and door information, as well as materials, prior to installation.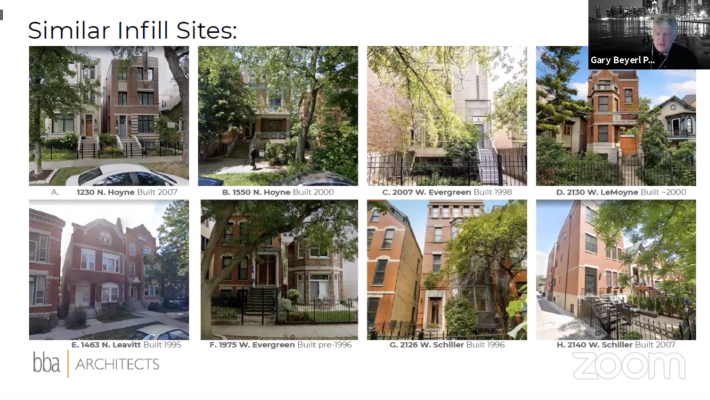 Most who gave public comments Thursday were Wicker Park neighbors who opposed the proposal. Of the written comments submitted, two people supported the project. Comments are available online.
Lisa DiChiera of Landmarks Illinois was the only one who sided with Davis.
After consulting with attorneys and reading a report compiled by Susan Benjamin — a preservation consultant hired by Davis and Beyerl — DiChiera said she believes it is acceptable to build on the side lot. 
Not only is new construction "permissible," the lot could be sold today as a separate parcel with nothing built on it, DiChiera said. 
That said, she also said she is worried the decision could make it easier to build on similar spaces and recommended a "thorough review" of the 15 remaining side lots in the Wicker Park Historic District. 
"I understand the frustration and the disappointment of the owners and the neighbors we have heard from today," she said. "While we may not like it, it is a buildable lot. It has been a wonderful gift for all these years that nothing was ever built upon it." 
Hopkins called on the commission to consider the "inadequacy in guidance" for making decisions on proposals like this. Terms should be redefined to limit future ambiguity, he said.
Aguirre agreed, noting preservation enforcement is often "reactive," and, at the end of the day, commissioners must vote based on existing ordinances and law, technicalities aside.
"The ordinance has limitations," she said. "That ordinance is an instrument we have to abide to."
'What Is The Point?'
Joe Stanfield has lived on Hoyne Avenue for 15 years. There is a "Wicker Park Historic District" sign on the block, he said.
"What is the point of this sign if we prioritize development over preservation?" he said. "[This street] is one of the crown jewels inside a Chicago Landmark district."
Rick Ellison lives two doors from the vacant lot. He recently bought his home and is restoring it per Landmarks guidance. The proposed construction's large glass windows are "very modern," and the addition is being built to look like a separate home, he said.
"One of the reasons why we paid more and bought on Hoyne … it is such a beautiful street," he said. "We want to preserve it."  
Elaine Coorens, longtime Wicker Park neighbor and author of the OurUrbanTimes website, said she thinks the ordinance protecting the lot is clear. 
"None of us owns anything," Coorens said. "We are but caretakers."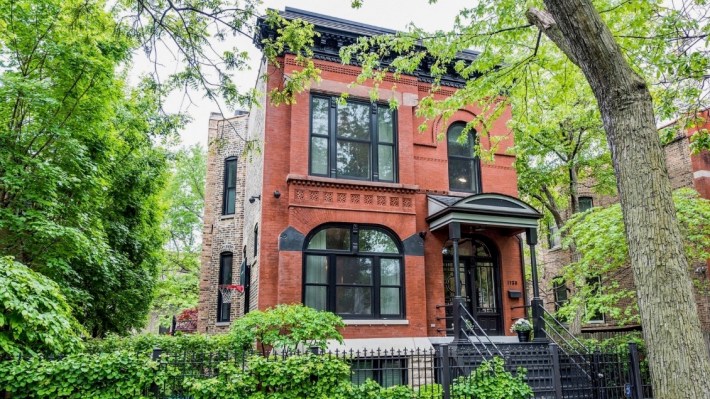 Ward Miller, executive director of Preservation Chicago, wrote in a letter to the commission that landscapes are "so much a part of Wicker Park," and this one is protected by the ordinance.
Miller said he worried approving the addition would set a precedent for other districts, where "green, lush spaces" could be parceled off for development. 
"In a Landmark District, if there was a building that no longer stands, it is appropriate to consider new construction on that site," he said. "However, historically green spaces should be retained as they maintain historic character and address quality of life issues."
Subscribe to Block Club Chicago. Every dime we make funds reporting from Chicago's neighborhoods.
Already subscribe? Click here to support Block Club with a tax-deductible donation.