CHICAGO — When Shawn Hopman decided to launch an independent record label last year, he knew he wanted to do more than just release hardcore punk music — he wanted to help support community organizations.
"Hardcore punk is something that a lot of people would say is aggressive, angry music. But the people involved are so genuine and so welcoming. They're also really progressive," Hopman said. "Things like equality for all races and being more inclusive of women and different gender identities are things the punk rock community has been talking about long before now."
So when Hopman launched Another City Records, he decided to work with bands that wanted to donate a portion of their record sales to social justice organizations. 
The first band he signed to the label was Snuffed, a Chicago-based hardcore punk band. The pandemic delayed getting them into the studio, but they'd already recorded a demo and Hopman encouraged them to release it on limited vinyl last year. 
Snuffed's lead singer, Karly Soto, told Hopman proceeds from their November release, titled "Skincrawler/Rats of Sympathy," should benefit GoodKids MadCity. 
The youth-led organization empowers young people to confront violence in their communities. The group focuses on restorative justice, creates healing spaces for young people impacted by trauma and works to fill resource gaps in neighborhoods, among other things.
"That resonated with me, and I was on board. I want to give bands the say in what organization their album benefits because it's their music that's driving it," Hopman said. 
Carlil Pittman, GoodKids MadCity's co-founder, appreciates Snuffed and Another City Records wanting to highlight and support organizations fighting for social justice with their music.
"This is a dope opportunity and shows the powerful, meaningful work young people are putting in is getting recognized," Pittman said. "For them to use their platforms like this gives these young people the motivation and energy they need to keep growing and thriving. And it might also bring in some more supporters who might not be as knowledgable about the causes we're fighting for."
The label's next release is from California's Ill Communication, featuring members of The Warriors and No Motiv. It is available for pre-order now and is being pressed into vinyl at Chicago's Smashed Plastic. 
This release will benefit For The Children, which raises money to buy toys, household items, meal vouchers and motel vouchers for families in need.
"I have a full-time job in the health care field and don't need to make a profit off of this. I want to take everything the label makes and invest it into organizations that are out there trying to help underserved populations and solve problems in our communities," Hopman said. 
Hopman fell in love with hardcore music when he was a teenager growing up in Mokena, Illinois.
"I'm 43, but I've been listening to this music since I was 16. Before the pandemic, I still tried to go out to as many shows I could," Hopman said. "I have an entire closet of band shirts that I don't think I could go through them all in a year if I wore a shirt a day."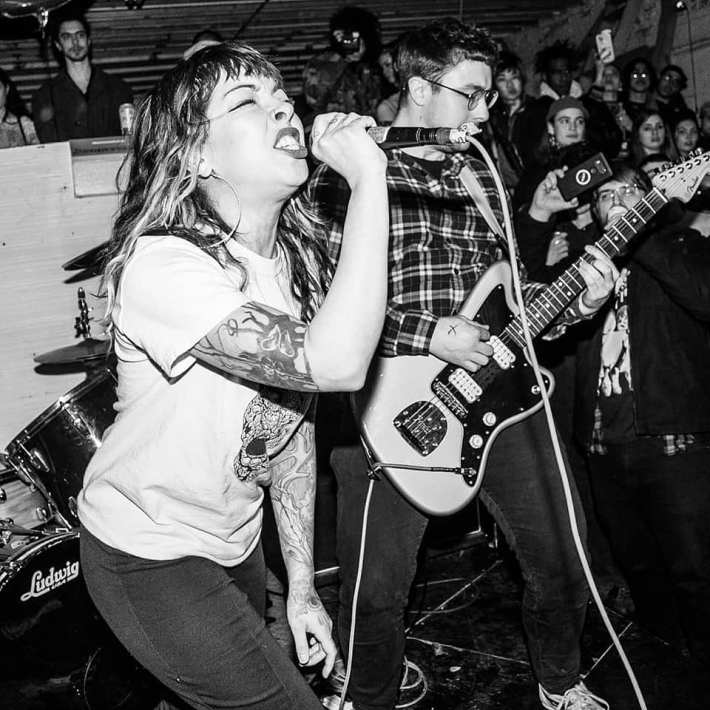 As a 16-year-old, Hopman heard some music he liked on "Beavis and Butt-Head" but had a hard time finding hardcore punk music at shops. He had a chance encounter with another fan of hardcore punk at a Best Buy while flipping through the record section.  
That fellow fan gave Hopman a mixtape with punk music that helped open up his world to Chicago's independent venues and record stores, creating his lifelong love of hardcore punk. He went to DePaul and, once he moved to the city, was able to attend punk shows more easily and make friends in the community.
"Once I moved to the city I was just exposed to so much more and made lifelong friends meeting people at these shows," he said. 
The welcoming environment Hopman found in Chicago's punk community is something he wants his label to amplify with the kinds of bands he signs. 
"When bands have a person of color or a female singer, too often they're still considered a novelty in hardcore punk by other labels even if they're really good," Hopman said. "I want Another City Records to become the place where we're the champions of inclusivity and we build off of that so it's not longer a novelty. Like the 7 Seconds song, 'It's Not Just Boys' Fun.'" 
Subscribe to Block Club Chicago. Every dime we make funds reporting from Chicago's neighborhoods.
Already subscribe? Click here to support Block Club with a tax-deductible donation.