ARCHER HEIGHTS — María Dolores Lopez and her two daughters spent nearly five hours at the family cafe Tuesday, preparing hundreds of meals.
It's been months since De Colores, 3838 W. 49th St., has been this active — and Tuesday was not business as usual. The cafe has been closed since October because of the pandemic, and Lopez sorely needs assistance to reopen. In the meantime, she's offering up her kitchen to package meals for a new food giveaway program feeding families and older people in need throughout Archer Heights. 
"There are still people jobless that still need to eat [and] are still looking for local pantries," Lopez said.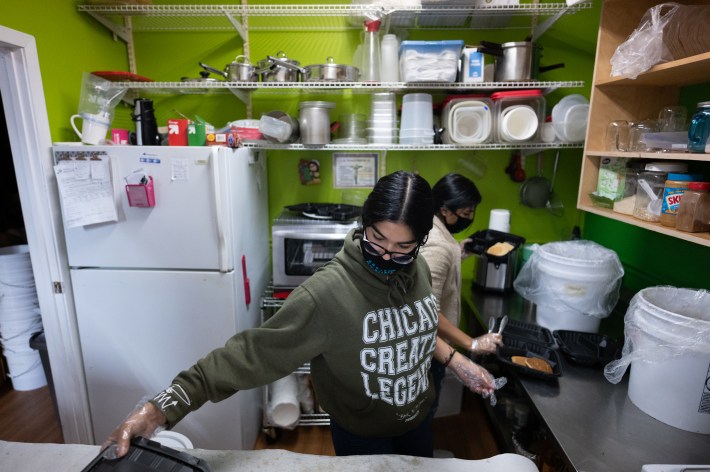 The food distribution initiative, called Food's Here, is a pilot program that launched at the end of February to feed neighbors, employ laid-off restaurant workers and reduce food waste. It was started by the Southwest Collective, a group of neighbors and activists who have helped families and small businesses hit hard by the pandemic. The members are working to create a Southwest Side Chamber of Commerce to unite the Midway area.
Food's Here partners with Project 22:9, a Roselle-based Catholic nonprofit that was in the agriculture field and pivoted to distribute thousands of surplus meals from subscription dinner companies when the pandemic started.
Since May, the nonprofit has delivered more than 360,000 meals to food pantries, community centers, churches and homeless shelters, and it regularly distributes meals to about 25 missions. 
The local restaurant workers get paid weekly to package the meals going to Southwest Side residents.
"It's really comforting that [The Southwest Collective] thought about us, even if we have the business closed, but so my daughters can work and make a little bit of extra money," said Lopez, who opened the cafe in 2009.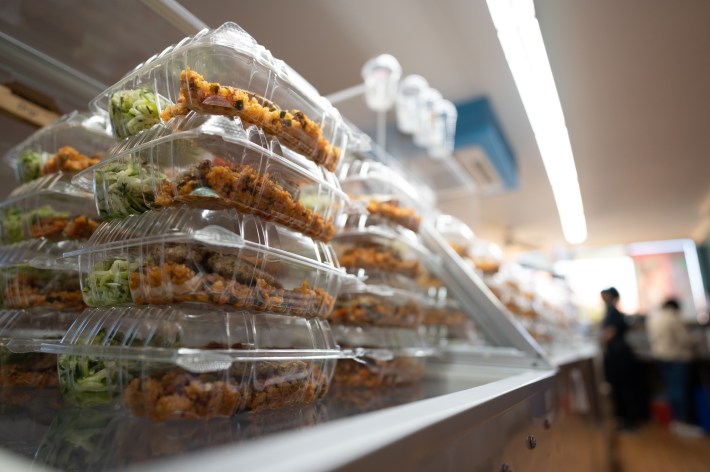 'This Is From Our Heart'
Len Buonincontro, director of Project 22:9, said his group of about 20 volunteers pick up extra prepared keto diet meals from four dinner company hubs in the area. Within two hours, the team gives them to various partners like the Southwest Collective.
With 1,400 white 5-gallon buckets filled with food — that get cleaned and sanitized after each use — he said the nonprofit has been able to give out about 25,000 weekly meals and save organic, healthy food that would otherwise go to waste. 
"Nothing we distribute goes into the garbage," said Buonincontro, who has been in the hospitality industry for 55 years. "The food is never in our possession for more than a few hours. Based on what we are doing right now, we will hit a million meals by July."
Between 10 and 12 buckets go to the Food's Here program, which makes about 450 meals that get redistributed into the community Tuesday evenings at United Credit Union, 4444 S. Pulaski Road. 
"You feed somebody two cans of peas and carrots and Spam, or you give them a meal," said Jim Longo, a volunteer with Project 22:9. "This is dignified and presentable. This is from our heart."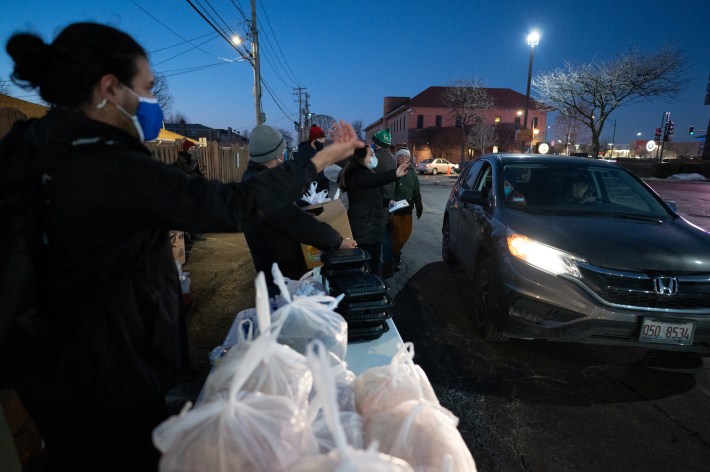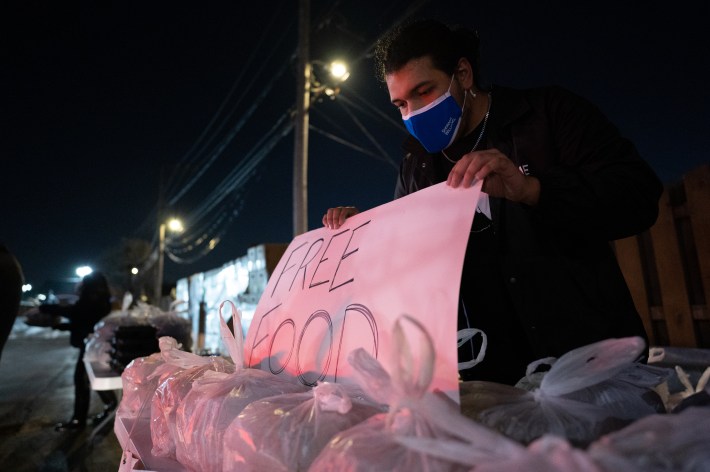 Jaime Groth-Searle, executive director of the Southwest Collective, got $3,000 in funding for five weeks from the credit union to pay local restaurant workers $250 a week to package the meals. In addition to De Colores, Food's Here has partnered with local restaurants Zoe's Patio and Razpachos to help their staff.
Chicago restaurants were only recently cleared to reopen indoor dining at half capacity after weeks of gradually loosening coronavirus restrictions. Groth-Searle said she wants to support businesses like De Colores, which have had no income for months. 
"It's important for me to put my money where my mouth is [and] support the businesses that we patronize," Groth-Searle said. "That's what makes this neighborhood great — local businesses." 
Fátima Lopez, 21, one of the De Colores employees who prepared meals Tuesday, has helped her mom with the shop since she was 8 years old. When the pandemic hit, she not only lost income from the cafe but also from her second job at Hollister.
"This is a great idea and it's something else to do," said Fátima Lopez, who just went back to work at Hollister after nearly a year. "We feel like lunch ladies, but it's fun. We like it."
With plastic gloves and matching masks, she and her 17-year-old sister, Marta, lined the cafe with containers of roasted chicken, zucchini noodles and roasted tomatoes, as well as more than 100 meals of sausages and pancakes donated from Project 22:9. Groth-Searle said breakfast usually isn't part of the distribution, but it was a welcome surprise.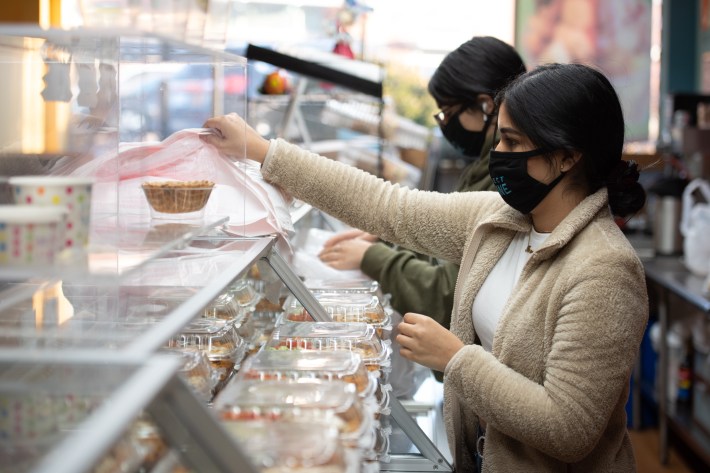 Another unexpected bonus to the food giveaway: 350 grocery boxes from Testa Produce donated by McKinley Park grassroots collective Neighbors for Environmental Justice.
"When it rains, it pours," she said. "You either have too much food or you have none — story of our lives these days."
'A Good Thing They Are Doing For The Community'
In December, the national nonprofit Feeding America estimated 785,890 people in Cook County are food insecure. There's been a 51 percent increase since 2018, according to a Greater Chicago Food Depository analysis.
That makes Cook County the third-largest population of food-insecure people in the United States.
Groth-Searle has been working nonstop to feed her community since losing her job as a creative director early last year. Last summer and fall, her collective held mutual aid food drives for seniors and mostly Latino families, giving away 500 boxes within minutes, she said. 
Seeing the need for food in her community so high, Groth-Searle decided to band together resources and donations to continue giveaways through Food's Here. She hopes she can keep it going until summer with help from neighbors and partnerships.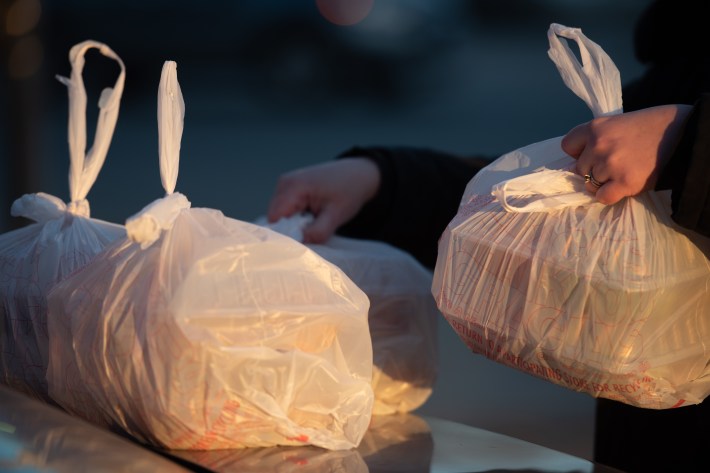 Food insecurity is still a major struggle, she said. 
"This is more than any one mutual aid or nonprofit group can handle — all of the organizers are carrying a lot of weight on our shoulders trying to feed the community and take care of the small businesses [who are not] getting base-level support that the government should be providing," Groth-Searle said. "These meals are one night's worth of dinner. It's a lot, but it's still not enough."
At the food giveaway Tuesday, more than 50 drivers came through to get groceries and a few bags of meals. Some folks left with more than one box of food, depending on their family size. Within an hour and a half, all of the food was picked up. 
Chester, an Archer Heights resident who did not want to give his last name, said it's been tough financially to get groceries and healthy meals for his family. He was a regular at the Southwest Collective's previous food drives and said he is grateful the group is picking up the effort. 
"It's a good thing they are doing for the community," Chester said. "They are doing an awesome job."
Subscribe to Block Club Chicago. Every dime we make funds reporting from Chicago's neighborhoods.
Already subscribe? Click here to support Block Club with a tax-deductible donation.