CHICAGO — Parts of Illinois will be subjected this summer to the roar of cicadas that only come up once every 17 years — but Chicago will get a reprieve.
Singing cicadas are part of every Illinois summer, but this year will see a special variety come from the ground on top of the usual subjects. They'll only emerge in parts of southern Illinois, though.
The brood of cicadas — Brood X, called The Great Eastern Brood — will hit five counties in central and eastern Illinois: Edgar, Clark, Crawford and Vermilion and Champaign, according to a cicada mapping site from the University of Connecticut. This brood was last seen downstate in 2004.
Chicago's 17-year variety, Brood XIII, is coming, too, but not for a few years. For northern Illinois, the next emergence of Brood XIII, dubbed the Northern Illinois Brood, will be in summer 2024. Data shows they were last out in 2007.
Periodical cicadas — unlike annual cicadas — emerge every 13 or 17 years in various areas.
The areas from which they emerge as a group are referred to as brood areas, said Kacie Athey, professor and specialty crops entomologist at the University of Illinois Urbana-Champaign. 
"If you look at periodicals, they all go into the ground at the same time but don't all grow at the same rate. But somehow down the line they all catch up to each other," Athey said. "They are weird little animals, for sure."
Athey said that while folks in Chicago won't hear the loud sounds of Brood X, people living in downstate Illinois, Indiana and Kentucky will hear lots of noise between May and June.
Other parts of the country, including Washington, D.C., and Virginia, expect to see thousands — and already saw (and heard) members of the brood in 2020.
"Indiana is going to be very bad. The whole state will have the cicada emergence," Athey said.
Periodical cicadas spend most of their lives underground, coming up when it's time to reproduce. The females, called nymphs, usually emerge in May when soil temperatures warm to about 64 degrees. They usually come out after sunset, leaving behind visible exit holes or cicada chimneys. They quickly crawl to any nearby structure — preferably a tree or shrub — to eat and lay eggs.
Unlike annual cicadas, periodicals aren't that loud individually — but a hoard of billions will sure drown out all other noises, said cicada researcher Katie Dana, a scientific specialist in entomology at the Illinois Natural History Survey. The organization has recorded and preserved the state's biological resources since 1858. 
While some people have called the mating sound annoying, the researcher disagrees. 
"I love it. It's the soundtrack of summer," she said. "Throughout Illinois, we have 22 species, and each has their own call. So everywhere you go, you get a different song, and it changes throughout the summer."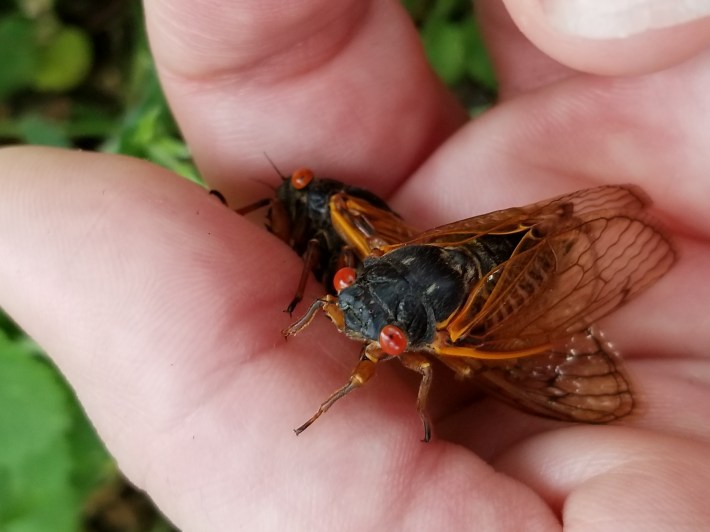 In fact, it can get a little overwhelming to decipher which call belongs to which cicada. Unlike some other states, Illinois contains cicadas of 13- and 17-year life cycles, all seven currently recognized species and five separate broods. 
While cicada populations have declined in the past 100 years and some broods have gone extinct, entomologists say new broods are being discovered, which could lead to the discovery of more species.  
Another way for cicada broods to form is when some members are stragglers from an existing group, like Brood X, Dana said. Generally, about 5 percent of a brood's population emerges either four or one year earlier than the mass group.
That's what Dana saw when doing field work in Chicago's western suburbs last year. If that group keeps growing and working at its own schedule, it'll become a brood of its own.
"It's kind of cool because it seems like Chicago might be experiencing a new brood creation since there were so many out last year," Dana said. "I saw them mating and laying eggs in trees. So, if that generation gets enough individuals, it could see a new creation."
New broods could help even out the cicada population that's essential to the ecosystem, Dana said. Cicadas, with their large biomass, are great foods for migratory birds and snakes, which is why a lot of Dana's work focuses on conserving the species in Illinois. 
In 2019, Dana discovered a species called the northern dusk-singing cicada, the largest cicada in North America, at the Nachusa Grasslands nature conservancy in Franklin Grove in Lee County. 
Those Brood X stragglers might also show up at the Lincoln Park Zoo's garden. Katrina Chipman, director of horticulture at the zoo, said annual cicadas can be heard every summer in the trees. She expects some stragglers may appear this summer, but it will be difficult to identify them since they won't be part of the massive Brood X group. 
"Periodical cicadas are common to show up every year, just in smaller amounts than the 17-year ones normally are," Chipman said.
While Chicogoans get a break from the loud singing of periodicals this year, Dana said 2024 will be a special one for the city's cicadas — though maybe not for humans. 
"2024 will be an interesting year because the 13-year cicadas in southern Illinois will also be emerging," she said. "So, from north to south we are going to have cicadas." 
Subscribe to Block Club Chicago. Every dime we make funds reporting from Chicago's neighborhoods.
Already subscribe? Click here to support Block Club with a tax-deductible donation.