LINCOLN PARK — Nearly a year after coronavirus forced students out of schools and into online classes, about 37,000 kindergarten through fifth graders were due back in class Monday.
By mid-march — after sixth, seventh and eighth graders return — Chicago Public Schools expects about 60,700 students to be back in schools. That's slightly fewer than 30 percent of eligible students, as many parents opted their kids out of in-class instruction.
On Monday, as kids began streaming through neighborhood to their schools, anxious excitement abounded.
"It was, for the first time, they were hustling me to get out of the house in time to get to school today," said Tim Hudson, who brought his third- and fourth-grade students back to Alcott Elementary in Lincoln Park. "Both of them were super excited to get back and to see their teachers in person."
Mayor Lori Lightfoot and CPS CEO Janice Jackson said they're beginning meeting this weeks with leaders of the Chicago Teachers Union to discuss how to return high school students to schools, as well. They said they'll use the plan for bringing back younger students as a framework for high schools.
There will be surveys for students and more town halls for parents to express their concerns about those plans, Jackson said.
They'll also soon put out a survey where they'll give parents the option to opt in to in-person learning during CPS' fourth quarter. They expect to see a "huge jump" in parents opting in, Jackson said.
For now, classrooms will look a lot different, with single-digit numbers of students expected in each class. They will sit apart from each other, have their temperatures checked upon entering the school and eat lunch in class.
Many of the students will return to class for two days a week and then learn remotely for three. The pods are designed for some students to be in class Mondays and Tuesdays, with the other pods in class Thursdays and Fridays. Wednesday is a remote learning day for all students.
There are staggered start and dismissal times for students so they don't crowd doorways and halls, and bathroom breaks are planned to avoid packed bathrooms — though children can still use restrooms if they're having an emergency.
The district is also vaccinating teachers and other employees. More than 17,000 employees have been offered vaccinations so far.
Hudson said he had concerns about his students' return, but he said they are "reasonable concerns that are well addressed by the science and responsible practices."
"I think [CPS has] been guided by the science, being humble in the face of this pandemic is something that we all have to work on," he said. "But having kids back in school is really important. It's important for them, and it has broader importance and implications.
"Just beyond them, as well. A lot of working parents that find it difficult to do both and then that challenge has been falling disproportionately on women and mothers."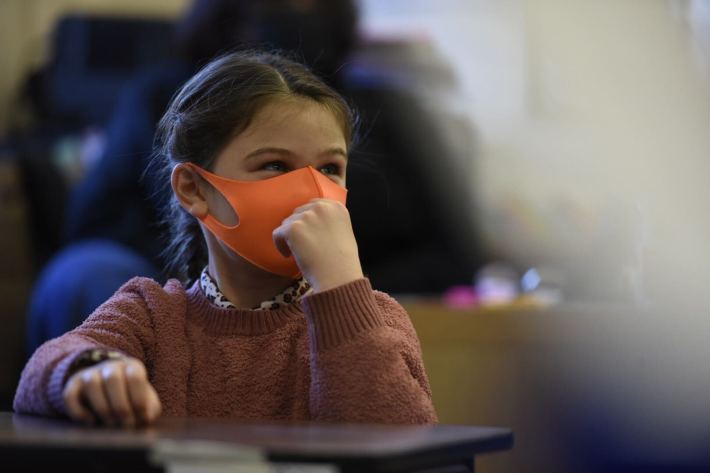 Also at Alcott, Gigi Ali brought her daughter, Salma, back Monday.
"I'm excited for her to experience that for the first time. You know there's some nerves, too, but I think once things get settled we're mostly excited," she said.
Virginia Calderon said her daughter was doing well academically but was struggling socially during online school.
"I have lots of concerns, but the truth is that, at this point, life needs to go on and kids need to get back in school," Calderon said. "And I've seen kids all over the country, going back to school in a safe manner. And I just feel it's time, if they hadn't opened I would have pulled them out, put them into practice. But the problem was is every private school I called was the waiting list is huge."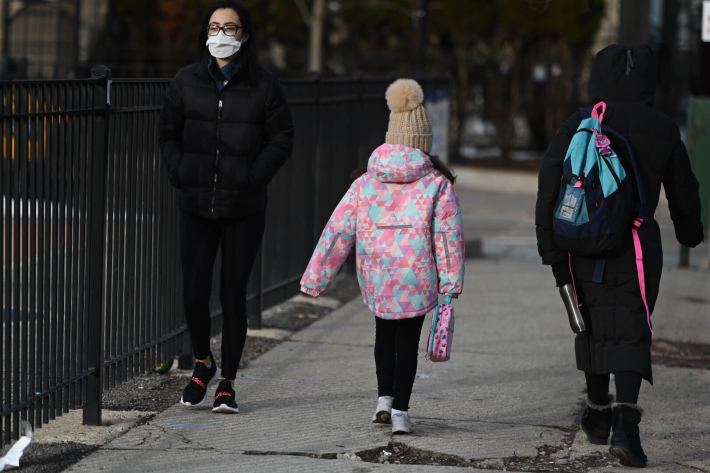 Vanessa Muaumbila walked her children, Washi and Cande, to school Monday, and said she has anxiety about the social aspect of in-class learning
"Everybody's home life is different," she said. "They're both doing really well in school. I think they need to, you know, they haven't socialized. … I think that's where the anxiety comes in."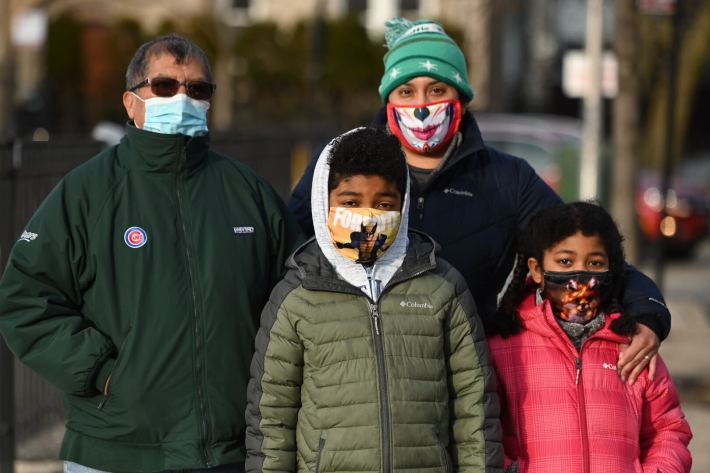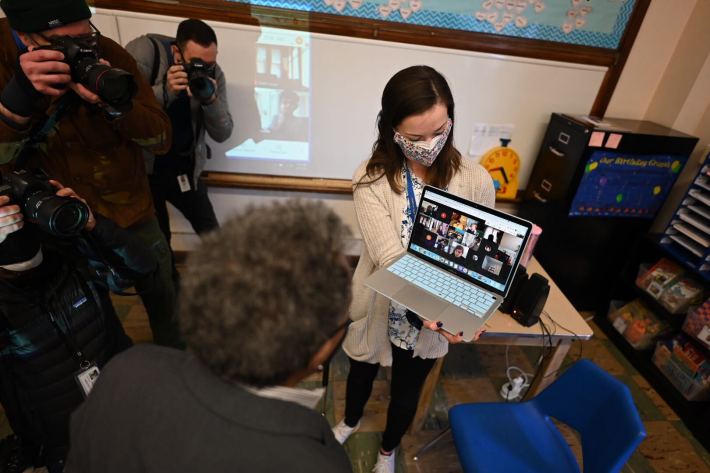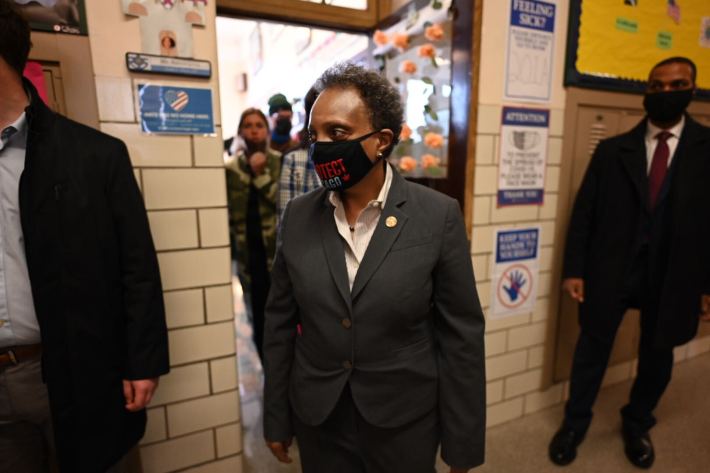 Subscribe to Block Club Chicago. Every dime we make funds reporting from Chicago's neighborhoods.
Already subscribe? Click here to support Block Club with a tax-deductible donation.