UPTOWN — The first outdoor exhibition of the CatchLight Local Chicago visual storytelling initiative will be held April 21-27 in the Uptown neighborhood. It will feature documentary photographs by Woojae Julia Song, who has been covering how immigrant restaurant owners and workers in areas of Chicago's Uptown facing gentrification have navigated the COVID-19 pandemic. To survive without financial relief from the government, they've relied on each other and their loyal customers while risking their health daily. Song's reportage is published in partnership with Block Club Chicago.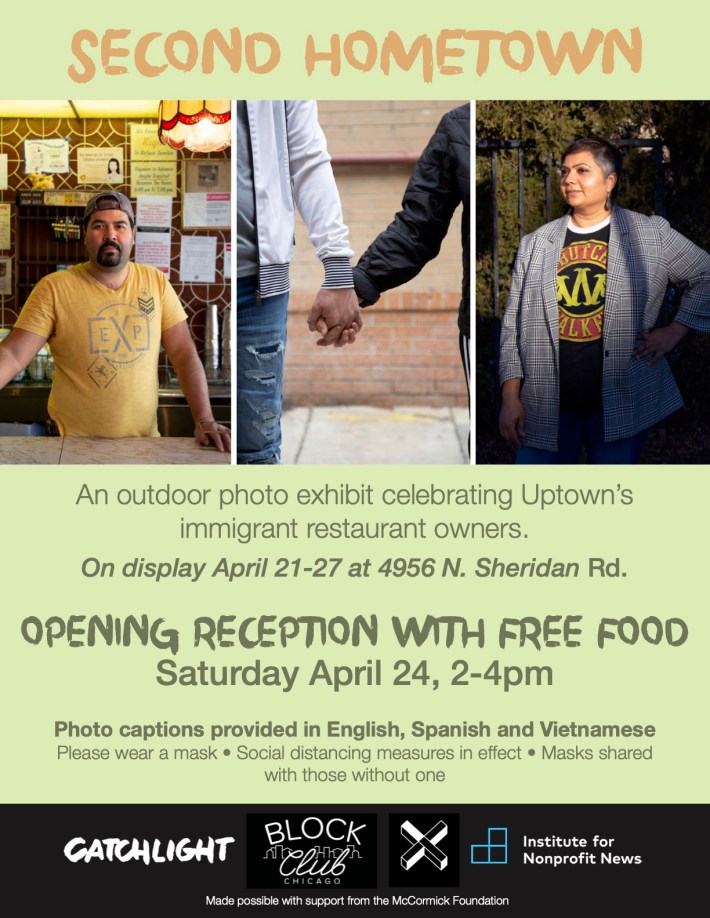 Immigrants and people of color own over 70 businesses that enrich Uptown. Many are family-run restaurants fueled by personal passion, generational knowledge and the need to make a living in the U.S.
The local restaurant community has now weathered a year of the pandemic, while also continuing to face rising business costs due to gentrification. To survive without sufficient government relief, they've adapted to changing regulations, risked their health and relied on the support of their communities.
This exhibition features a few of the many immigrant chefs and restaurant workers who uphold the neighborhood's food ecosystem and character: the Espino siblings of Golden House; Jasmine Sheth of Tasting India; and Loan Thi Thu Nguyen and Quang Minh Le of Pho Loan. 
Exhibition and reception info
Where: Outside the 3rd Space, 4956 N. Sheridan Rd (corner of Argyle St. and Sheridan Rd)
When: April 21-27, 2021; outdoor reception Saturday, April 24 from 2-4pm CT
What: A selection of images from Woojae Julia Song's reporting will be on display for six days in the Uptown neighborhood she documented. The exhibition, curated by Max Herman and Jenny Jacklin Stratton, was produced by CatchLight in partnership with the Institute for Nonprofit News and Block Club Chicago with generous support from the McCormick Foundation. 
Check out the event page here.
CatchLight Local Chicago: A Visual Storytelling Initiative Centering Community in Reporting 
In 2020, the San Francisco-based visual-first media organization CatchLight launched the CatchLight Local Chicago Initiative building on learnings from its pilot in the Bay Area. The Chicago program awarded five visual storyteller fellowships to Song and to April Alonso, Davon Clark, Samantha Cabrera Friend, and Brian Herrera, and an assignment editor fellowship to Max Herman.  
CatchLight Local looks to build a new model for sustainable visual journalism that deeply engages audiences and communities at the local level. CatchLight Local fellows have a direct connection to the communities they cover to provide inclusive, in-depth, accurate, and locally contextualized information to the public. The model begins at and returns to the community being covered, bringing the visual storytelling process directly to community members through public engagement events. 
In partnership with the Institute for Nonprofit News (INN), CatchLight Local Chicago pairs visual journalist fellows with a network of local newsrooms, providing critical visual resources to better understand how the unprecedented COVID-19 health crisis has exacerbated existing inequality issues in the Chicago area, as well as looking at how vulnerable communities will be impacted in the long-term and what local solutions may emerge. 
CatchLight Local Chicago newsroom partners include Better Government Association, Block Club Chicago, Borderless Magazine, and ProPublica Illinois. Through a partnership with Google News Consumer Insights, CatchLight Local will share with partner newsrooms the data analysis on content and visual best practices for increased engagement and reader loyalty.
Through visually-driven reporting, community archives, and civic engagement, CL Local Chicago creates vital visual representations of challenges and resilience from diverse perspectives including local changemakers, restaurant owners, undocumented community members, and residents of gentrifying neighborhoods. 
The first two stories from the CL Local Chicago project were Song's reports, published in Block Club Chicago: Hospitality On Hold: How One Timeless Uptown Diner Was Interrupted By The Pandemic on March 15, 2021, and A Pandemic Pivot: Uptown Chef Launches Virtual Indian Restaurant To Stay Safe And Keep Cooking, on April 8, 2021. Additional visually-driven reporting projects will run through Fall 2021. 
About CatchLight
CatchLight, a nonprofit media organization leveraging the power of visuals to inform, connect and transform communities. Borrowing from the practices of art, journalism, and social justice, it believes in the power of visual storytelling to foster a more nuanced and empathetic understanding of the world. It serves as a transformational force, urgently bringing resources and organizations together to better inform and connect communities. Its goal is to discover, develop, and amplify visual storytellers at all levels. 
About Institute for Nonprofit News
Institute for Nonprofit News (INN) strengthens and supports more than 300 independent news organizations in a new kind of media network: nonprofit, nonpartisan, and dedicated to public service. The INN community shares best practices, collaborates on stories, pools resources, and receives cutting-edge training in professional, organizational, and business development
About Woojae Julia Song (she/her)
Woojae Julia Song is a multimedia storyteller who lives in Uptown. Her interest in how people navigate migration and find community is partly shaped by her experiences as an Asian American immigrant woman from Korea.
About Axis Lab
Axis Lab is an arts and architecture community organization based on Argyle Street in Uptown, Chicago. Axis Lab engages in arts, educational programming, urban design, culinary curating, and other multidisciplinary approaches to advocate for ethical development for immigrants and refugees. To learn more about their work and mutual aid resources visit www.axislab.org