PORTAGE PARK — A man driving an SUV in the Portage Park neighborhood early Sunday careened off the road and smashed into a home, awakening the seven members of the Rodriguez family sleeping inside.
"He must have been flying, I don't know what he was doing," said Ricardo Rodriguez Sr., owner of the home. He said no one inside was hurt, but his house was badly damaged.
The 31-year-old driver in the black SUV was traveling north on Austin Avenue near Sunnyside when he veered across the southbound lanes and hit the front porch of the house at 4452 N. Austin Ave. After that, the SUV kept going, ending up partially inside the corner house at 4456 N. Austin Ave.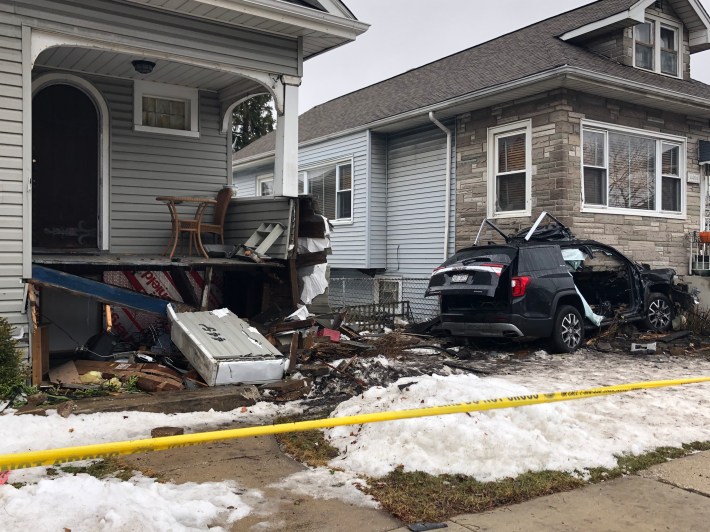 Chicago Police spokesman Michael Carroll said police received a call at 2:57 a.m. for the crash. The lone occupant of the car survived and was taken to Lutheran General Hospital and was alive. Chicago Fire Department spokesman Larry Langford said while his condition was not available, the man may have suffered internal injuries and was considered serious to critical.
On Tuesday, police identified the driver as, Luis Falla, 31. He was charged with one count of driving under the influence of alcohol and one count of failing to reduce speed, according Chicago police spokesperson Kellie Bartoli. Falla is scheduled to appear in court March 22.
Rodriguez Sr., who has lived in the home since 1998, said his family was sleeping when they heard a loud bang. 
"We just heard a crash and realized something hit the house," Rodriguez said. He added that his son and 85-year-old mother in-law were sleeping in the basement when the car hit the house.
"Luckily, no one inside got hurt," he said. "We're a little scared, but not hurt."
For Rodriguez, it was the second time something like Sunday's crash happened. In 1999, a car hit the north side of his home. Noting that stop signs were installed at all four corners at Austin and Sunnyside Avenues since the 1999 crash, Rodriguez said he doesn't believe the city can do anything additional to make the intersection safer.
By noon Sunday, the car was still largely inside the home and Rodriguez and his son were waiting for it to be removed. He said there was extensive damage to the inside of his home as well.
"It's bad," he said.
Rodriguez said he alerted his home insurance company and noted that the gas company had already come and shut off the gas, as the impact of the crash destroyed a meter. 
"The insurance company said they would put us up in a hotel or motel," he said.
Police said Area Five detectives were continuing to investigate.