CHICAGO — After a two-day delay, City Council approved a $377 million COVID-19 relief spending plan championed by Mayor Lori Lightfoot during a Friday afternoon meeting.
The package, including $309 million in new federal grants and a $68 million carryover from 2020, was approved in a 37-10 vote.
The new package comprises various federal grants, including: $50 million COVID-19 grant funds from the Federal Emergency Management Agency; $79 million for housing assistance from the Treasury Department; $155 million in federal grants to the Department of Public Health; and an additional $24 million towards the city's vaccine effort.
The measure was scheduled for a vote during Wednesday's regular council meeting but Ald. Ed Burke (14th) and Ald. Raymond Lopez (15th) teamed up to stall a vote on the ordinance. That prompted Lightfoot and council allies to abruptly adjourn and schedule a new meeting for 48 hours later.
Burke again attempted to delay the vote Friday after reviewing more details of how the city spent $281.5 million of $1.2 billion in COVID-19 federal relief grants on police personnel between March and May 2020. 
Reading from briefing documents provided aldermen, Burke sought to sow doubt on the information provided by City Hall, saying the document "provided more questions than answers."
Burke and some members of the council's budget committee requested the breakdown of the controversial spending of federal funds, which prompted angry responses from some aldermen and activists who called it "immoral."
RELATED: Chicago Used 60% Of Discretionary COVID-19 Funding From Feds On Police: 'It's Immoral,' Critics Say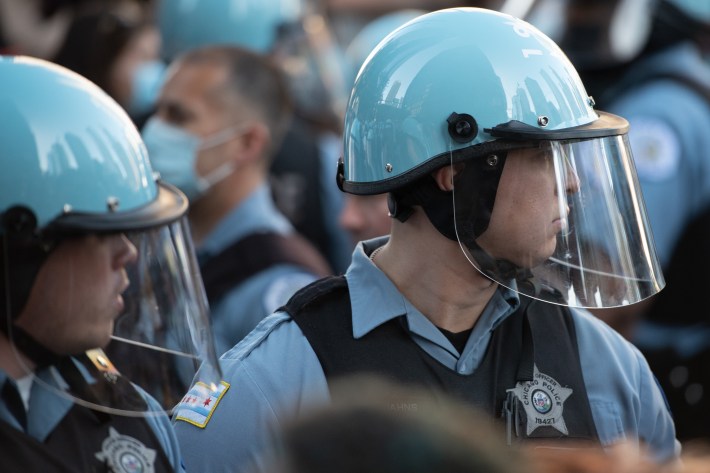 In deciding which payroll costs were eligible for federal reimbursement, the city focused only on divisions within the police department that provided a direct response to the pandemic. That included several sub-units within the department's Bureau of Counterterrorism, patrol division, Office of Chief of Staff and the superintendent's office.
No funds were used to reimburse personnel costs within the Bureau of Detectives and the Bureau of Internal Affairs, the memo said.
City leaders determined the activities eligible for federal reimbursement fell into five buckets:
Conducting wellness checks
Providing security at McCormick Place, testing sites and hotels that provided rooms to some COVID-19-positive residents and first responders fearful of bringing the virus home to their families
Additional security at the city's two airports
Monitoring the city's lakefront and parks
Responding to calls of overcrowded restaurants and retail stores
The memo says "Helicopter Support conducted missions along the lakefront or parks to monitor groups gathering in violation of the state and municipal restrictions." Information was then relayed to officers on the ground to disperse the crowds.
Officers also "provided special attention to Park District field houses" closed for COVID-19 safety precautions to "proactively prevent gatherings or disperse active gatherings or games."
Officers performed wellness checks "of seniors living alone without internal or external support systems to assist in reducing the vulnerability of isolated seniors by locating the senior, sharing information with the seniors, and providing regular follow-up with them," the document says.
The document indicates police officers performed 16,555 wellness checks in 2020, but does not provide how many were from March 1 through May 16, when the $281.5 million was spent.
Those costs came prior to widespread protests and civil unrest that broke out the last weekend of May, Budget Director Susie Park said.
Park told the budget committee last week $151.1 million went to salaries, $3 million on overtime and $128.1 million on fringe benefits to officers involved in the COVID-19 response.
"It's hard to conceive of how these memoranda can justify the expenditure of $281.5 million in a 10-week period of time, provided there are no examples of how many officers were redirected from their ordinary assigned duties to augment…the functions performed to justify this reimbursement," Burke said Friday.
Burke asked for the package to be sent back to the council's budget committee for further discussion, but aldermen rejected his motion and held a vote before others had a chance to weigh in on the plan.
Including Burke, those voting "no" included: Alds. Leslie Hairston (5th), Roderick Sawyer (6th), Anthony Beale (9th), Raymond Lopez (15th), Stephanie Coleman (16th) Jeanette Taylor (20th), Byron Sigcho-Lopez (25th), Andre Vasquez (40th) and Jim Gardiner (45th).
"These much-needed resources will allow us to continue to make progress with the vaccine rollout and reinforce our efforts to make a strong recovery," Lightfoot said in a statement after the meeting.
Last week, Lightfoot rebuffed criticism of the spending.
"Criticism comes with the job of mayor, but this one's just dumb," Lightfoot said. "And here's why: We had this once-in-a-lifetime experience of COVID-19. It was not part of our budgeting that was passed in the fall of 2019 because we didn't understand that we were gonna be facing the kind of pandemic and challenges that we faced.
"So the federal government came to cities like Chicago and said, 'We will provide you with reimbursable funds for moneys that were spent in regard to COVID-19.' So we saved taxpayers hundreds of millions of dollars by saying 'yes' to the federal government."
In the new package, Park told aldermen last week the $68 million in carry-over funds and the $50 million grant from FEMA likely are the only two categories where money is eligible to be spent on police personnel spending, but the administration has not yet made that decision.
Progressive aldermen sent Lightfoot a letter this week, requesting the budget office provide monthly reporting on how the $68 million is spent and laid out their own plans for it, calling for $25 million in direct cash payments to help Chicagoans pay down debt, $15 million to "fortify public health efforts" and millions more towards violence prevention efforts.
After the vote, Ald. Pat Dowell (3rd) thanked those who approved the package, saying the housing assistance was needed now.
Housing Commissioner Marissa Novara said last week the $79.8 million in rental and mortgage assistance was "about four times what we received in the last round" when demand for rental assistance far outpaced what the department was able to dole out.
"Which is great news, but also a logistical challenge for us," she said. 
The grant stipulates if a tenant or landlord applies for a grant, the city must contact the other party to verify the need for assistance. The department is looking to contract with an outside staffing firm to help handle verifying tenant and landlord applications, she said. 
The funds would be deposited directly with the landlord and the tenant would receive verification with the city of the amount deposited and for which months, said Daniel Hertz, policy director for the housing department.
However, if a tenant qualifies for assistance and the city is unable to contact the landlord after multiple attempts, there is a provision that allows for the funds to be deposited with the tenant who would later need to provide verification the money was spent towards rent.
Subscribe to Block Club Chicago. Every dime we make funds reporting from Chicago's neighborhoods.
Already subscribe? Click here to support Block Club with a tax-deductible donation.