ROGERS PARK — Rogers Park residents can weigh in on how their ward spends $1 million — from tree planting initiatives to street lighting improvements and more public art.
Ald. Maria Hadden's 49th Ward Office has unveiled the public works projects up for funding under the ward's participatory budget process. Neighbors can vote on which of six projects they'd like to fund, plus weigh in on how much ward-controlled money should go to street resurfacing.
The 49th Ward uses a participatory budget process to determine how the office spends its "aldermanic menu" funds, a yearly $1.3 million budget aldermen can devote to public works projects in their ward.
The ward allows neighbors to pitch projects and then vote on the ones they'd most like to see funded.
Voting is open through March 12. To receive a voting ballot, click here.
Neighbors will be asked to determine how much of the $1 million should be spent on local street and alley resurfacing. The remainder of the funds will be left for the six finalist projects.
The project with the most votes will be awarded funding, with any remaining funds going to the runners up, said Leslie Perkins, Hadden's chief of staff.
For more information on the projects and how to vote, click here.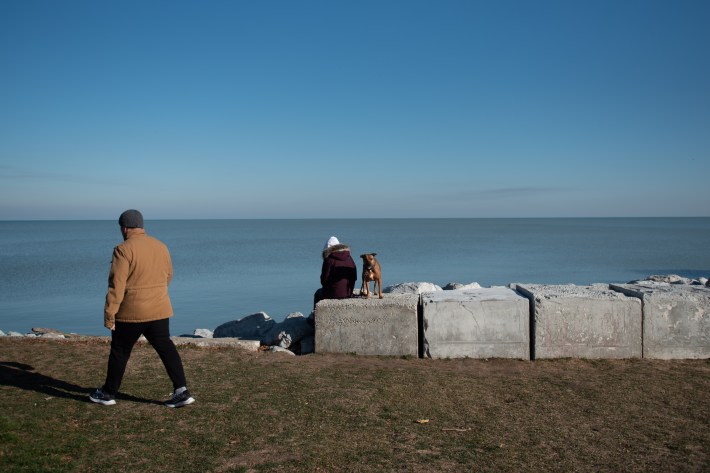 Accessible Path At Pottawatomie Park's Dog-Friendly Area
Cost: $30,000
Project Description: Connect the dog park entrance to the sidewalk at Fargo and Wolcott avenues. Currently, the dog park does not connect to the park's paved path.
Community Need: The dog park at Pottawatomie Park was one of the first projects funded by the 49th Ward's participatory budgeting process, which started in 2009. The dog area is not accessible from the park path, and users needs to walk through grass to reach its entrance, said Peter Norman, Rogers Park resident and budgeting committee member.
"There's a big gap in accessibility there," he said. "The goal is to increase the accessibility of the park for all types of people."
New Foot Wash Station At Loyola/Leone Beach
Cost: $35,000
Project Description: Add a foot wash station at the beach entrance off Lunt Avenue, near the beach parking lot.
Community Need: That would put a foot wash station nearer to Leone Beach. There is one already south of there at Loyola Beach. Hadden said she worked on bringing that foot wash station to Loyola before she was alderman, and said the current quote for the project is less than the one received years ago.
100 Street And Park Trees
Cost: $66,000
Project Description: The project would bring 70 trees to residential streets that lack canopy cover and 30 trees to parks in the ward. The cost includes one year of watering and maintenance.
Community Need: This project would not replace the dozens of trees lost during the tornado that struck Rogers Park this summer. There are other city funds to cover that tree replacement, Hadden said. Instead, this project would add to the ward's net tree count. A budgeting committee will do a ward survey to see where trees are most needed plus use 311 data to see who has requested a tree locally.
Bilingual Beach Safety Signs
Cost: $10,000
Project Description: The project would install signs in Spanish and English that warn of beach safety hazards at Rogers Park beachfront areas.
Community Need: The signs would address safety issues specific to Rogers Park's beaches, said Maureen Hickey, participatory budget committee member. Those include structural current warnings, which take place when people jump in the lake near piers and breakwaters, which are plentiful in Rogers Park. Ten people drowned in Lake Michigan off Rogers Park between 2014 and 2019.
Sculpture Installation
Cost: $100,000
Project Description: This cost would fund a public artwork along the lakefront that would likely remain on site for three to five years.
Community Need: Participatory budget volunteers are considering putting the sculpture at Rogers Beach Park, if it receives enough votes. The $100,000 budget would go mostly to an artist, but it would be a temporary installation to keep prices down, Marika Mashburn said. The project could help offset cuts in arts funding that happen during times of economic strife, like the pandemic, Mashburn said.
Upgrade Of Glenwood Avenue Street Lighting
Cost: $180,000-$200,000
Project Description: The money would upgrade or replace street lights on Glenwood Avenue between Devon and Albion avenues.
Community Need: This stretch of Glenwood was selected because of its inadequate lighting, said Raluca Pavel, budgeting committee member. The budget would depend on if lighting was affixed to existing streetlight infrastructure or if new infrastructure is needed. The new lights would include "piggy back" lights that illuminate the sidewalk.
Subscribe to Block Club Chicago. Every dime we make funds reporting from Chicago's neighborhoods.
Already subscribe? Click here to support Block Club with a tax-deductible donation.