NORTH LAWNDALE — North Lawndale residents can help shape the future of the old Silver Shovel site by giving feedback on the projects vying to redevelop the vacant land.
Six teams of developers are competing to build a project that balances industrial use and community benefits on the 20.8-acres of vacant land. The lots at Roosevelt Road and Kostner Avenue were home to an environmental justice disaster in the '90s, when it was an illegal dumping ground for hazardous waste that caused health issues for residents.
Three projects were presented to the public Wednesday night, developed by McCaffery, A Safe Haven and KMA Development; Matanky Realty, Safeway Construction and WBS Equities; and RK5 Development.
The other three projects — developed by Related Midwest and 548 Capital; Chicago Neighborhood Initiatives Group, East Lake Management and MK Asset Management; and Cubs Charities and Pritzker Realty — were presented to the community Tuesday. Read about the first three projects presented Tuesday night here.
RELATED: Silver Shovel Redevelopment Must Consider Environment, Gentrification, Local Hiring, West Side Residents Say
The redevelopment of the vacant land is part of the city's Invest South/West initiative. The city wants to winning project to reactivate an industrial site to create jobs and wealth locally, planners said. It's also important to the city that the project is a good neighbor and an asset to the community.
The city's planning department will evaluate the proposals based on economic feasibility, professional competence of the developers and design and the ability for the project to generate wealth in the neighborhood.
Residents' feedback will also help determine which project is selected. Community members can share their input on each plan for redeveloping the vacant land through an online survey.
Resident feedback will be compiled at the end of March, and the planning department will host an engagement meeting to report the survey results and the top proposals for further evaluation. Once a project is selected, community feedback will continue to guide the development of the project, planners said.
Three projects, developed by McCaffery, A Safe Haven and KMA Development; Matanky Realty, Safeway Construction, and WBS Equities; and McLaurin, JGMA, Beehyyve, McKenzie Management, BOWA, Art West Chicago, Nation Builders and Project Forward were presented Wednesday night.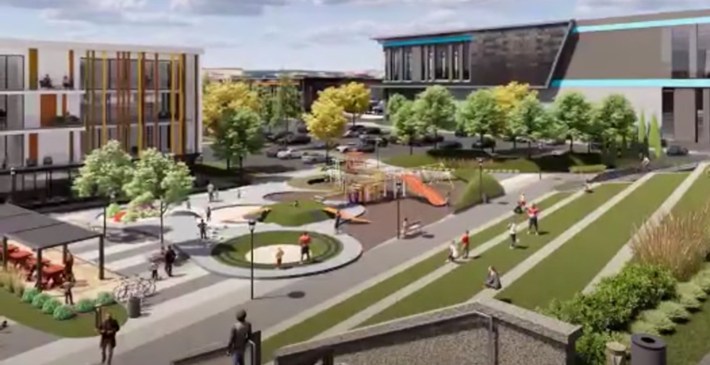 Industrial Facility For Tenant Like Amazon And Affordable Housing
McCaffery, A Safe Haven and KMA Development aim to build an industrial and commercial facility that would include affordable housing and greenspace. The project would be anchored by a 105,000-square-foot last-mile distribution center designed for large retail tenants like Amazon, Walmart and Target. The facilities would include cold storage and a light manufacturing warehouse.
The project will create 1,000 permanent jobs and more than 1,000 temporary construction jobs, developers said.
The plan includes commercial space along Roosevelt that would have two floors dedicated to supporting local entrepreneurs. The Lawndale Wealth Creation Engine will be an incubation and training community space at the site to help business owners grow, spearheaded by A Safe Haven and Bunker Labs.
"We want to do something thoughtful that's community-owned that has open access," said Todd Connor of Bunker Labs.
Another warehouse would house a job training program, A Safe Haven's landscaping business and the nonprofit's welding skills program. These programs will work with warehouse tenants to hire and train locals to work skilled jobs at the warehouses.
The project will build 60 unites of affordable rental housing intended to keep rents low and house workers. The landscaped open area would include a playground and amphitheater.
Industrial Park With An Incubator And Auto Training Program
The West Side Works project would include industrial park with an incubator that will house small growing businesses at the facility. The project — from Matanky Realty, Safeway Construction, and WBS Equities — will create up to 300 jobs at the industrial park in the transportation, distribution and logistics sector.
The Auto Mechanics Local 701 Union would be based at the industrial park to create pathways for Lawndale residents to enter union careers through the site's mechanic training facility. North Lawndale Employment Network is an equity partner on the project, and it will help train and place Lawndale residents at jobs at the industrial park.
"It is about jobs. Not just jobs, but good jobs. Jobs that lead to middle-wage income," said Brenda Palms-Barber, CEO of North Lawndale Employment Network.
Middle-wage employers already attached to the project as potential tenants include Testa Produce, Vantage Chemicals and Vienna Beef.
The types of jobs that will be available at the industrial park will be accessible to Lawndale residents who have barriers to getting employed, Barber said.
"This is a sector that is really friendly to individuals who have had a brush with the law. For me, it's really important that if you've served your time, you've served your time," Barber said.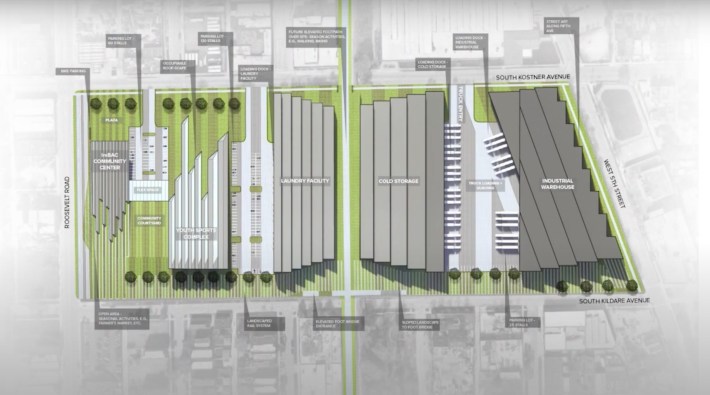 Industrial Warehouses With Athletic Fields, Rec Center
RK5 Development, comprised by a team Black-and-Latino-led group of partners, includes McLaurin, JGMA, Beehyyve, McKenzie Management, BOWA, Art West Chicago, Nation Builders and Project Forward. They aim to build industrial warehouses and cold storage, as well as athletic facilities and space set aside for the community.
The redevelopment could generate 370 permanent jobs and more than 300 construction jobs. Developers would work with organizations like Sunshine Enterprises and LISC to support entrepreneurship, access to capital and local hiring.
A community courtyard and recreation center would house sports programs for the North Lawndale Athletic and Recreation Association.
"If we're able to make this happen, it closes a lot of gaps and offers a lot of opportunities for young people to be involved in sports, recreation, arts, youth development programs and things of that nature," said Claude Robinson, founder of the athletic association.
The center would have retail space for local businesses, a creative studio, an incubator and co-working spaces for artists and businesses. A cafe run by Momentum Coffee would be based at the center.
"It is about bringing arts to the community," Robinson said. "There will be a significant mural project that engages local artists, and there will become a focal part of the project."
Watch all of Wednesday night's meeting here:
Pascal Sabino is a Report for America corps member covering Austin, North Lawndale and Garfield Park for Block Club Chicago.
Subscribe to Block Club Chicago. Every dime we make funds reporting from Chicago's neighborhoods.
Already subscribe? Click here to support Block Club with a tax-deductible donation.