SOUTH SHORE — Some South Shore residents faced long delays in getting their blocks cleared despite more than 3 feet of snow falling on the city in the past month.
Parts of 77th and 78th streets, South Essex Avenue and other residential roads in the neighborhood still had not been cleared by Monday afternoon, when weeks of snow and frigid conditions finally gave way to above-freezing temperatures. Some blocks hadn't been plowed since Feb. 9, according to the city's real-time plow truck tracker.
The record stretch of heavy snowfall meant city plows were delayed in reaching residential roads, in favor of keeping main roads clear. Mayor Lori Lightfoot and John Tully, Department of Streets and Sanitation commissioner, urged residents to be patient as crews often were pulling double duty in driving garbage trucks and snow plows.
Without providing evidence to dispute the city's own plow truck tracker, Cristina Villarreal, Streets and Sanitation department spokesperson, said in a statement all residential blocks citywide have been plowed "multiple times" since last week's heavy snowfall.
The department "manages 9,400 lane miles of road; if, for some reason, a street was missed, residents can contact 3-1-1 to request a plow," Villarreal said.
But some South Shore residents said their streets remained clogged with snow until this week's warmer weather started the big melt, and their unplowed streets kept neighbors gridlocked as they tried to get to work or run errands.
And as residents complained of plowing delays on social media, the tracker was taken offline — even though city officials had encouraged residents to use it just a day earlier.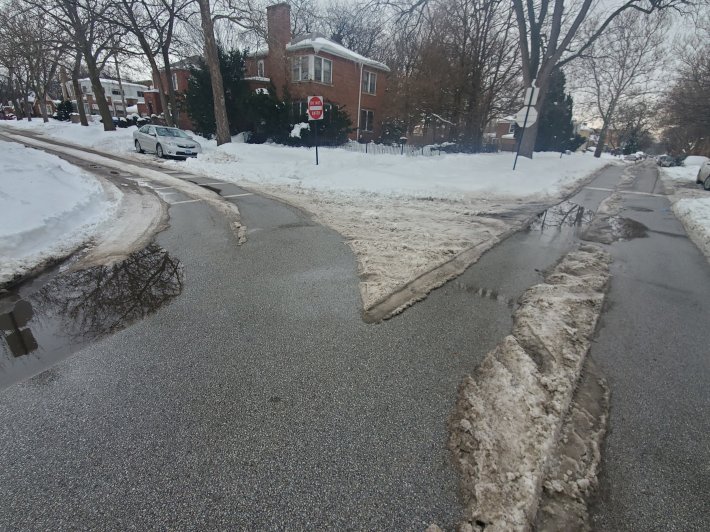 'These Streets Should Be Plowed'
A storm Feb. 15-16 dumped more than 17 inches of snow on Chicago, according to National Weather Service readings at Midway Airport.
When the snow plow tracker was online, Block Club confirmed it showed 78th Street from Luella Avenue to Colfax Avenue had not been plowed from Feb. 9 through at least Monday afternoon.
Block Club asked Streets and Sanitation for comment and tweeted a picture of conditions at the intersection of 78th and Luella. Just hours later, at about 12:30 p.m. Monday, a city truck cleared a perimeter near the intersection, the tracker showed.
But neighboring blocks of 78th Street from Crandon Avenue to Colfax Avenue remained untouched as of 2 p.m. Monday.
While other South Shore side streets saw shorter delays in getting plowed, residents still faced the brunt of the winter storm without plow trucks passing through even once.
As of Monday afternoon, the tracker showed the 7700 block of South Essex Avenue and a few neighboring blocks hadn't seen a plow since Feb. 14.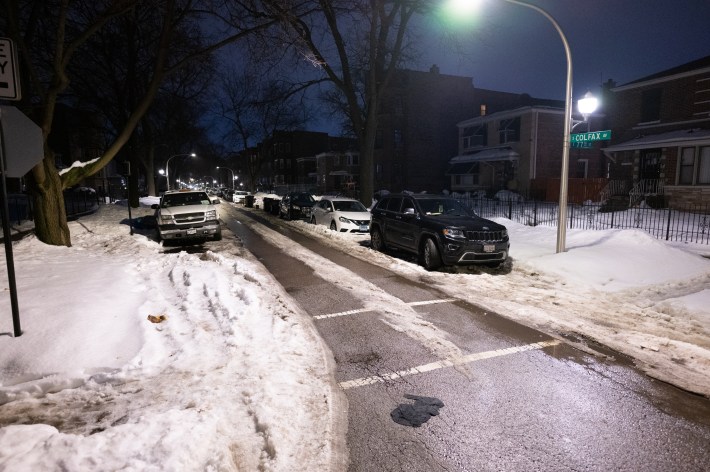 Even South Shore residents who had relative success with their home blocks being plowed complained about the state of the neighborhood's side streets.
The city's plow tracker showed two trucks came down Trina Reynolds-Tyler's block late last week, in the days immediately following the snowstorm. In the interim, a neighbor's car was sideswiped by a driver trying to get through, she said.
Though leaving blocks unplowed is unfair for South Shore residents of all ages, Reynolds-Tyler "cannot imagine" what it's like for older people as they navigate the snowy streets, she said.
"It's frustrating because these streets over east are already narrow," Reynolds-Tyler said. "When the snow piles up over time, it makes coming through the streets more challenging. Parking is more challenging. It's more challenging to get to the store."
Chicago's controversial practice of "dibs" only amplified frustrations around the unplowed streets, she said.
"People have conflicts because people are saving spots, especially when you live on blocks where people don't know each other as intimately," Reynolds-Tyler said. "It's a bit challenging if somebody removes your chair and parks in your spot. [They] shouldn't really be mad at this individual; [they] should be upset because these streets should be plowed."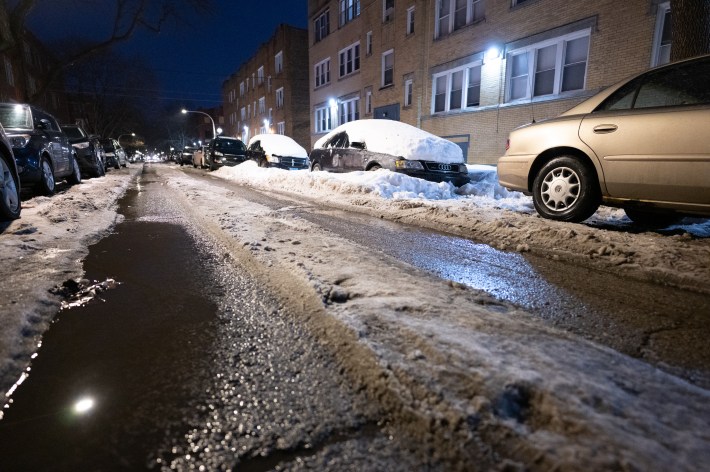 Kingston and Essex Avenues in South Shore have been "horrible," and the neighborhood's east-west, one-way streets have been "really horrible," said A. Anne Holcomb, manager of facilities and resources for Unity Parenting and Counseling.
Because side streets saw long delays in plowing, "people took matters in to their own hands, parking at these crazy angles because there were so many snow mounds," she said.
Holcomb was recently caught behind an accessible van in the neighborhood, which was unable to pull to the side due to snow banks, she said. The attendant had to help a person with a walker navigate the snowy mound in the street.
"There was a car behind me and the Pace van in front of me, and because traffic had been narrowed to one lane, we were completely stalled there," Holcomb said. "I was 20 minutes late to work that day. I was not happy."
As temperatures rose at the start of this week, some of the unplowed snow melted, mixing with dirt and trash as it pooled in potholes along Essex Avenue.
As residents complained of delays on social media, the plow tracker was offline Tuesday, with city officials saying it would only be activated "during major snow events." Just a day earlier, the Streets and Sanitation Department encouraged residents to use the tracker as crews continued to work on side streets.
"We have transitioned to residential streets this morning after ensuring main streets are safe and passable overnight," the department posted to Facebook on Monday. "Follow plows in real time at ChicagoShovels.org."
It's unclear why the tracker remained active Monday — with a high of 40 degrees and no snowfall — but officials considered the "major snow event" over by Tuesday.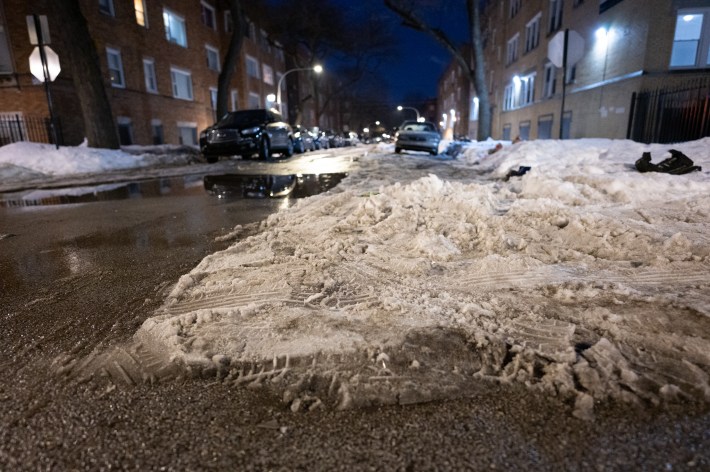 Subscribe to Block Club Chicago. Every dime we make funds reporting from Chicago's neighborhoods.
Already subscribe? Click here to support Block Club with a tax-deductible donation.