SOUTH SHORE — Preservation Chicago, a local nonprofit advocating for the protection of Chicago's built environment, released its 18th annual list of the city's "most endangered" places and spaces Wednesday.
The seven places included on this year's list are:
The former Phyllis Wheatley Home, 5128 S. Michigan Ave. in Washington Park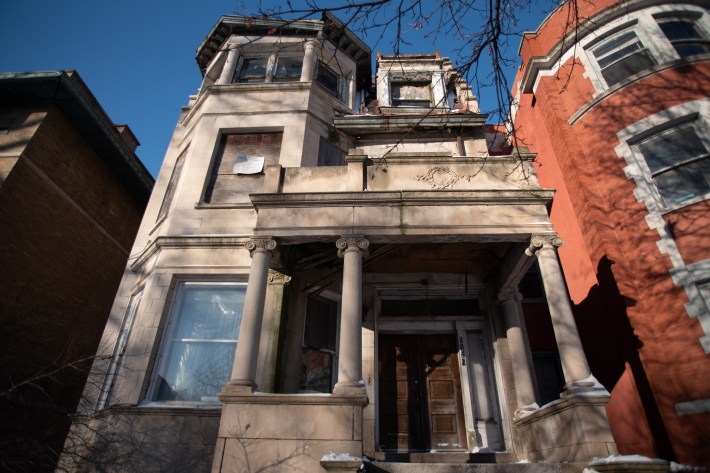 This 125-year-old building is a "touchstone of the neighborhood," and a monument to the Black women who moved north during the Great Migration — but it's in severe disrepair and in danger of being demolished.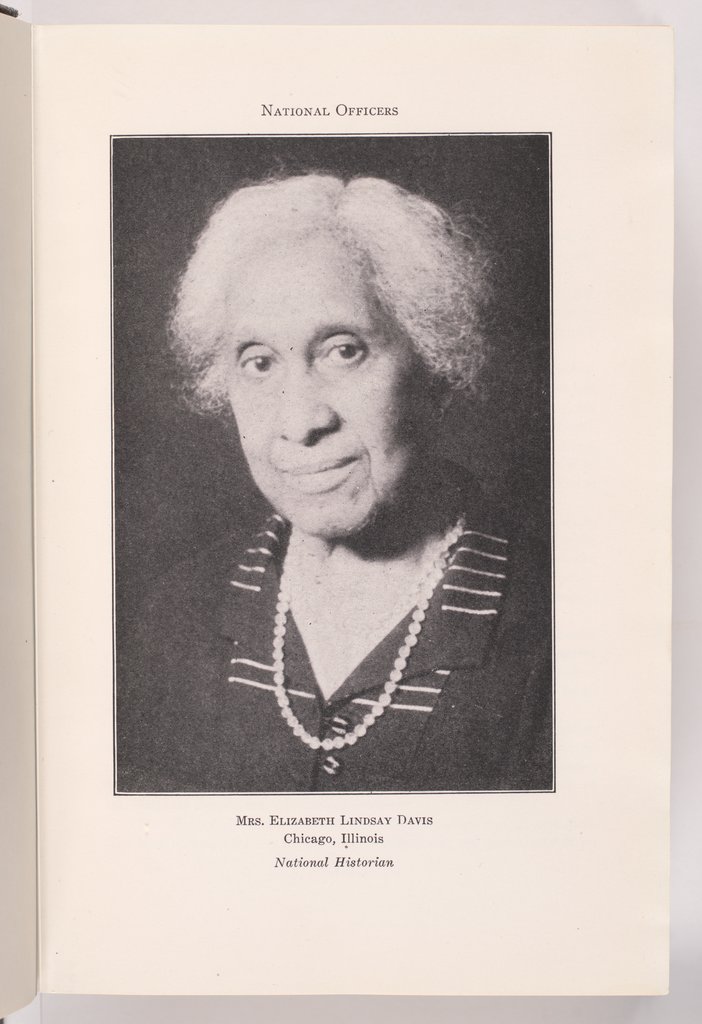 The 125-year-old structure must have its roof and rear wall replaced, owner Ariajo "JoAnn" Tate said. Tate estimates it will cost $700,000-$1 million to make the necessary repairs.
She's received support from residents and Preservation Chicago as she works to save the building. Time is ticking on the project, as a Circuit Court judge may issue a demolition order as soon as a scheduled hearing for the vacant building March 16.
Preservation Chicago has been told by national women's groups the Wheatley home "is the rarest of the rare," as sites honoring the history of Black women "have taken a huge impact in terms of loss and demolition," Preservation Chicago executive director Ward Miller said.
The city should "take extraordinary measures to preserve this building form potential loss," he said.
Cornell Store and Flats, 1230-32 E. 75th St. in Greater Grand Crossing
This mixed-use building at 75th Street and South Chicago Avenue was designed by Walter Burley Griffin, the architect whose grand vision for the Australian capital city of Canberra was ultimately sidetracked by World War I.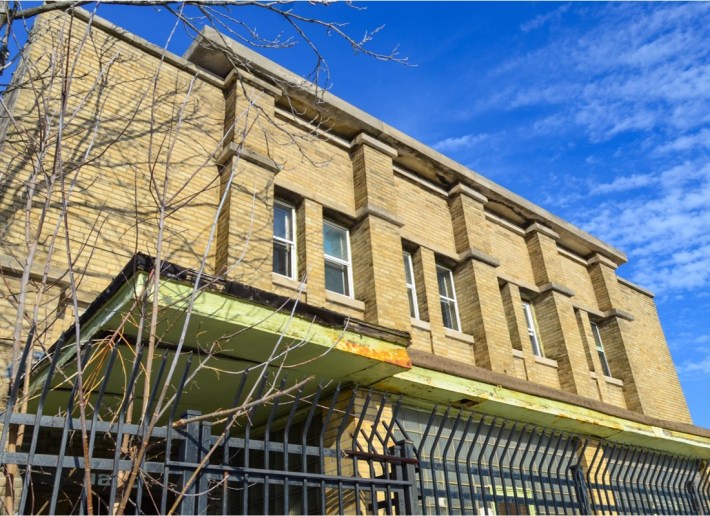 The Prairie School structure faced demolition court in 2016, after years of deterioration and neighborhood disinvestment, according to Preservation Chicago. The group is calling on the building's owner to "make progress towards renovation or transfer the property to an owner with clear plans for restoration."
The Cornell Store and Flats building neighbors vacant lots and two rail lines, which could allow for a large, transit-focused development featuring Griffin's design as an anchor, the group said.
The Chicago Lakefront
Development projects and climate change pose imminent threats to the stability of Chicago's shoreline, Miller said.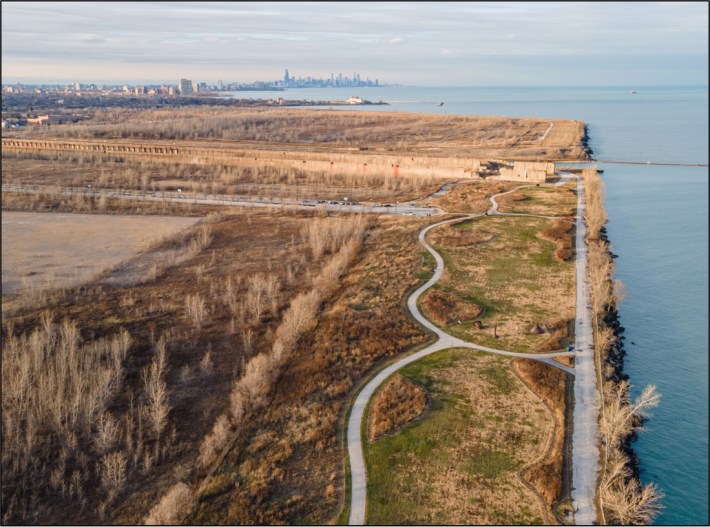 He said he was particularly concerned about the city and state's study to modify North Lake Shore Drive, the planned Obama Presidential Center in Jackson Park and stalled plans to redevelop the former U.S. Steel South Works site.
Protecting existing park land and creating new green space maintains a buffer protecting Chicago's buildings "from the power of mother nature in Lake Michigan — which we all love until it's in our basements and on our streets," Miller said.
"In Rogers Park, in South Shore, in these areas where there isn't that green park land buffer is where buildings are being undermined by wave action, climate change and erosion," he said.
Miller called on the federal government to establish Chicago's lakefront as a national park, which would bring additional tourism to Chicago and "could really activate the lakefront in a whole [new] way," he said.
Chicago's Roman Catholic Churches
The Archdiocese of Chicago's ongoing push to consolidate churches in the face of dwindling attendance led Preservation Chicago to place the city's churches on its list for a second time.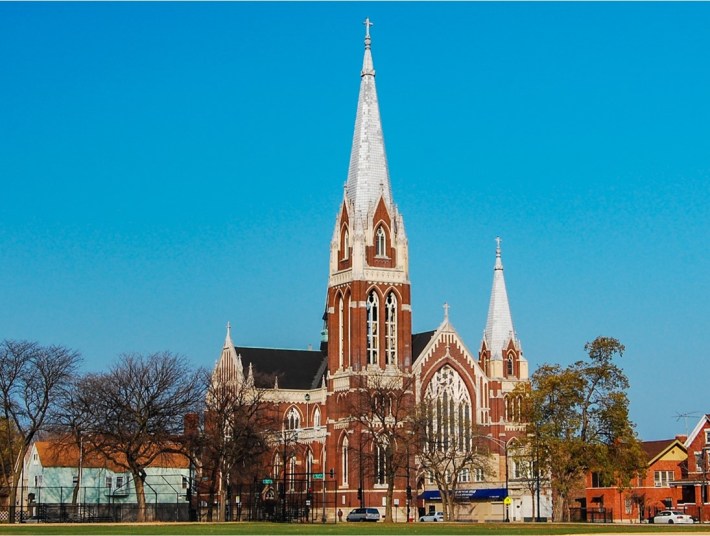 The churches are more than places of worship, Miller said. Their stunning architecture are landmarks and cornerstones of Chicago's neighborhoods, and their services extend "far beyond the faith based principles," he said.
Miller advocated for the city to "figure out a way to landmark these as a thematic district, as well as making sure these buildings survive" parish consolidations and property sales.
"If they can't be used as a faith center any longer, they should be dedicated to the community," Miller said. "They were built with the pennies, nickels and dimes of the community and the faithful, and I don't think we should squander that."
South Chicago Masonic Temple, 2939 E. 91st St. in South Chicago
This 105-year-old building at 91st Street and Exchange Avenue has been vacant for a decade, but preservationists see "an extraordinary opportunity" to restore the building in tandem with others in the neighborhood.
Architect Clarence Hatzfeld designed the building, as well as the demolished Masonic Temple in Englewood. The brick and terracotta structure "holds great potential for an adaptive reuse project that could reinvigorate" South Chicago, Preservation Chicago said.
Chicago can use the redevelopment of the former South Chicago YMCA into senior apartments and a community center as a model for reusing the Masonic Temple, the group said.
The city "should advance an Invest South/West project that combines the South Chicago
Masonic Temple, the Sts. Peter and Paul Catholic Church across 91st Street, and other vacant and underutilized properties in the immediate area," preservationists said.
The Central Manufacturing District's Original East District
The district — roughly bounded by Morgan Street, Ashland Avenue, 35th Street and Pershing Road — is an "irreplaceable artifact of industrial and manufacturing history and design" in the city and the U.S., according to Preservation Chicago.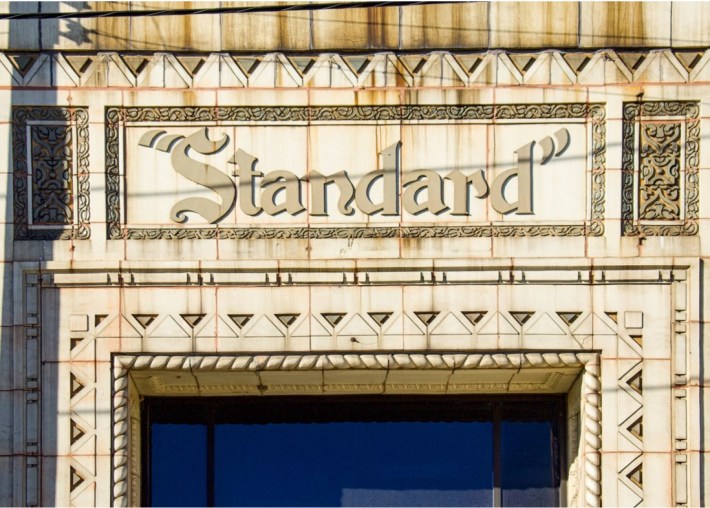 The group supports the creation of a Historic Landmark District to protect the East District's remaining structures, which date back to 1902.
Members said they are encouraged by the city's decision to landmark the Spiegel Administration Building, 1038 W. 35th St., which serves as a sign that landmark status "can and should be extended" to the rest of the East District's buildings.
West Loop Industrial Buildings
Three West Loop industrial properties — the Archer Daniels Midland Wheat Mill at 1300 W. Carroll Ave., the Cassidy Tire Company Building at 344 N. Canal St. and the Salvation Army building at 509 N. Union Ave. — rounded out this year's list.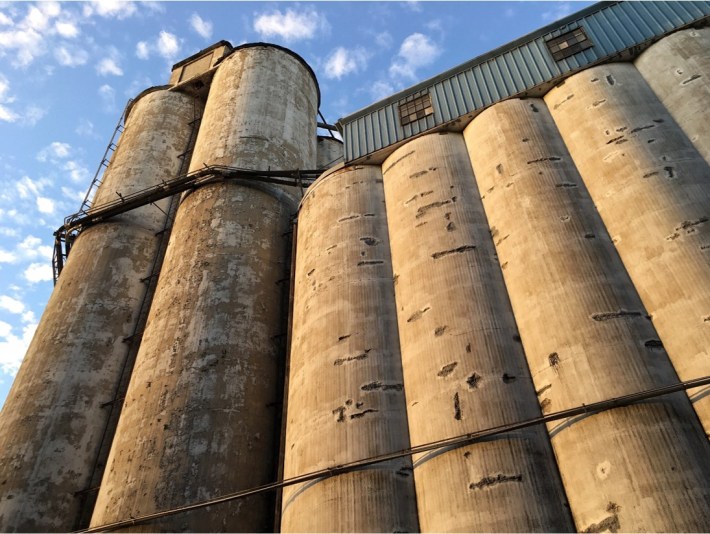 Prominent West Loop developer Sterling Bay began demolition of the old wheat mill and silos earlier this month, before Preservation Chicago's list was officially released. Miller previously said the building's demolition signaled yet another loss of Fulton Market's history.
"These kinds of buildings and facilities are a link to our past," Miller said.
Built in 1897 for the Eckhart & Swan Milling Company, the oldest structures on the two-acre wheat mill site were designed by John Flanders and William Zimmerman. Over time, portions of the 250,000-square-foot building have been rebuilt and added, including the silos built in 1947, according to preservationists.
Even as demolition has begun, no formal proposal has been submitted to the city to redevelop the site. Miller advocated for city officials to stop the "scorched earth" approach of granting demolition permits before alternative plans are approved.
Subscribe to Block Club Chicago. Every dime we make funds reporting from Chicago's neighborhoods.
Already subscribe? Click here to support Block Club with a tax-deductible donation.