CHICAGO — Five Black alderwomen are proposing sweeping search warrant reforms after the wrongful and humiliating raid on Anjanette Young's home.
The Anjanette Young Ordinance would ban no-knock warrants and place tighter restrictions on Chicago Police's ability to obtains warrants. The measure also would restrict officer's interactions with children, mandate at least one female officer be present when raids are conducted and would mandate the release of raid video footage to the resident whose home is raided within two days of a request.
The ordinance was set to be introduced at Wednesday's City Council meeting before it abruptly adjourned.
The proposed ordinance is named for Young, the social worker whose home was raided by 12 male officers based on a tip of a confidential informant. Despite being naked and not matching the description of the suspect, Young was handcuffed nude for 40 minutes as pleaded with officers, telling them 43 times she was innocent and they were at the wrong home.
Speaking at a press conference Wednesday morning, Young said she feels fortunate to be in a position to call for "an era of change" despite the horrific raid.
"My grandmother was a civil rights activist and I grew up in Mississippi watching her fight for civil rights and voting rights and things that she cared deeply about in her community. So it's in my DNA to stand up and shout that this is not right and to fight for, not only myself, but for others," Young said.
Freshman Ald. Maria Hadden (49th) said wrongful raids "traumatize our citizens" and "chip away at the relationship that we have between government and communities, between police and our communities." Hadden is co-sponsoring the measure with Sophia King (4th), Leslie Hairston (5th), Jeanette Taylor (20th) and Stephanie Coleman (16th).
"We're looking to protect Chicagoans from the devastation and trauma that she and others have experienced in the wrongful raid. We're looking to make sure that we codify the best practices and policies that will protect the human and civil rights of Chicagoans," Hadden said.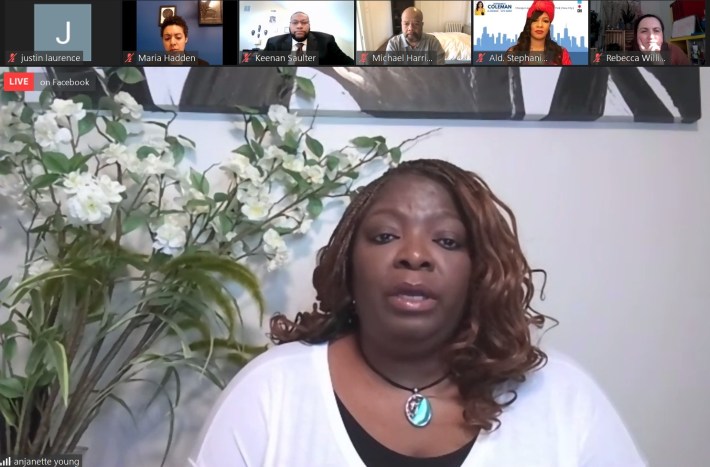 The incident gained national attention in December when CBS2 Chicago aired videos of the raid the news station obtained from Young's attorney, Keenan Saulter. City attorneys asked a judge to block the news station from airing the footage, but were denied.
Young filed a lawsuit against the city, the Chicago Police Department and 12 officers involved in the raid in state court last week. The nine-count lawsuit alleges the officers began a conspiracy to cover up the incident the night of the raid and the conspiracy was further by city officials, including Mayor Lori Lightfoot.
RELATED: Anjanette Young Sues City, Cops Over Humiliating Wrongful Raid, Alleging Police Began An Immediate Coverup
Saulter said Wednesday the "horrific" treatment of Young and other victims of wrong raids is "beneath a certain modicum of human decency."
"We simply can't have citizens treated in this manner, so we are hopeful this new ordinance will become the new way forward for policing in Chicago," he said.
Lightfoot initially said she first learned of the raid through December's news coverage, but days later backtracked, saying her staff alerted her over a year prior.
Lightfoot's office later released emails showing she was first sent a detailed description of the "pretty bad wrongful raid" — including the fact Young was handcuffed naked — on November 11, 2019, as her staff scrambled to respond to a pending Freedom of Information Act demand that Young filed seeking the videos, and an upcoming news report from CBS2.
Lightfoot has apologized to Young for the incident, and in response to the lawsuit, the Law Department issued a press release stating the city has asked to meet with Saulter.
"We have communicated our commitment to an equitable and expeditious resolution  which will allow Ms. Young's path toward healing to continue," the statement said.
After the meeting, Lightfoot did not commit to supporting the reforms, saying, "I haven't really had a chance to look at it because they didn't contact us ahead of time."
"For some months now the department itself has been working on looking at it its general order which defines the time, place and manner for search warrants and we'll be announcing some updated changes to that in direct response to the issues that were surfaced as a result of what happened to Ms. Young," the mayor said.
The measure goes further than reforms to search warrant procedures laid out by Police Supt. David Brown during a December committee hearing with angry aldermen.
Hairston said the raid was "undoubtedly one of the most disturbing police blunders and human rights violations that I've seen in my more than two decades of service to the city."
"For decades, Black people in the city of Chicago have been fighting police about abuse, discrimination and illegal policies and practices. They have been met over the decades with denials, excuses and blatant lies about its existence, until the video, irrefutable," she said.
The sponsors are asking the ordinance be filed with the city's Public Safety Committee. It first must be approved by the committee before it could be voted on by the full City Council.
The proposed ordinance would outlaw no-knock warrants and requires officers to announce themselves and give the occupant at least 30 seconds to respond before entering the premises, Raids could only be conducted between the hours of 9 a.m. to 7 p.m. "absent verifiable exigent circumstances," the measure states.
No search warrant could be sought solely on information from a confidential informant, and the police department must record and publish data on search warrant operations, including any allegations of police misconduct.
When conducting a search warrant, officers must "use tactics that are the least intrusive to people's home" and "take measures required to protect people from physical and emotional harm."
Young said this clause was "so important to how people are treated," noting the officers involved in her raid thought they were acting on "valid" information.
"Once they get on the other side of the door, it matters how they treat what they find," she said. "This ordinance would at least hold them accountable for how they treat me at that moment. They could have allowed me to get dressed and continue what they were doing."
Young said she is "very optimistic" the reforms will pass, saying she's a woman of faith and has the support of the community.
"We're going to continue to push this until it happens," she said.
Young and the alderwomen Wednesday were joined by Craig Futterman, a professor at the University of Chicago, and members of Black Lives Matter Chicago, The Chicago Chapter of the National Pan-Hellenic Council, the Westside Chapter of the NAACP, Network 49, Progressive Baptist Church, United Working Families and Urban Reformers.
Subscribe to Block Club Chicago. Every dime we make funds reporting from Chicago's neighborhoods.
Already subscribe? Click here to support Block Club with a tax-deductible donation.