CHICAGO — Two large redevelopment projects and a long-stalled measure to upgrade smoke detectors in old buildings received approval from the city's zoning committee Tuesday.
After receiving approval from the city's Plan Commission last week, the developer of The Fields project at the Logan Square/Avondale border, 4000 W. Diversey, received committee approval to amend the site's zoning district to accommodate a 50-foot tall building, two roof decks, more retail space and several sound stages for a planned film production studio.
The plan was approved without objection and is likely to be approved at Wednesday's City Council meeting despite opposition from several community groups who have tried to stall the project, saying they were shut out of the process.
Organization leaders have said Knickpoint Ventures and local Ald. Felix Cardona (31st) failed to solicit enough community feedback for a project that could transform the area. It sits at the edge of gentrifying Logan Square and Avondale, and leaders said they're worried it could lead to more displacement of longtime Latino residents.
"It is not clear how a film studio will benefit the many immigrants and business owners in this neighborhood who have been devastated by this pandemic," Christian Diaz with Logan Square Neighborhood Association said last week.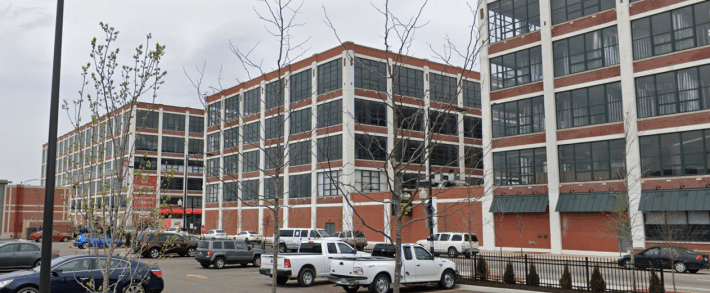 The committee also swiftly approved a zoning change needed to convert the Morton Salt Factory, 1357 N. Elston Ave., into office space and a music venue.
Co-developed by Blue Star Properties, the development arm of 16 on Center, and R2, a Chicago-based commercial developer, the $30 million project would create 200 construction jobs and about 50 permanent jobs and will generate $4.5 million in annual tax revenues, according to plans submitted to the city. 
16 on Center owns Empty Bottle, Thalia Hall, Beauty Bar and several other Chicago venues. R2's portfolio includes several recent developments along the riverfront, including Goose Island's 1315 North Branch and the sprawling REI flagship building, 905 W. Eastman St.
The developers are seeking landmark status for the old salt factory and plan to keep the factory's iconic sign, which shows a girl in a yellow rain jacket holding an umbrella.
Ald. Walter Burnett (27th), said he was happy the project would retain the sign, "that most of us have known for all of our lives."
"This is going to bring tourism to the city of Chicago," Burnett said of the music venue
The long-stalled smoke detector ordinance was advanced out of committee in March, 2020 over the objection of the Fire Department and some aldermen, but was never voted on by the full City Council.
The measure, sponsored by Ald. Gilbert Villegas (36th), looked to be delayed again after the city's fire chief objected to the ordinance, but was later approved after Commissioner Richard Ford returned to the meeting to say he was "100 percent" in support of the amended ordinance.
The ordinance requires owners of buildings built prior to 1984 replace battery-operated smoke detectors with detectors with 10-year batteries, and puts the onus on building owners to replace the devices as needed.
The ordinance has yet to be posted online. A representative of the city's buildings department shared a one-page summary Tuesday which included:
Prohibiting the sale or donation of batteries that don't conform with the ordinance by January 2023
Increasing fines for building owners that fail to provide a required smoke alarm, smoke detector, or carbon monoxide detector. Owner-occupied buildings are exempt from the fines until 2033, as long as they have working devices in the building.
"Most of the battery-operated smoke detectors have a shelf life of 10 years. So this allows them a decade to run the full life of the current smoke detectors," Villegas said of the extended timeline for homeowners.
Other Proposals
Scaled-back plans for a nine-unit corner building at 2901 N. Milwaukee Ave. in Avondale were approved.
The original plans called for a 19-unit building with a two-story addition. Ald. Carlos Ramirez-Rosa filed a letter of support for the project, after saying in December it was proof that his controversial decision to downzone a stretch of Milwaukee Ave. was working.
"This project really shows that through our community-driven zoning process, through our land use and development policy which seeks to preserve existing buildings, we are able to accomplish our goals in this stretch: investment, [but with] rehab of existing buildings and preservation of the existing built environment," the alderman said in December.
RELATED: After Fliers For Avondale Apartments Spark Backlash, Developer Returns With Scaled-Back Proposal
Pastry chef Angela Diaz also was approved for a zoning change to open her 405-square-foot You're a Cookie gluten-free bakery in Avondale. 
The Instagram-friendly Wndr Museum, 1130 W. Monroe St. received approval to expand into the adjacent building at 1140 W. Monroe St. The museum announced Tuesday it plans to reopen Friday with a touchless experience and enhanced safety measures after closing due to the coronavirus pandemic.
In the 45th ward, Columbia Care was given approval to expand their dispensary at 4758 N. Milwaukee Ave. Ald. David Moore (17th) voted no, saying he "can't in good conscience" vote for a dispensary without significant minority ownership. 
Decisions on several large development projects were also delayed, including a 47-story tower in the 42nd ward, east of the Kennedy Expressway.
The 413-unit complex, 640 W. Washington, with approximately 8,000 square feet of ground level retail spaces was set to join other recent projects approved for the area, including the Parker Fulton Market, 727 W. Madison, and an upcoming Equinox-branded hotel and apartment high-rise.
A nine-story commercial building at 1229 W. Randolph St., planned to replace a two-story vacant building next door to a Lou Malnati's Pizzeria, was also put off for a vote, as was the redevelopment of an old Sears building on the West Side set to become a grocery store.
No reason for the deferrals were shared during the meeting.
Subscribe to Block Club Chicago. Every dime we make funds reporting from Chicago's neighborhoods.
Already subscribe? Click here to support Block Club with a tax-deductible donation.