PILSEN — Schools across the city scrambled to get devices to students when they switched to remote learning last spring due to the coronavirus pandemic.
Many students at St. Pius V School in Pilsen simply didn't have access to the needed technology at home, said Principal Melissa Talaber. The school, which serves pre-K to eighth grade, gave out the tablets it had access to at the time, but that only covered 10-15 percent of students.
"One of the biggest challenges was not having access to allow them to fully engage in remote learning," Talaber said.
Nearly a year later, the Catholic school, which began a hybrid model of remote and in-person learning this fall, has finally been able to give each student a device thanks to a donation from Big Shoulders Fund and St. Joseph Services earlier this month.
The Bridging the Youth Technology Gap Program donated 250 Chromebooks and iPads to St. Pius and Epiphany Catholic School. Another 300 Chromebooks were given away to other schools on the South and West sides, said Josh Hale, president and CEO of Big Shoulders Fund.
"The pivot to remote learning was a shock to the system for everyone," Hale said.
While Big Shoulders has worked to create a one-to-one ratio for technology at schools over time, COVID-19 made clear the "digital equity gap" and accelerated the group's efforts, Hale said.  
Because so many opportunities and interactions are technology-based, it's prudent to close that digital divide to give opportunities to every child regardless of ZIP code, Hale said. 
Through the partnership with St. Joseph, "we are working together to fill the gaps in resources in underserved communities and keep students on a path to graduation and a bright future,"  Hale said. "We have a lot of work to do. But we are just getting started." 
Guadalupe Preston, St. Joseph Services executive director, said the need for collaboration to respond to community challenges has been "greater than ever" during the pandemic.
In a statement, Preston said the organization was thankful to "provide both devices and internet access to empower youth in their educational pursuits as they thrive to achieve their dreams."
With the donations of Chromebooks coupled with federal CARES Act funding, Talaber said students at the Pilsen school are more equipped with resources that are opening the door to additional opportunities.
The devices have allowed for remote learners to collaborate with in-person learners and created more creative teaching opportunities, Talaber said.
"Having these devices have been a huge asset to our school in providing equity and access so all of our students are able to engage in the academic program we have to offer," Talaber said.
It's also "enriched opportunities" with more personalized learning at the school, she said.
Scott Ernst, Epiphany Catholic School principal, said the huge boost from the donation can't be understated.
The families of the Little Village school, 4223 W. 25th St., struggled to access devices while some available technology was not up to operational standards, Ernst said. Families also faced internet issues. 
"The biggest challenge was getting every student a device and every student online," Ernst said.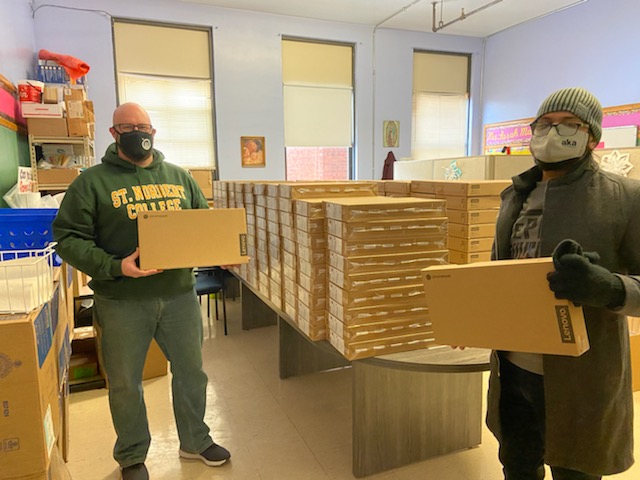 Before the pandemic, the school's goal was to get every student a device within the next four years. The 210 donated Chromebooks means they already have enough devices for each student.
The donations and partnership with the two organization is allowing for the school to "continue its mission to be college-bound and heaven-bound," Ernst said.
"We are really excited about this opportunity. This will allow for our students and school to grow and make our students even more technologically capable,"  Ernst said. "This is a big deal for us."
Subscribe to Block Club Chicago. Every dime we make funds reporting from Chicago's neighborhoods.
Already subscribe? Click here to support Block Club with a tax-deductible donation.