HUMBOLDT PARK — Neighbors from across the city rallied around an Albany Park family this week to help them search for their lost dog.
The massive search — the Find Toby movement — dragged on for four days. By Wednesday, the fifth day, Toby's owner Nelly Roa had grown weary.
But that afternoon, all of the hard work paid off when police officer Ricky Podgorny spotted Toby in Humboldt Park, setting off a rescue mission.
"I was on my way home talking to the wife on the phone and I saw Toby going by and I said, 'I gotta give you a call back. Toby just ran by.' She said, 'Who's Toby?' I said, 'I gotta give you a call back,'" Podgorny said at a news conference Thursday.
RELATED: Toby Is Home: Lost Dog Who Sparked A Massive, Days-Long Search Reunited With Family
Podgorny dispatched his fellow officers in the 14th District, and soon several officers and Roa had Toby surrounded.
Toby hesitated, but eventually made his way into Roa's arms.
Roa said she hasn't let go of her beloved dog since. She was so happy to be reunited with him that she slept on the floor with him his first night home.
"I'm so appreciative of the whole community," Roa said.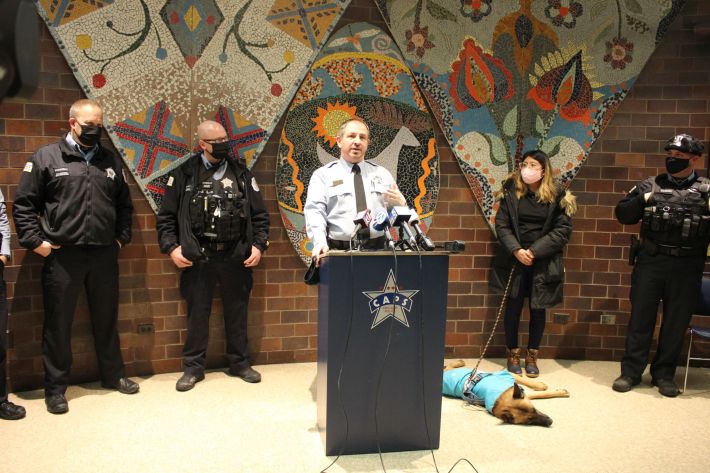 Roa said Toby is healthy despite having spent four days in the cold and enduring a massive snowstorm, but he is shaken up and his eye injury may have gotten worse.
"He had a tough night even with his comfy bed. He's afraid of people," she said.
While out on his own, Toby traveled a far distance across busy intersections, said officer Daniel Kolodziejski, one of the officers who came to his rescue. Kolodziejski said he's "amazed he didn't get struck by a vehicle."
Toby went missing early Saturday morning after managing to escape MedVet in Avondale, sparking a massive search.
Within just a few days, there was a Facebook page, an Instagram account, a sightings map and a Discord chat — all dedicated to finding Toby. Neighbors from across the city were determined to reunite the lost pup with his family.
At one point, Roa created a trail with cut-up pieces of her favorite shirt, thinking the scent would lure Toby home.
All of those efforts combined led to the happy ending on Wednesday, officers said.
"It truly was a combined effort with CPD and our citizens," said Officer Adam Jaurigue, another officer who helped with the rescue.
While she's overjoyed to have Toby back home, Roa said there are are other lost pets who need rescuing — and Chicago should step up in the same way.
But for Roa and her family, and for the thousands of Chicagoans who were rooting for Toby's safe return home, Wednesday's rescue should be taken as a win, the officers said.
"I'm a pet owner so I know exactly how she feels losing an animal," Kolodziejski said. "To get Toby back in her arms is a great feeling."
Subscribe to Block Club Chicago. Every dime we make funds reporting from Chicago's neighborhoods.
Already subscribe? Click here to support Block Club with a tax-deductible donation.