RIVER WEST — A grocery store is coming to River West after nearly five years of anticipation.
Urban Market Chicago, a locally-owned grocer, aims to open this summer at 728 N. Morgan St. The store will occupy the ground floor of Spoke Apartments, and customers will have access to 120 parking spots in Spoke's garage.
Co-owned by Christina Palivos and Maria Dernis, Urban Market Chicago will bring everything a traditional grocery store offers, plus made-to-order hot meals, a wine bar, a beer cave and more. They've signed a lease and are building out the store.
While many mom-and-pop businesses have closed during the coronavirus pandemic, Palivos said she's excited to open an independent business.
"Corporations are just taking over. It's sad," Palivos said. "I think we're gonna give more attention to our customers. We're gonna be here, morning to night. … A lot of these corporate stores are cold. We wanna bring that warmth and friendliness to the neighborhood."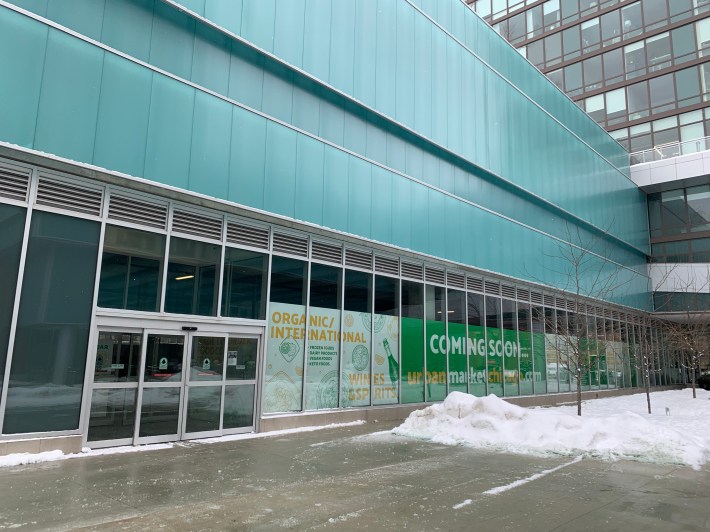 Bringing a grocery store to River West has been a goal since Spoke Apartments broke ground in 2016, developer Rob Bond said. The closest big grocery is the Jewel at Des Plaines and Kinzie streets, nearly a mile away.
Spoke Apartments, a 363-unit tower, is one of a handful of high-rise apartment complexes to pop up in River West in recent years, including Westerly, a 188-unit, 12-story apartment complex at 740 N. Aberdeen St., and Avenir, a 196-unit tower at 730 N. Milwaukee Ave.
RELATED: New River West Apartments, Grocery Sign Of Change In Former 'Ghost Town'
After previous attempts to attract a national grocery chain to the location fell through, Bond said he's glad Urban Market signed a lease. Plus, he said, the neighborhood's recent rise in density supports the need for a grocery store.
"By having a local, to me it's more authentic, it can change and really make the store meet the needs of the community," Bond said. "The people I interact with in the neighborhood are absolutely over the moon. They wanted a grocery store, and now they have one that wants to be part of the neighborhood. … And really become part of that fabric of River West, West Town."
While rising density contributes to overcrowding on the Blue Line, River West neighborhood leader John Bosca has said he hoped the growth would help River West attract a grocery store.
Now, he said, the neighborhood will have its first large store.
"One of the things that held up the development of that grocery store, there still wasn't the critical mass that was needed," he said. "This is decades. We've talked about this for, really, decades. This will be the largest we've got. … A lot of little stores over decades have served the community. There are only have a handful of them left."
RELATED: As More Housing Pops Up In River West, CTA Blue Line Riders Get Ready For More Packed Cars And Waiting: 'It Sucks'
Urban Market is the first business Palivos has opened, but she's been around the Chicago food scene for years.
A West Rogers Park native, her family owned Athens Cafe at the corner of Pratt and Ridge. Her husband, Angelo Palivos, also co-owns Belmont-Cragin grocery store Centro Fresh Market with Dernis' husband, George Dernis.
Urban Market's layout will include two main entrances, with one designed to be more of an "express" checkout. The store will have a walk-in cafe and a sit-down bar. Palivos is hiring a chef to cook meals to order, from smash burgers to tacos to pastas.
The parters are also investing in wood finishes as opposed to metal and plastic crates to give the store a "homier" feel, Palivos said.
"So it doesn't feel like you're going into a grocery store," she said.
Palivos said she and Dernis plan to host community meetings to gather feedback from residents. They expect to hire about 120 employees, 60-70 of whom will be full-time.
The two families have been involved with neighborhood efforts, donating their time and thousands of dollars' worth of food during neighborhood Thanksgiving and Christmas meal giveaways, Bond said. George Palivos brought a forklift to help, Bosca said.
They even offered to volunteer before they signed their lease, Bond added.
"They're very good listeners and have engaged with the community exactly how I've wanted them to," he said. "I think it's gonna be a great marriage."
Follow Urban Market Chicago on Facebook and Instagram for updates. Local farmers and food distributors wishing to partner with Palivos and Dernis can connect via Facebook or Instagram.
Subscribe to Block Club Chicago. Every dime we make funds reporting from Chicago's neighborhoods.
Already subscribe? Click here to support Block Club with a tax-deductible donation.