WOODLAWN — Chase Bank unveiled its revamped Woodlawn branch this month with a neighborhood focus, as community partners called on the bank to continue finding ways to support wealth-building for residents long shunned by major lenders.
The branch at 6650 S. Stony Island Ave. will host educational workshops, a meeting room and space for pop-up shops. The community spaces will open to the public once city and state coronavirus regulations allow.
The community-focused branch is the third of its kind to open among Chase banks. It is part of the company's five-year plan to address wealth gaps across communities and racial groups.
Recent reporting shows qualified non-white borrowers were refused loans at major banks and subjected to higher interest rates compared to white borrowers. A WBEZ/City Bureau investigation last year revealed JP Morgan Chase had some of the widest disparities, lending 41 times more money in white communities than in Black neighborhoods.
"We are focused on building wealth in Black and brown communities," Mayor Lori Lightfoot said at a reopening ceremony Feb. 4. "It's our mission and obligation, and this branch and the commitment of Chase overall to our city is an absolutely essential and key component for us making good on our aspirations."
A 300-square-foot space for pop-up shops includes wifi and a TV monitor to share photos, marketing and presentations. The adjacent meeting room has a collapsible door to expand the space to about 1,000 square feet.
The pop-up space and meeting room — which are available to reserve at no cost — will be open during the branch's business hours, 9 a.m.–5 p.m. Monday–Friday and 9 a.m.–2 p.m. Saturdays.
"All they would do is work with me to figure out scheduling and what their needs are," Chase Bank community manager William Jaramillo said. "It's a great place for the business owner to showcase, but also a great way for the owner to get education for their own growth."
The pop-up space will prioritize small businesses without storefronts, with availability based on community demand, Jaramillo said.
The revamped branch's community focus also includes partnerships with organizations like Project Osmosis to encourage financial literacy.
The nonprofit with a focus on supporting young designers ended its first Financing Your Artist Studio course Feb. 6 — the first of "several programs we're going to be launching through Chase based around financial education," Director of Marketing Emory Brown said.
The program helped youth understand "the power of a side hustle" to supplement designers' main income streams, which isn't always an option in other career fields, Brown said. "That side hustle brings additional income. What are you doing with that additional income?"
Keeta's Place, a Humboldt Park-based organization formed last year to teach life skills to young women, intends to use the community space to expand its South Side presence.
"We can set up a room for the girls to showcase their etiquette mastery skills," founder LaKeeta Williams said. "Having a space to do a girl empowerment conference would be another reason we would utilize their space."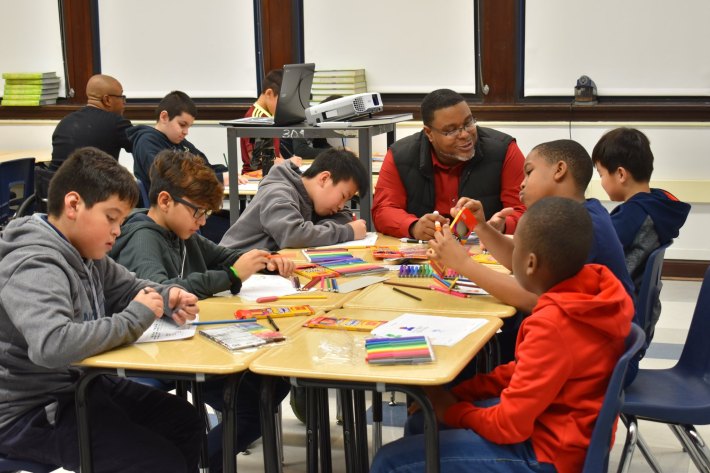 Chase is not the only bank found to disproportionately lend to white communities. From 2012 to 2018, banks including Chase, Bank of America, Wells Fargo and Guaranteed Rate invested 12 cents in Black neighborhoods and 13 cents in Latino areas for every dollar spent in predominantly white neighborhoods, according to the WBEZ/City Bureau report.
In addition to lending far more often in white neighborhoods, the report showed Chase's two branches in Chatham took in tens of millions in deposits but only approved about three home loans annually between 2012 and 2018.
If Chase had lent to Black neighborhoods at the same rate as white communities, it would have meant $829 million each year for Black communities.
Chase is trying to address this inequity with the financial literacy courses, its Advancing Black Pathways program and other initiatives, Brown said. He called on the bank to "be more diligent in the investment of dollars" into Black and Latino businesses and community groups.
Chase is "investing these people's money every day — the dollars are not just sitting there," Brown said. In doing so, the company must "stay committed to making sure you're educating and empowering the people in the communities you serve in order for them to actually build wealth. It's a win-win-win situation for everybody."
The company can continue to build trust in South Side communities by offering amenities that meet residents' immediate needs — like the Woodlawn pop-up space for struggling local businesses, Williams said. Those supports will be crucial to Chicago's economic recovery from the pandemic, she said.
"I want them to be equal on all fronts," Williams said. "The people within our communities are just as important as the people in other communities. If they're given the same opportunities and equal rights and chances as other people are given, that will really increase the growth in the community."
Subscribe to Block Club Chicago. Every dime we make funds reporting from Chicago's neighborhoods.
Already subscribe? Click here to support Block Club with a tax-deductible donation.