AVONDALE — A plan to redevelop part of The Fields campus on the Logan Square and Avondale border has won the support of some neighbors, but others are moving to block a key city vote on the project this week.
New York-based developer Knickpoint Ventures wants to bring a film production studio and a 50-foot-tall building to The Fields, a cluster of old Marshall Field's warehouses at 4000 W. Diversey Ave. The developer already has clearance for the film studio but the city's Plan Commission is scheduled to review the proposal for the building Thursday.
Some neighbors are thrilled the project is moving forward because it would be an economic boost to the neighborhood as the city's business landscape struggles through the coronavirus pandemic.
Others, feeling shut out of the process, launched an online petition last week demanding that Ald. Felix Cardona Jr. (31st) defer the Plan Commission vote and that Knickpoint Ventures sign a community benefits agreement.
The coalition of community groups behind the petition say there's been an "egregious lack of transparency" around the project.
"A vote is set to take place on February 18 that will impact our neighborhoods for decades, yet Latinx residents just across the street from the site have recently told us they were not made aware," local leaders wrote.
The organizations that signed The Fields petition include the Center for Changing Lives, Chicago Lawyer's Committee for Civil Rights, Latin United Community Housing Association (LUCHA), Logan Square Neighborhood Association (LSNA), Northwest Side Community Development Corporation and Northwest Side Housing Center.
RELATED: Film Production Studio At Logan Square-Avondale Border Would Bring Needed Jobs, Supporters Say, But Some Feel Shut Out Of Process
The Fields site has been redeveloped in recent years to include a mix of loft apartments, offices, a Cermak Fresh Market grocery store and more.
Knickpoint Ventures took over the site in 2018 and wants to overhaul other parts of the campus. The 50-foot-tall building would go up on the northwestern corner of the campus near the Metra tracks and replace an existing structure that has fallen into disrepair, said Zain Koita, founder and managing partner of Knickpoint Ventures.
That requires sign off from the Plan Commission because the building was not originally part of the planned development for the site. The film studio only requires zoning approval, Koita has said.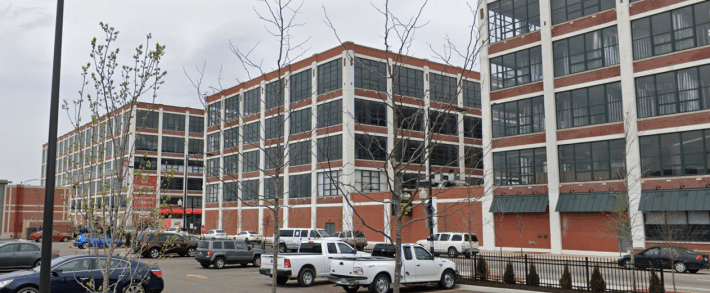 Ahead of the vote, and in response to pushback, Cardona held a virtual community meeting last Thursday with residents who live within 250 feet of the property.
Alex Perez and his family live on George Street, about a block away from the property, but didn't get an opportunity to share their input. Perez said they didn't receive a flier in in their mailbox until the day of the meeting and didn't find it until the following day.
Perez said he's worried the project could lead to more congestion in the area and drive up property taxes. He said he wishes the developer were "more inclusive to people who have lived here for a long time." His family has lived on George Street for more than a decade.
"For someone who lives a block away and wants to be more involved in the handling of development, there definitely should be more … outreach," Perez said.
Community leaders who oppose the project also say they are concerned demolition of the existing building could harm nearby residents in the middle of a respiratory pandemic. Hilco Redevelopment Partners was roiled in controversy for a botched smokestack implosion that covered Little Village in dust last April. City officials have since approved a proposal that boosts potential fines for large industrial companies that violate air pollution standards.
Cardona and Koita both deny the accusation that nearby residents like Perez and his family have been left out of the plan, which has been in the works since before Cardona took office. The alderman said he's held other community meetings and the response has always been overwhelmingly positive.
"It's going to benefit everyone in the community," Cardona previously said. "Economic development is much needed, now more than ever."
Neighbor Phil Cagen agrees. Cagen, a freelance videographer who lives a three quarters of a mile away from the property, is excited for the film production studio. He said the studio would be "nothing but a benefit" to the community.
"I think it would be cool. I look forward to it happening," Cagen said. "Change can be a good thing. Things change over time, neighborhoods change over time, people that occupy them change over time. It's part of life."
Another neighbor, Clara Vazquez, said the project will be "very good" for the neighborhood. Vazquez and her family have lived on Oakdale Avenue, about a block away from The Fields property, for 20 years.
Like Cagen, Vazquez works in the film industry; she produces commercials for a living.
Vazquez said she's glad to see a film production studio — something "positive" revolving around the arts — being seriously considered for the site as opposed to another business that might not benefit the community. She said she's felt informed about the project every step of the way.
"I"m happy this developer sees the potential of our beautiful neighborhood we have and they are wanting to invest in it," she said. "I just hope they don't get discouraged by people who don't want it … because there's a lot of people who do want it here."
Subscribe to Block Club Chicago. Every dime we make funds reporting from Chicago's neighborhoods.
Already subscribe? Click here to support Block Club with a tax-deductible donation.