UPDATE 2/17/21: Toby has been found!
AVONDALE — Neighbors across the Northwest Side are banding together to find a lost dog who went missing over the weekend.
Toby, a 2-year-old German shepherd, escaped MedVet in Avondale at 3305 N. California Ave. Saturday and has not been located, his owner Nelly Roa said.
"He's my everything, he's my baby," Roa said. "He's such a joy to the family, especially me … it frustrates me and it hurts me that I'm not even there for him. I don't want him to think I didn't love him enough," she added through tears.
Roa said she dropped Toby off at MedVet Saturday morning to get stitches and later one of the vet workers called to deliver the bad news: Toby had escaped the clinic. Since then, Roa and her family have been searching day and night for the pup, walking the streets as early as 6 a.m. and as late as midnight.
The family has also been posting all over social media, circulating a missing dog flier as widely as they can.
Dozens of neighbors who have never met Roa are now on a mission to reunite Toby with his family. They're putting up fliers, posting and sharing tips and sending well wishes. There's a Find Toby Facebook page, an Instagram account and a sightings map. One neighbor said she's been carrying dog treats in case she spots the wayward pup.
"Like I literally want to see them in person to hug them and thank them," Roa said. "Every call I've received has helped because I know I have a support system."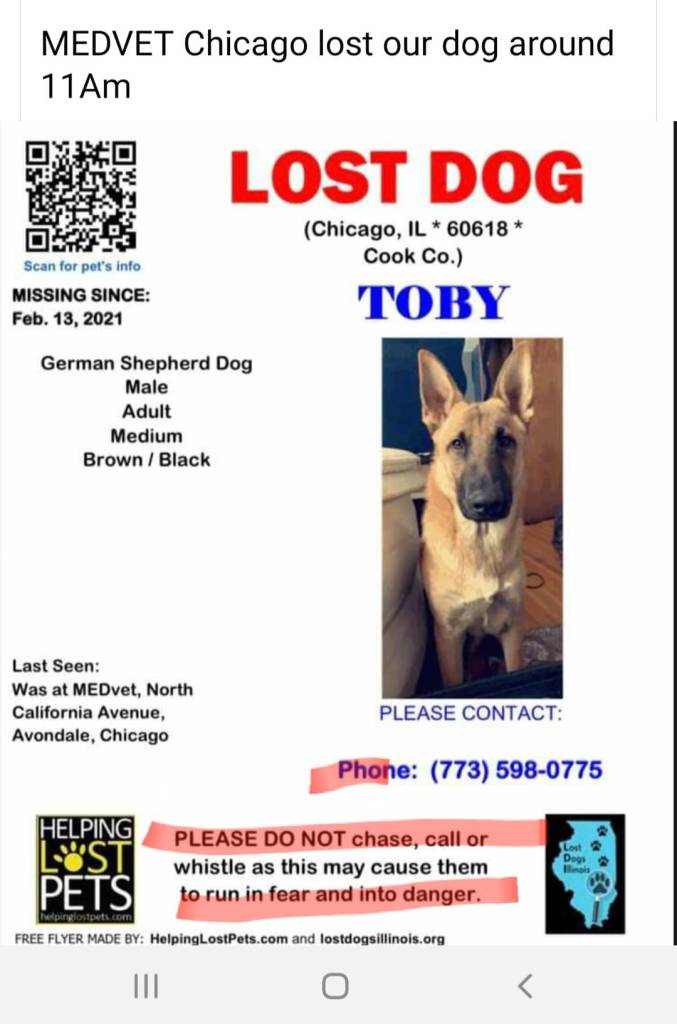 Some neighbors claimed to have spotted Toby over the last few days but none of the sightings have brought him home.
Roa and her family are begging Northwest Siders to continue looking for Toby who could be struggling to survive after the massive snowstorm Monday.
Roa urged anyone who encounters Toby not to whistle, chase or call him because he may run in fear. She is instead asking for people to call her right away. Her number is listed on the flier above.
"He's not aggressive. At this point, he's just afraid. He's very confused. When they to call him, he's so lost so he starts running," she said.
Roa and her family got Toby when he was just three months old and he has become a fixture in their lives. He has has a brown and black coloring, ears that always stand straight up and two beauty marks on his face, Roa said.
As the search continues, Roa said she's "so appreciative" of the neighbors who have stepped up to help so far, and she hopes the efforts lead to Toby's safe return.
"He wants to be back home. We're not giving up," Roa said.
Subscribe to Block Club Chicago. Every dime we make funds reporting from Chicago's neighborhoods.
Already subscribe? Click here to support Block Club with a tax-deductible donation.