Get more in-depth, daily coverage of Chicago politics at The Daily Line.
CHICAGO — As Chicago gears up to redraw boundaries of its 50 wards, leaders of Chicago's Aldermanic Black Caucus and City Council Latino Caucus have a goal to keep communities in their wards together and to retain or expand the number of council seats they currently hold.
The aldermen put a high priority on maintaining their power to shape policy in the City Council and ensure their constituents' needs are met and their concerns are addressed. Using the 2020 census data to redraw the wards in such a way that keeps the communities they represent together gives the caucasus a better chance of ensuring they hold onto seats.
But Chicago's population has changed over the past 10 years since the last Census count.
The city overall is losing population, driven primarily by a sharp drop in African American residents. Chicago's Black population has fallen from more than 1 million in 2000 to about 790,000 people in 2019, according to data from the Census Bureau that is displayed ward-by-ward on Rob Paral & Associates' website. In 2010, African Americans accounted for 32 percent of the city's population, but that number in 2019 was estimated to be about 29 percent.
At the same time, the city's Hispanic population has ticked up from more than 753,00 people in 2000 to 778,862 in 2010 to an estimated about 780,000 people in 2019, nearing the numbers of the city's African American population. The 2019 numbers estimate Chicago's Hispanic population comprises just under 29 percent of the city's total population.
While the city's Asian population has grown significantly since 2000, the group still represents a relatively small portion of the city's overall population with about 177,000 people in 2019 — a nearly 53,000-person increase from 2000, but still accounting for 6.5 percent of the overall population.
City and elected officials won't know until later this year when they receive the official 2020 Census numbers exactly how or if the population trends continued through 2020, but many experts speculate they have.
The results could affect how boundaries of the city's 50 wards are drawn as the city is legally tasked with ensuring each of the wards is not only contiguous and compact but also represents approximately the same number of residents.
A map shows the wards that saw the greatest population loss from 2010 to 2016 were on the city's South and West Sides. The wards — 6, 8, 15, 16, 17, 20, 24 and 34 — all saw a decrease of between 2,193 and 4,376 residents during the six-year period, according to the census data.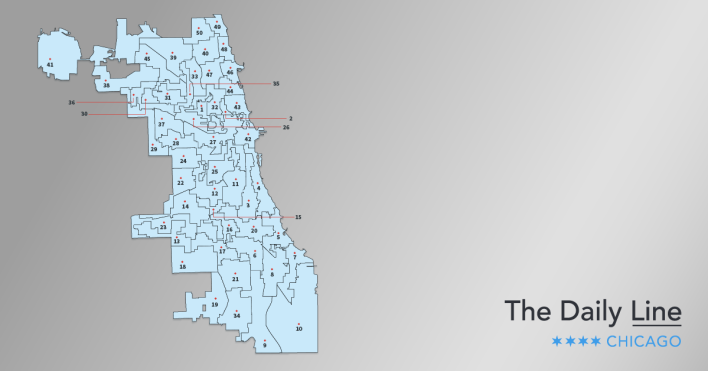 "The data show population decline in South and West Side wards that are home to long-established African-American and Latino populations," Paral wrote in his blog post. "This is consistent with citywide patterns of Black population loss and gentrification/aging of traditional Latino neighborhoods."
And wards that saw the biggest increases were generally near downtown or along the lakefront on the city's North Side. The wards that saw population increases were "consistent with the economic development and housing creation" in those areas," Paral wrote.
Paral told The Daily Line on Friday the population trends he observed are likely to have continued through 2020.
Despite the population shifts and the required boundary changes of some wards, aldermen representing Black and Latino communities will vie to hold onto their council seats and sections of the city they've long represented.
Why Aldermen Oppose Independent Mapping
On the same day in January when Ald. Brian Hopkins (2nd) and Ald. Andre Vasquez (40th) introduced a resolution (R2021-1) calling for a hearing on reforms for a "transparent and equitable redistricting process," including creating an "independent commission to update the ward boundaries," aldermen in the Latino caucus held a news conference downplaying the need for such a commission.
RELATED: Remap disputes spill into open as City Council approves Welcoming City ordinance among slew of other measures
Ald. Roberto Maldonado (26th) at the time said aldermen and the communities and organizations they represent know their wards best and would make the best map drawers, following the traditional role aldermen play in the process.
Leaders of the Aldermanic Black caucus chaired by Ald. Jason Ervin (28th) agreed.
"We know these communities on the ground, backwards and forward," Ervin told The Daily Line last week. Being "on the ground and understanding and knowing what's happening" and nuances of "communities within a community" is important input that alderman provides in remapping.
Allowing a computer program or "individuals that do not have neighborhood sensitivity or an indigenous feel of what's happening" to make ward boundary decisions can "split communities in places they may not need to be or should not be split in while you're trying to achieve the goal of remapping," Ervin said.
The 28th Ward alderman pointed to a section in his ward where residents, on a map, are considered to live in one defined area, but they consider themselves part of an entirely different neighborhood.
Maldonado's defense of entrusting aldermen to draw ward boundaries mirrors that of Ervin's.
"Nobody knows our respective communities better than the incumbent alderman and the stakeholders of our respective wards," Maldonado told The Daily Line last week, adding he thinks that same "perception" is embraced by "90-plus percent of the members of the City Council."
Maldonado argues an independent commission would not take into account "the integrity of the communities that really make Chicago a city of neighborhoods."
Ward boundaries need to be "carved out" in a way that gives "protected groups, meaning minority groups, people of color, the opportunity to elect one of their own," Maldonado said.
Former Chicago aldermen and University of Illinois at Chicago Political Science Professor Dick Simpson doesn't disagree that aldermen know their wards and communities but pointed out that the last council-led remap in 2011 divided communities into as many as five wards, "meaning no one alderman is responsible for those communities."
"We need some standards and we need an independent body to make the remapping decisions," Simpson told The Daily Line last week, adding all maps except for the most recent redraw were "subject to court findings."
Simpson added that the state's redistricting process is "equally bad" and districts are never drawn "wisely for the benefit of the community per se."
LISTEN: How does Chicago's racial makeup affect remapping? Listen to The Daily Line talk with Ald. Roberto Maldonado, Ald. Jason Ervin and former alderman and political science professor Dick Simpson about how the boundaries should be drawn on The Daily Line's Cloutcast. Click here or the link below to listen.
Ward Boundaries And Representation In City Council
The Voting Rights Act of 1965 requires that a body of government mirror the racial and ethnic groups of the people it represents. The law prevents cities from mapping out districts that block minority groups' ability to elect their choice of candidate.
Chicago is not a stranger to legal challenges alleging discrimination by past City Councils against Black and Hispanic residents, most notably the map drawn after the 1980 census count which faced court challenges for four years until a judge ordered new boundaries in 1985.
After the 1981 map was adopted and the legal challenges began, Mayor Harold Washington was elected as the city's first African American mayor in 1983.
What followed were the "Council Wars" years, during which white aldermen held the majority with 29 votes that they used to obstruct Washington, who would in turn exercise his veto power.
A judge ultimately ordered the map be sent back to the city to be redrawn, and Washington was able to gain majority support, through his role as tie-breaker, in the City Council.
While the 1965 law and the precedent from the 1985 ruling put safeguards on the remap process, they don't require precise racial representation. On paper, the city's Latino population is underrepresented by the 14 Latino aldermen on today's City Council.
"If we Latinos comprise one-third of the city's population, in theory you could say that we should have one-third of the seats in City Council," Maldonado said. However, "large portions" of the Latino population "that do not necessarily live in what is traditionally a Latino community," he said, adding it's "not realistic to expect" to have one-third of council seats since the population isn't concentrated.
Still, Maldonado contends the "main charge" of the remapping process is to "maximize as many seats as possible to reach that one-third of the seats in City Council."
As many of Chicago's Black residents have moved out of the city over the past decade, it is unclear until Census numbers are available exactly how the population loss will affect ward boundaries, especially on the city's South and West sides.
The Black Caucus represents "the largest block of any group of individuals, and it helps our voice and our issues to be heard," Ervin said. The city's 20 Black aldermen and 18 majority-Black wards give the caucus "a great deal of sway on how policy decisions are made, how resources are allocated," Ervin said.
Ervin remains confident the number of majority-Black wards will not be decreased in the remap, saying he anticipates the city will have "at least 18 Black wards after this process is completed. We're not walking into a situation, willingly, doing anything."
If the Black Caucus were to lose seats, it would put the communities "further behind the eight ball as our communities have challenges…to dilute that influence would be detrimental to the African American community on the South Side and on the West Side of Chicago."
Similarly, the Latino Caucus can identify issues that are important to the city's Latino community, including by advocating pro-immigration measures and working to "engage other aldermen that are not necessarily Latinos to join us in supporting these initiatives because ultimately it is going to help the Latino community in the city of Chicago," Maldonado said.
Asian Representation At Stake
While some Asian-American representatives represent Chicago in the state legislature and in Congress, "it would be nice to have an Asian American on the city council, or several," Simpson said.
No Asian-American aldermen have served on the City Council since Ald. Ameya Pawar (47th) left the body in 2019. It would take at least three aldermen for the racial group to be proportionately represented in the council.
One barrier is that Chicago's Asian-American and Pacific Islander population is spread across the city, making it harder to draw majority-Asian wards, Simpson said. He pointed to Chinatown on the South Side, the Chinese and Vietnamese community along Argyle Street in Uptown, the a South Asian population along Devon Avenue and Korean-American residents living in pockets of the North and Northwest Sides.
"Asian-Americans have been, and continue to be, the fastest growing group in Chicago, and we have a long history of immigrating to Chicago and helping create the vibrant community that we have here in the city," said Asian Americans Advancing Justice Executive Director Andy Kang during a 2020 CHANGE Illinois news conference calling a more transparent remapping process.
RELATED: Advocates, some aldermen call for independent ward remapping process to ensure 'equity'
"We all have issues that we would like to see get addressed, whether it's affordable housing, better schools, public safety, language access issues," Kang said. "None of that will happen if we don't continue to move toward greater accountability by our City Council and our city government."
The last redistricting process largely left the public out, Kang said, and it is "critical for our city and all Chicagoans to really lead the way by showing what transparency, showing what really valuing democracy looks like."
Still, it is "important" for Chinatown to be in one ward, and it's "important that Asians who live along Devon that are of Indian descent have an alderman who cares about them and pays attention to them, and aldermen who represent small pockets of Korean residents to be "attentive to their needs," Simpson said.
Chinatown, whose population has grown in the past decade, is cleaved between two wards represented by Ald. Byron Sigcho-Lopez (25th) and Ald. Patrick Daley Thompson (11th).
Ultimately, Simpson said the council should look as much like the city as possible.
"You need to make sure you're representing the city as best as you can," Simpson said, adding the caveat that an alderman's race doesn't matter if they are a "rubber stamp" and just vote for "whatever the mayor tells you."
Get more in-depth, daily coverage of Chicago politics at The Daily Line.