JEFFERSON PARK – Dobra Bielinski and her team at Delightful Pastries have spent 22 years making thousands of paczki every year for Fat Tuesday.
The pandemic hasn't changed any of those plans.
The team aims to make 30,000 paczki by Tuesday. A paper taped to a fridge at tha bakery, 5927 W. Lawrence Ave., is scribbled with numbers tracking their progress: Just between Jan. 19 and Feb. 5, they made almost 18,000 of the specialty doughnuts.
The last 48 hours before the holiday will be non-stop frying, Bielinski said.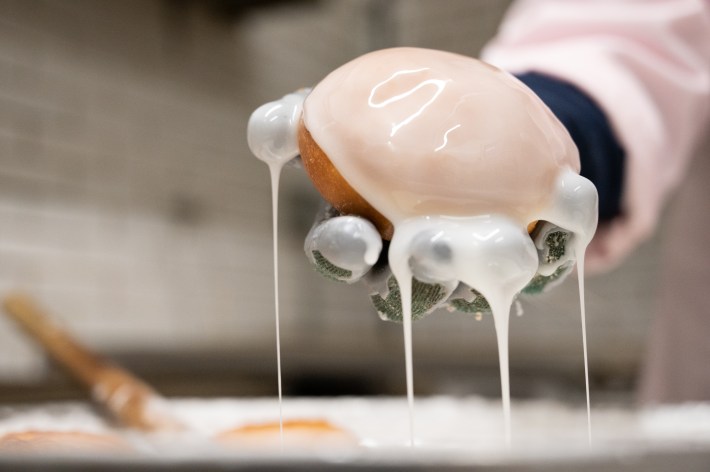 During a normal Fat Tuesday, 50 people would jam into the bakery at a time to claim some of the coveted confections, Bielinski said. Though that isn't possible this year, the chef said she wants to continue her work and provide a sense of normalcy in the midst of so much isolation.
"When we do the traditional things that we used to do, it connects us back to the community, despite it being absent," she said.
RELATED: Where To Get Paczki In Chicago For Fat Tuesday 2021
Paczki – pronounced "pownch-key" – is a taste of home for Bielinski, who is from Poland. She immigrated to the United States by way of Austria and South Africa, escaping martial law in Poland in the early 1980s.
Bielinski's first job in Chicago was at a Dunkin' Donuts. Her family put her through Catholic high school, so a teenaged Bielinski worked hard to support her family's financial needs.
Bielinski and her mother, Stasia Hawryszczuk, opened their Northwest Side bakery in April 1998.
The bakery's workers make tens of thousands of paczki ahead of Fat Tuesday. They've became famous for their light, flavorful pastries — especially as many other places in Chicago are actually selling doughnuts, which are a lookalike for the traditional Polish treat.
You can spot the difference between paczki and doughnuts through the dough's consistency, glaze and filling.
"When you bite into a paczki, it springs back. It doesn't collapse into a pancake, like some famous doughnuts I could name but will refuse to," Bielinski joked. "They should be nice and round. When you bite into the dough, it should be nice and fluffy and airy."
And the fillings: tart, not sweet.
"If we overfill the paczki, Polish people come in and complain – they're like, 'You put too much filling. There's not enough ratio of dough to filling for us,'" she said.
It is always on Bielinski's mind to be the best for her neighbors, especially as folks struggle emotionally from the isolation of the coronavirus pandemic over the past year.
"I think it is the job of a bakery … to help out in the community and be a pillar of strength," Bielinski said. "And those people that need to have a conversation, we are always delighted to have a conversation with them and make them feel part of our Delightful Pastries family.
"We have to be a little bit more outreaching, a little bit more outgoing and realize what a tough time it is mentally for a lot of people, and just be a little bit of kinder – show a little bit of compassion."
You can place orders for Delightful Pastries' paczki through its online form. Orders close Friday.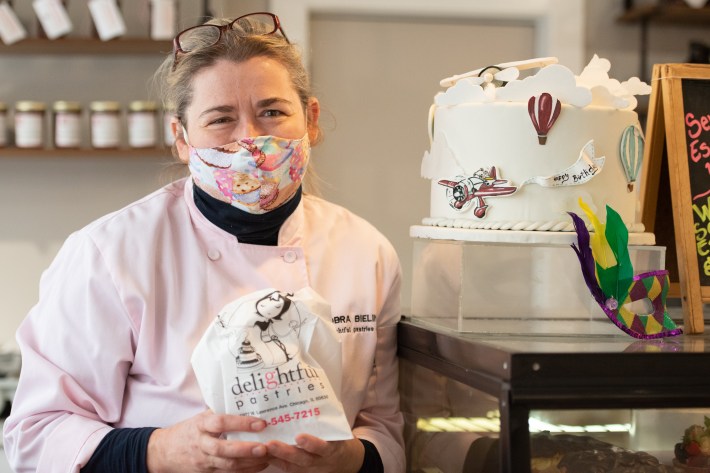 Subscribe to Block Club Chicago. Every dime we make funds reporting from Chicago's neighborhoods.
Already subscribe? Click here to support Block Club with a tax-deductible donation.