OLD TOWN — Brush strokes projected onto the 35-foot walls of Old Town's Germania Club building have transformed the historic site's interior into a Vincent van Gogh-inspired dreamland.
The swirling colors come together to create twinkling stars, reminiscent of van Gogh's famous "Starry Night" before morphing into one of the iconic painter's self-portraits.
The visuals are part of the new "Immersive Van Gogh Exhibition" which runs through Sept. 6 at the Lighthouse ArtSpace Chicago venue within the Germania Club Building, 108 W. Germania Place.
The show takes 400 licensed van Gogh paintings and deconstructs them through animated projections covering every inch of the 500-cubic-foot venue. Tickets start at $40 plus fees for off-peak hours and rise to $50 and $55 for peak times.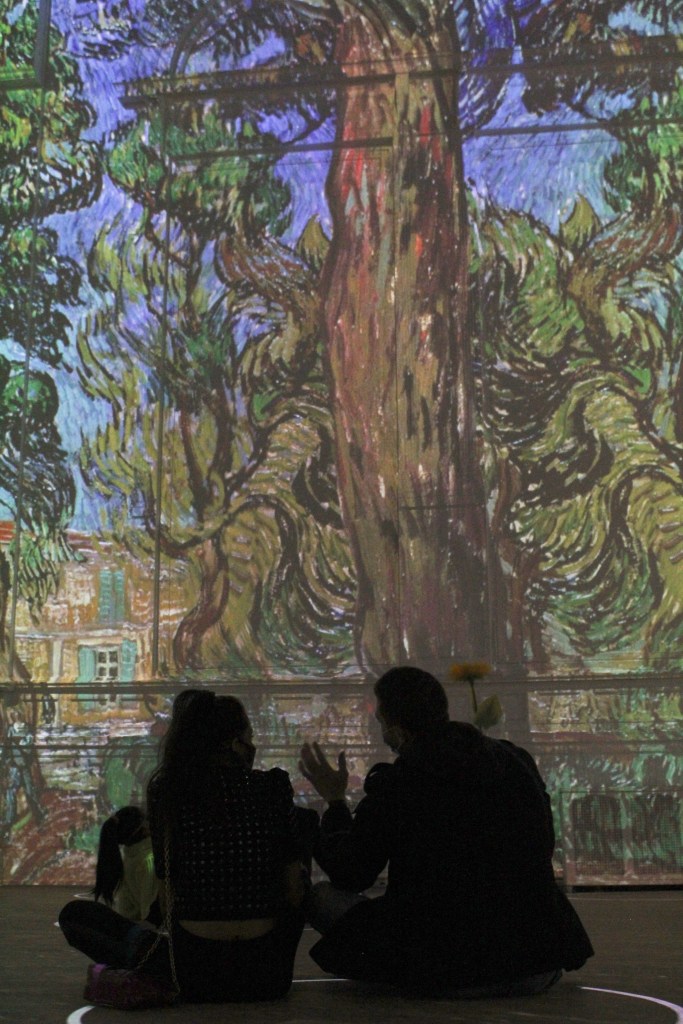 "Every part of the building becomes that canvas that it's projected onto," said exhibit co-producer Corey Ross. "We mapped it all out, from the columns to the floor and brickwork on the walls."
The hour-long show, which is designed by creative director Massimiliano Siccardi, was initially supposed to run through May 2, but high ticket sales and the success of the show's debut in Toronto influenced its creators to release a second round of tickets.
Siccardi was inspired by wondering what would have flashed before van Gogh's eyes in the final moments before his death, Ross said.
"The most amazing thing is the deconstruction and animation of the art so that sunflowers are blowing in the wind, stars are twinkling and clouds are moving by," Ross said. "But the pieces appear and disappear or morph into one other, choreographed to music in a type of stream of consciousness."
Siccardi is an Italian film producer who studied at London's School of Contemporary Dance before pivoting into the world of video art in 1990. Since 2012, the artist has created numerous immersive shows like the "Van Gogh Exhibition" for the Carrières de Lumières, a former quarry in France's southeastern region of province that was transformed into an art venue.
Siccardi was behind a renowned digital art experience in Paris, titled the "Van Gogh, Starry Night" exhibition, which is how Ross discovered Siccardi's work, he said.
"Van Gogh's artwork has created a lasting impact through its emotional richness and simple beauty," Siccardi said in a news release. "Both myself and [multimedia composer] Luca Longobardi are very excited to visit Chicago and once again bring van Gogh's legacy to life in a way that is unique to the beautiful architecture of the Germania Club building."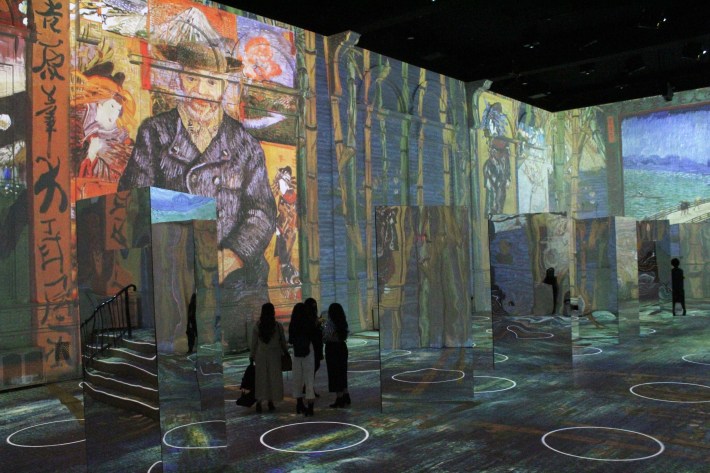 Longobardi created an ambient, mood-setting score for the show that blends classical piano with flourishes of experimental electronic music and ethereal sounds. He previously worked with Siccardi on the "Van Gogh, Starry Night" exhibition in Paris, which was featured in the fifth episode of Netflix's "Emily in Paris."
Ross said the new exhibition is "completely different than what you'd experience at the museum," but he hopes it encourages people to visit the van Gogh collection at the Art Institute of Chicago, 111 S. Michigan Ave.
"In Chicago, you have the best van Gogh art in the world, and I'd encourage everyone who sees this show to also go over to the Art Institute to see the original pieces," Ross said.
The exhibition follows coronavirus safety protocols by requiring temperature checks at the door and for guests to wear face coverings. The show uses touchless ticketing and limits how many people are inside the gallery at once.
Projections are also used to create "viewing circles" on the ground that serve as reminders for people to social distance while inside the venue. Hand sanitation stations are placed throughout each room.
"This is an amazing opportunity to get out of your house in a safe way," Ross said. "I hope it opens people's eyes and makes them more curious about van Gogh, but it seems like the show is really cathartic for people to finally be able to get out and do something."
Jake Wittich is a Report for America corps member covering Lakeview, Lincoln Park and LGBTQ communities across the city for Block Club Chicago.
Subscribe to Block Club Chicago. Every dime we make funds reporting from Chicago's neighborhoods.
Already subscribe? Click here to support Block Club with a tax-deductible donation.