RAVENSWOOD — The Luceros, Chicago's "von Trapp" musical family, said they are grateful for the love and support they've received during a fundraiser to keep them from being evicted.
When Block Club initially reported on the fundraiser last month, 20 people had donated $4,750 toward the campaign. But more than $64,000 has been raised as of Wednesday.
The money will cover six months of unpaid back rent and has secured several months of future rent for the family, who lost a majority of their income due to the pandemic.
"A lot of people that I know and that I don't know are giving so much," said Maya Lucero, 10, who sings and plays maracas for the family band. "And not just in money, in other ways, too. … It's just so nice to have something lighten up your year. Hopefully this can lighten up everybody's year, too. To know that there are lots and lots of people out there that are so generous … that gives you hope that you really can get through this year."
The Luceros — father Juan, mother Susy and seven children — make up Cielilto Lindo, a mariachi folk band that has performed everywhere from Alcala's Western Wear in West Town to Nickelodeon's stage in Los Angeles.
But in March, COVID-19 led to the cancellation of events and closing of theaters, cutting the family's regular income by nearly half and imperiling their home.
The fundraiser organizer, Bob Farster, is a neighbor of the Luceros in Ravenswood.
RELATED: Family Of 9 Behind 'Cielito Lindo' Mariachi Band Face Eviction — But Neighbors Step Up To Help
The news coverage of the GoFundMe didn't just bring in donations, Juan Lucero said. One neighbor offered an empty unit in his apartment building to the family if they needed a place to stay. Another offered their car.
"It still feels surreal," Lucero said. "A lot of people had an emotional reaction to the story. That's pretty cool."
Many have signed up for Cielito Lindo's virtual services. The family upgraded their equipment to provide better streaming technology.
"We got a flood of calls. We're still getting calls, way more than we would otherwise," Lucero said. "That's really helped out the business, doing more virtual services."
Cielito Lindo, which means "beautiful heaven" in Spanish, performs traditional Mexican music. The family's seven children range in age from 7 to 18, with all living at home.
The family moved to Chicago from New Mexico five years ago. Susy Lucero grew up in Logan Square and Avondale, and the family felt they'd find more success as musicians in the city. They sold their house in New Mexico and moved all seven of their children to Lincoln Square. They eventually moved into their current home in Ravenswood.
Since moving to Chicago, the Luceros' rise to fame has been rapid. 
The family has performed at Bulls games, galas, street festivals and on television programs, including Nickelodeon's "America's Most Musical Family." They are routinely booked to perform at weddings, quinceañeras, birthday parties and other community events. Downtown businesses often book the band, too.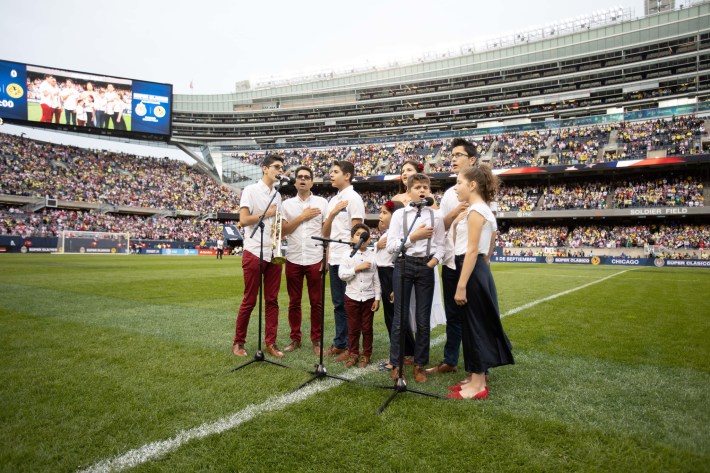 But during the pandemic, the Luceros had to pivot to virtual performances.
Going into 2020, the family had finally gotten to a place where they could begin saving for a home. But with the pandemic, that money started going straight to bills, Lucero said. 
Facing eviction made Lucero realize how many neighbors could be on the cusp of homelessness. The pandemic significantly affected the performing arts community, as venues and theaters are closed and events have been canceled.
Lucero said he'd like to encourage more Chicagoans to check in on their neighbors and see if they're doing alright.
He also hoped those who are struggling, especially other artists and performers, can lean on their neighbors for support.
"Let their community know. Don't be shy. … Many of us are going through these things," he said. "It's wonderful that the people who can help are reaching out to help."
Learn more about the family's virtual music services here. Zoom-based serenades begin at $50; a Venmo "tip jar" was established under the name @Juan-Lucero-77.
Those wishing to reach out to the Lucero family for booking opportunities should call or text 312-721-9115 or email hello@cielitolindo.co. 
Subscribe to Block Club Chicago. Every dime we make funds reporting from Chicago's neighborhoods.
Already subscribe? Click here to support Block Club with a tax-deductible donation.