CHICAGO — An Albany Park woman is working to set up a public memorial to honor the more than 4,700 Chicagoans who have died from coronavirus and to address the trauma that comes from so much loss.
The Floral Heart Project, spearheaded by New York artist Christina Libby, sees participants set up floral wreaths shaped into hearts in public places. Passersby can stop at the wreaths to remember people who have died from COVID-19, to grieve and to heal together.
Luz María Vargas hopes to bring the Floral Heart Project memorial series to Downtown Chicago next month. Her mother died from COVID-19 in November.
"We need to have that safe space and community to support those that have lost someone or have known of someone that has passed," Vargas said. "Because right now it feels like people have gone through it, but they don't feel safe to talk about it."
Vargas is trying to get permits from the Chicago Park District so she can bring the floral wreaths to Buckingham Fountain in Grant Park.
The location is ambitious, especially since she hopes to see the project up by March. But Vargas is driven. The flowers for the memorial will be donated from Fleur Inc. in Logan Square.
By creating a Chicago version of the project, one of Vargas' goals is to break the stigma she sees of acknowledging the impact of the virus on every aspect of life.
And for Vargas, this memorial project is personal.
In late 2020, Vargas and her parents became sick with coronavirus. Her mother, Paula Vargas, was hospitalized. On Nov. 19, her condition changed dramatically, and Vargas was asked to come to the hospital.
Vargas was just five minutes away when she was informed her mother had died.
The family has worked to honor their matriarch and carry on her traditions.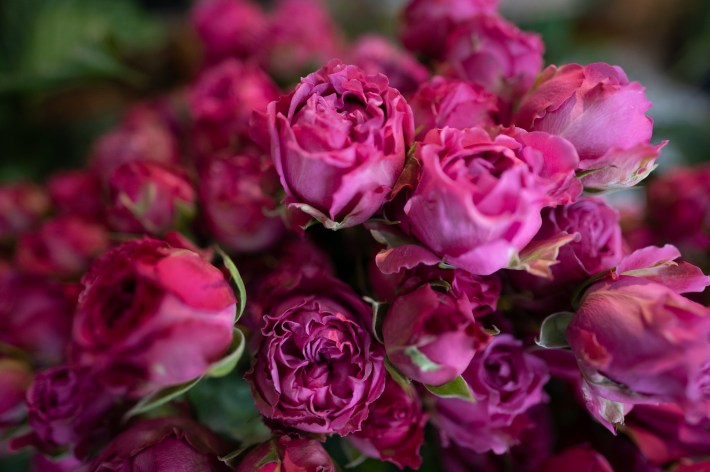 Vargas has looked for a community to properly grieve her family's loss. She hopes a local version of the Floral Heart Project would enable people like herself to safely gather outside and commiserate.
"It is sometimes emotionally taxing, but I also feel like this is putting my grief to action in a way that's beautiful and [will] bring awareness, and hopefully let others know that they're not alone in their grieving process and their grieving journey," Vargas reflected.
Organizers are pushing to recognize March 1 as a National Day of Mourning. Vargas would like to have an event — if she can get the permit — that would also have a virtual component.
"It's an important date to remember to say to everyone [that] this is still ongoing," Vargas said. "We need to memorialize people that we've lost, and we can't forget the people we've lost to continue to move forward. It's a balancing act."
Kelly Marie Thompson, president of Fleur Inc., heard about the project online and wanted to participate, she said.
"Right now, so many people, especially in the middle of winter, are really starting to kind of feel the heaviness … that COVID has brought on to people," Thompson said.
Thompson plans to create a heart wreath with bright colors for the project to evoke a "feeling of goodness."
"It is my art form," Thompson said. "In a way, to kind of help provide a little bit of healing and a little bit of beauty and a moment of quietness for anyone who needs it."
The movement in Chicago is important as it involves people who have faced loss due to the pandemic, Vargas said. By trying to set up a place for people to grieve, she said she is also pushing to hold people in power accountable.
"We need to be part of the decisions that are being made, the resiliency efforts of bouncing back from this, the grieving process, the equitable solutions and policies being created because of what happened," she said.
"It's those that have been impacted the most that should be centered in those decisions that are being made."
Subscribe to Block Club Chicago. Every dime we make funds reporting from Chicago's neighborhoods.
Already subscribe? Click here to support Block Club with a tax-deductible donation.