GAGE PARK — The Gage Park Latinx Council's free community market is helping Southwest Side families struggling during the coronavirus pandemic.
Known as the GPLX Mercadito, the market offers culturally relevant groceries, produce, diapers and other essential items for families hit hardest by the pandemic, said Antonio Santos, co-founder and executive director of the council.
"We wanted to reimagine the way we were doing food distribution," Santos said. 
The Gage Park Latinx Council has pivoted its work to provide groceries and connect families to resources, including mutual aid funds for undocumented families. The organizers partnered with Grocery Run Club and gave away food in parking lots around Gage Park.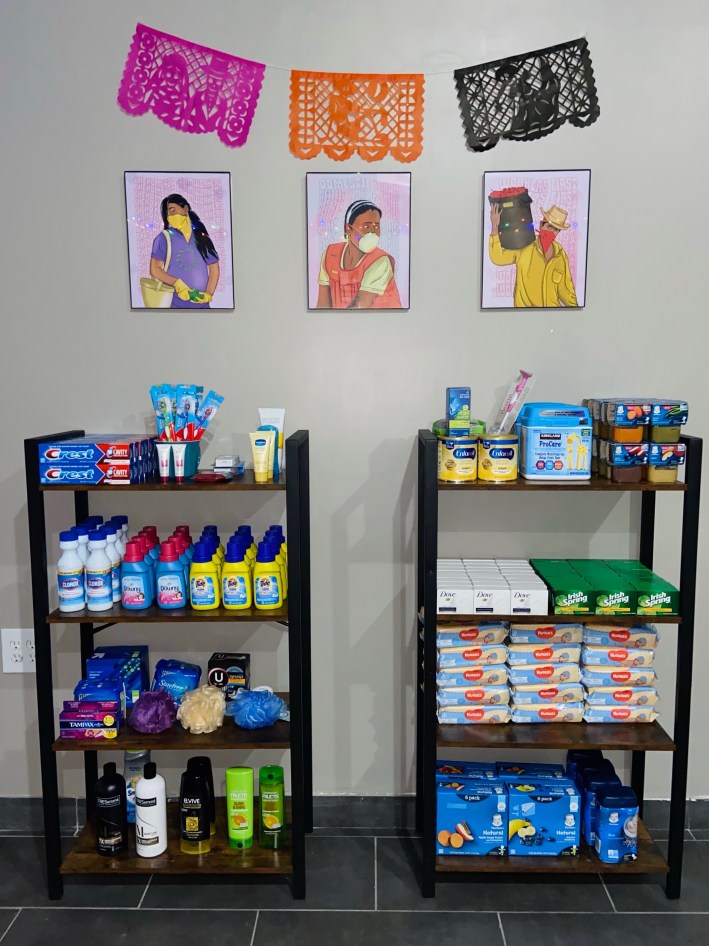 The group began giving away food at its cultural center, 2711 W. 51st St., after opening in September. With folks lining up two hours before opening, the organizers knew they needed to find a better way to serve families in the community, Santos said.
In October, they started scheduling appointments for the market to allow people the ability to browse items without having to wait in the cold, Santos said. 
The group created shelving for culturally relevant products including tortillas, rice, beans and other items.The layout is intended to make folks feel comfortable, while "upholding dignity" to the people they are serving, Santos said.
The market serves 75-100 families weekly. Those interactions have allowed the group to stock items in the market based on community needs.
During the winter, they stocked racks and shelves with coats, scarves, and gloves.
"The market is transforming with the needs of the people we are serving," Santos said. "We are looking at what they are needing next."
Black And Latino Families Most At Risk For Food Insecurity
As the Gage Park Latinx Council approaches a year of distributing food, the need for assistance has remained consistent, Santos said.
Systemic inequities over generations have led to disproportionate rates of poverty and food insecurity among Black and Latino families. Black and Hispanic households face food insecurity at rates more than double those of white households, according to the U.S. Department of Agriculture.
The coronavirus crisis has worsened disparities, leaving people of color more likely to contract coronavirus and suffer from the pandemic's economic fallout. A recent Northwestern University study showed four in 10 Black and Latino households with children report they are food insecure.
"We are seeing families every week and, unfortunately, the need is not going to go away because these issues were here before COVID," Santos said. "We are also seeing families who were in a rough patch from a layoff because of COVID." 
In December, the national nonprofit Feeding America estimated 785,890 people in Cook County are food insecure. There's been a 51 percent increase since 2018, according to a Greater Chicago Food Depository analysis.
That makes Cook County the third-largest population of food-insecure people in the United States.
Last week, the Gage Park group launched a separate initiative, Comida es Amor, or Food is Love,  to distribute more food on a weekly basis for the month of February. 
During the first day, the Gage Park Latinx Council gave away 3,000 pounds of food within 15 minutes.
"I think that speaks volumes to the level of food insecurity our community is seeing," Santos said.
Santos said the community needs a full-time pantry to sustain the "great need" in the community.
"We have 50,000 residents, with 50 percent living at or below poverty level. This is not just a COVID problem. The fact is, this community has immense need and the support isn't being met," Santos said.
In the meantime, the group is trying to find ways to serve families and allow the Mercadito to evolve as the needs of the community change. Ultimately, they hope to be able to open a standalone market to help more people.
"What we are able to do … at the grassroots level is a Band-Aid on this deep, deep wound. We need folks to step up and help address these issues," Santos said.
Block Club Chicago's coronavirus coverage is free for all readers. Block Club is an independent, 501(c)(3), journalist-run newsroom.
Already subscribe? Click here to support Block Club with a tax-deductible donation.