IRVING PARK — A developer seeking a zoning change to build a new Northwestern Medicine outpatient facility in Old Irving Park is getting pushback from neighbors over fears the new building will make side street traffic worse than it already is. 
Last year Northwestern bought an entire block between North Kilbourn and North Kenneth avenues that included the former site of Sabatino's, 4441 W. Irving Park Road. The initial plan proposed a five-story medical facility with retail space.
But after speaking to neighbors and Ald. Jim Gardiner (45th), Northwestern went back to the drawing board in the fall to scale back the project, now outlining a four-story building with the 350-space indoor parking lot moved to be below ground level.
The new parking design will add $7 million to the project's price tag, the developer said.
However that revision to the $150 million development plan wasn't enough to win over some neighbors who live on the side streets bordering the site. 
At a community meeting Thursday, many said they like the idea of having closer access to Northwestern medical care but worry the current design will exacerbate traffic congestion in an area that already clogs during rush hours, especially on Cubs game days. The entrance to the parking lot is slated to be off of Kilbourn Avenue.
Northwestern estimates the new building could generate about 2,600 car trips per day from building staff and patients coming and going. 
However patient appointments are expected to take hours or an entire day and this is expected to lower the "churn" of traffic throughout the day, said Charlie Cloutier, Northwestern Medicine's director of planning and construction.
"I don't understand why this was put not at Six Corners, where there are arterial roads that can handle this type of traffic," said Susan Ford, a neighbor who lives down the block from the site.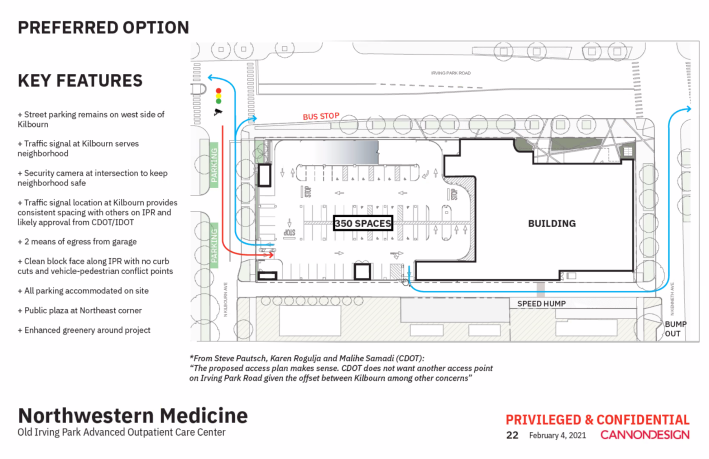 Scott McDonald, Ford's husband, told Block Club after the meeting he likes the idea of Northwestern's proposal making medical services more accessible to Irving Park but wants the developers to understand their project won't exist in a vacuum. 
Traffic from developments closer to Six Corners will also add to neighbors' traffic headaches once those are also complete, he said.
Gardiner said he'd advocate for the city's department of transportation to stagger construction of the various nearby projects at Six Corners, the Metra tracks and the Northwestern project to help alleviate some of that traffic.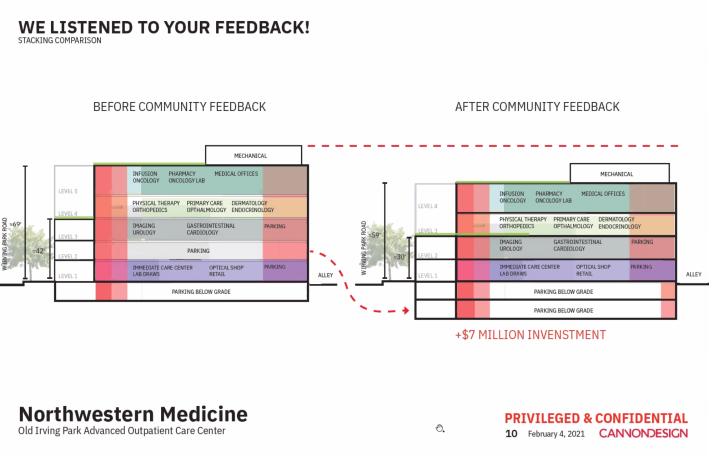 Neighbors also suggested further reducing the building footprint to three stories to help lower the expected traffic volume. But Cloutier said that defeated the reason Northwestern was building in Irving Park to begin with. 
Data showed patients in the area were heading to Northwestern's Streeterville campus for medical procedures that could instead be performed at the proposed building on Irving Park Road in the future. 
"What [reducing the building to three-stories] would mean is that a lot of clinical services we're currently showing we'd have in the building would not then be available in the building," Cloutier said. "And that is part of Northwestern's push to bring healthcare closer to home."
Neighbors also asked why the parking entrance could not be placed on Irving Park Road instead of Kilbourn Avenue to help alleviate congestion at that residential street. Peter Lemmon, senior transportation engineer with Kimley-Horn and Associates, Inc., said the city's transportation department would not allow for the entrance to be placed on Irving Park.
To help address that concern, Kilbourn Avenue will be widened to allow for more traffic flow and signs will direct cars coming in and out of the building's parking lot to not cut through the neighborhood to enter and exit the property. 
Additionally, a streetlight will be added to Irving Park Road and Kilbourn to help reduce congestion and speed bumps are being proposed on the streets around the building to help reduce speeding. 
Christine Strom, Northwestern's project manager for planning and construction, said the team is anticipating breaking ground in early fall, pending zoning and permit approvals.
Subscribe to Block Club Chicago. Every dime we make funds reporting from Chicago's neighborhoods.
Already subscribe? Click here to support Block Club with a tax-deductible donation.