HYDE PARK — Jack Henning-Sepkoski came out as transgender late last year. As part of his transition, the 17-year-old wanted to change his birth certificate so it matched his correct gender and name.
But he quickly realized that wasn't an option under Ohio law, the state where he was born.
"I was very eager to do gender-affirming things because every physical change, like body changes, takes a long time to kick in," Henning-Sepkoski said. "I was looking to change my name and birth certificate gender marker and my parents discovered I could not change it."
Though he was born in Ohio, the Chicago Academy for the Arts theater senior moved to Illinois when he was 3 and grew up in Hyde Park. 
Henning-Sepkoski decided he wanted to do something about the policy and be an advocate for others in the Ohio LGBTQ+ community who might be in his position. In December, he started a Change.org petition calling on the Ohio Department of Health to change its policy refusing to issue corrected birth certificates for trans people. His petition has more than 136,000 signatures.
The effort got a significant boost in mid-December, when a federal judge struck down Ohio's law on birth certificates as unconstitutional. But weeks later, it is unclear whether Ohio officials have complied with the court order and updated state policy.
Henning-Sepkoski's petition is aimed at Ohio lawmakers, federal representatives and Illinois Sen. Tammy Duckworth. He said he hopes his petition can get her attention so she can use her political influence to better protect Chicagoans like himself. 
"I wanted her to see I'm a Chicago citizen and I have been discriminated against by Ohio and that it's in her best interest to help a Chicagoan," he said. "If I was able to get a petition that has 136,098 signatures, which is amazing, what could she do?"
Ohio is one of only two states that refuses to change gender markers on birth certificates, according to the American Civil Liberties Union. The other state is Tennessee. 
Corrected gender markers in Ohio were issued until 2016, when its director of the Bureau of Vital Statistics changed this policy in consultation with then-Gov. John Kasich's office.
The ACLU and Lambda Legal sued the state of Ohio in 2018 on behalf of four transgender people who were barred from changing their birth certificate makers under the updated policy. After more than two years, during which Ohio tried to dismiss the lawsuit, a U.S. District Court judge for the Southern District of Ohio struck down the state policy Dec. 16, calling it unconstitutional.
While this is a victory for LGBTQ advancement in the state, the Ohio Department of Health said officials were reviewing the decision, according to the Columbus Dispatch. State officials and representatives from ACLU Ohio did not respond to requests for comment about whether a new policy will be implemented or if state leaders are planning to appeal the case.
Because of that, Henning-Sepkoski said he feels his petition could still prove critical.
"Hopefully [the court ruling] will be used to show how people feel about blatant discrimination towards trans people," he said. But if Ohio "appeals, there will be unrest or people will be upset about it. It affects lives, and people care about this."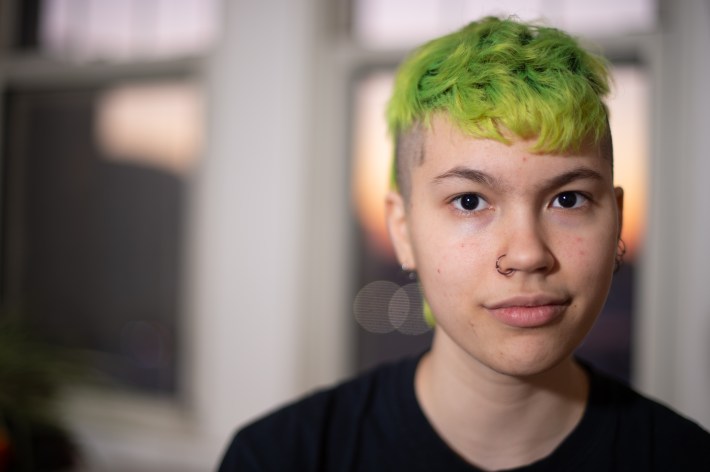 Ohio is one of 28 states where LGBTQ Americans are at higher risk of discrimination, according to the Human Rights Campaign Foundation and the Equality Federation Institute's 2020 State Equality Index.
In comparison, Illinois is rated as one of 17 states working toward innovative equality, the highest category in the report. In 2017, the Illinois General Assembly passed a law allowing corrected gender markers on birth certificates. Transgender or non-binary people in Illinois can apply to change their gender markers on their state IDs and driver's licenses, as well. 
Gov. JB Pritzker signed an updated gender designation bill into law in 2019, mandating gender-neutral "X" designations be added to all state forms. The Secretary of State's Office has indicated this option may not be available on driver's licenses until 2024, according to the National Center for Transgender Equality. 
Lakeview resident Matthew Cox, 30, who is transmasculine, changed his gender markers on all legal documents in 2018. At the time, he was already out as trans and physically passed as male, which he said made the legal transition easy. 
It also helped boost Cox's self-esteem and immensely helped daily activities like getting prescriptions or getting ID'ed at bars, he said.
"It was nice to have my new name and gender on everything because I didn't get questioned," Cox said. "Every time I wanted to do something as simple as go to the pharmacy, I didn't have to out myself." 
Cox said he is privileged to pass as male and be born in a state that has gender-affirming policies. He applauded Henning-Sepkoski's efforts to put pressure on Ohio and be a voice for the trans community. 
Changing your name and gender marker "is a very long, expensive and complicated process, so more petitions to make it easier and free would be great," he said.
Henning-Sepkoski plans to update his gender marker on his Illinois ID when he gets his driver's license and hopes the state's progress toward LGBTQ equality can be an example for states like Ohio and Tennessee.  
He said the petition is about more than just recognizing his identity and reducing gender dysphoria. He said he feels like changing his gender markers on all of his legal documents will prevent people misgendering him, which often happens.
"I hate when people are like, 'Oh, you were born a girl but you are a boy now.' No. I was born a boy. I've always been a boy," Henning-Sepkoski said. "The body I've been in just happened to catch up to me, but I was a boy [at birth] so I'd like it on my birth certificate."
The young advocate said his experience of starting the petition shows the importance of standing up for what you believe in and supporting the broader fight for transgender equality. 
"It shows other young people that you can start a petition and take steps [to] can change the world," he said. "Show people what matters to you and people have to listen."
Subscribe to Block Club Chicago. Every dime we make funds reporting from Chicago's neighborhoods.
Already subscribe? Click here to support Block Club with a tax-deductible donation.