CHICAGO — Another 69 Illinoisans were reported dead from coronavirus during the past day.
The most recent victims included 26 people from Cook County, including a man in his 20s and a woman in her 30s.
At least 19,375 people have died from COVID-19 in Illinois, and another 2,045 deaths are probably related to the virus, according to the state.
The state reported 3,314 confirmed cases during the past day. That brings the total number of confirmed cases in Illinois up to 1,134,231.
RELATED: A Year Of Loss: COVID-19 Has Killed More Than 4,500 Chicagoans. For These Families, Life Will Never Be The Same
But there are signs of hope: Though Illinois' vaccination campaign has been slower than other states', more than 1 million doses of coronavirus vaccines have been administered across Illinois as of this week.
And Chicago and Illinois are weeks into vaccinating people, and new cases, hospitalizations and deaths have dropped in the city and statewide since a mid-November peak.
"We are getting so close to that target positivity of less than 5 percent, which is where we really want to be, ideally, where we were over the summer," Dr. Allison Arwady, head of the Chicago Department of Public Health, said during a Tuesday livestream. "That has been really nice progress.
"Both our positivity and our daily case rate are the best they've been in four months."
The state is administering an average of 45,787 vaccine doses per day, based on a seven-day rolling average. So far, Illinois has administered at least 918,235 vaccine doses of the 1,583,425 provided to it.
More than 211,000 doses of vaccine have been administered to Chicagoans.
Another 175,900 vaccines have been administered in long-term care facilities, which have been provided 496,100 doses. Those vaccinations are done through a federal partnership with pharmacy chains.
Gov. JB Pritkzer said Thursday the state is doing "everything we can" to help speed up vaccinations in long-term care facilities, and they're now on "a good trajectory." He said he recently spoke with the heads of CVS and Walgreens, which are administering the vaccines as part of the federal program.
"They're working hard to complete that," Pritzker said at a news conference. "They've agreed that they will complete the first round of assisted living sites by Feb. 15" and have finished the first round of vaccinations at skilled nursing facilities.
All together, at least 1,094,135 vaccine doses have been administered in Illinois.
Pritzker said Thursday he's "excited" because the state has created mass vaccination sites and he was promised by the Biden administration Illinois will get 16 percent more doses this week, which means the state will do more vaccinations.
"The average number of doses per day that's being administered is going up significantly," Pritzker said.
Illinois and Chicago are vaccinating people 65 and older and frontline workers as part of Phase 1B of the vaccination campaign. Illinoisans who are eligible are able to make appointments to get vaccinated at pharmacies, their health provider's office, state-run mass vaccination sites and other places.
RELATED: Here's How You Can Get Vaccinated Against Coronavirus In Chicago
The state is peeling back some of its coronavirus safety restrictions as regions get their outbreaks more under control. Chicago is now in Phase 4, the phase when the state's restrictions are at their most relaxed before a full return to normalcy.
At the same time, a more contagious variant of the virus from the United Kingdom has been found in Chicago.
The state's ability to have indoor service and youth sports "could be cut short if we aren't extremely careful," Pritzker said at a news conference in January. "The CDC is already warning that the faster-spreading U.K. variant could become the dominant strain in the United States in March. And a virus that's more contagious ultimately results in more cases, more hospitalizations and more deaths.
"I know none of us wants to see another wave of COVID that brings on more mitigations, so let's not let our guard down."
And officials have cautioned it will be months before vaccines are widely available to the public. Chicago's plan tentatively predicts vaccines will be available to everyone 16 and older by late May.
That means people are still at risk and will have to continue taking precautions for much of 2021, officials have said. People should keep wearing a mask, staying socially distant, washing their hands frequently, not gathering, not traveling and not having people into their home, experts have said.
Illinois' seven-day positivity rate fell to 3.5 percent Wednesday with 96,894 tests reported. It was at 3.9 percent Tuesday. The figure represents the percentage of people testing positive among recent tests.
Illinois' seven-day test positivity, which measures the percentage of tests that were positive, fell to 4.5 percent Wednesday. It was at 4.9 percent Tuesday.
As of Tuesday night, 2,469 people were hospitalized with coronavirus in Illinois, including 520 people in the ICU and 270 people using ventilators.
In Chicago, nine deaths and 473 confirmed cases were reported since Tuesday. There have been at least 4,666 deaths from COVID-19 in Chicago and 235,839 confirmed cases, according to state data.
The city is seeing an average of 10 deaths per day, down from an average of 12 deaths per day the week prior.
An average of 561 confirmed cases are being reported per day, a 17 percent decrease from the previous week. At the same time, testing has decreased by 2 percent.
The city's seven-day positivity rate is at 5.6 percent, down from 6.6 percent the week before.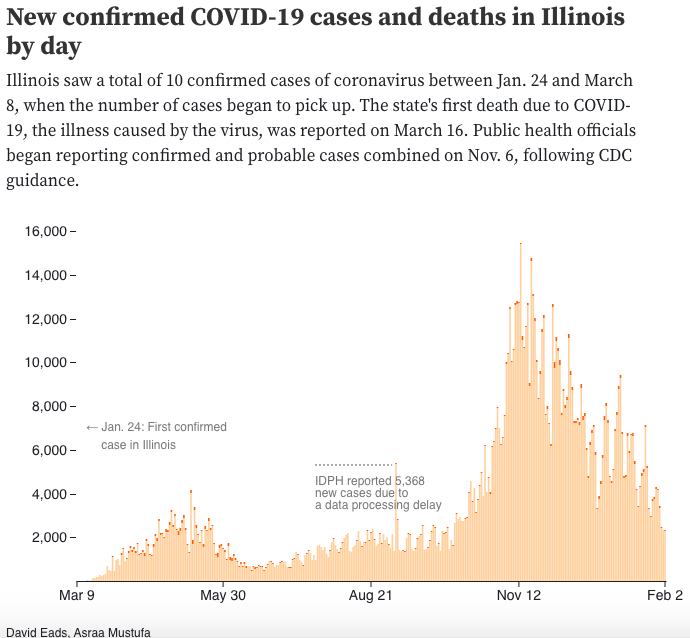 Block Club Chicago's coronavirus coverage is free for all readers. Block Club is an independent, 501(c)(3), journalist-run newsroom.
Subscribe to Block Club Chicago. Every dime we make funds reporting from Chicago's neighborhoods.
Already subscribe? Click here to support Block Club with a tax-deductible donation.