AVONDALE — Wherewithall, an Avondale restaurant that was just starting to take off before the pandemic hit, is now a community kitchen offering 1-cent or pay-what-you-can meals.
Husband-and-wife owners Beverly Kim and Johnny Clark drew inspiration — and funding — from Ed Marszewski, co-founder of Bridgeport's Kimski. Marszewski transformed Kimski into a community kitchen over the summer under his Community Canteen program, the idea being people in need could pick up free meals and others could pay whatever amount they could to support the program.
Wherewithall, 3472 N. Elston Ave., is operating the same way. With funding from Marszewski's Community Canteen program and The LEE Initiative, Kim and Clark have been able to ramp up their service, going from two days a week in October to four days a week earlier this month.
Wherewithall, like Kimski, is also accepting donations. Kim said they hope to keep the project going through April.
"We're just trying to help as much as we can," Kim said. "It's been a remarkable source of positive energy, a source of light during this very dark time."
Wherewithall the community kitchen is open 10 a.m.-2 p.m. Tuesday-Friday for pickup. Neighbors can either order online or in person at the restaurant's pickup window.
The meals cost at least 1 cent because the restaurant's point-of-sale system doesn't allow them to process free meals, Kim said.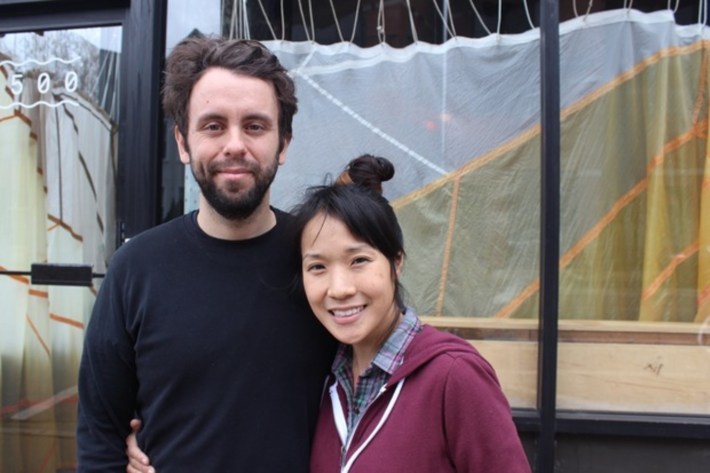 On the menu is a mix of takeout-friendly Wherewithall dishes, pastries from Hewn, coffee from Metric Coffee and cookies from Pretty Cool Ice Cream. Last week, the community kitchen served a lemongrass chicken bahn mi sandwich, a patty melt with ramps, asparagus and chili relish and Anson Mills Carolina rice grits. Middle Brow in Logan Square provided the bread.
Some of the ingredients were donated by local farms through The LEE Initiative, Kim said.
"It's not just supporting the four employees we have here; it's supporting our vendors [and farmers]. They've been shocked by this whole pandemic , as well," she said.
Wherewithall is the sister spot to the couple's award-winning restaurant Parachute, which is next door.
Kim said they've been able to keep Parachute open for limited pickup service during the pandemic because it's more established, but for a while they struggled with Wherewithall, which had only been open for eight months before the pandemic hit.
"We opened, then we closed, then we reopened," Kim said. "When we reopened little Parachute, we decided to focus on one restaurant. When we saw the numbers, we were like, 'Oh my gosh, we can't open Wherewithall right now. It'd be negative, negative.'"
Marszewski's community kitchen was an attractive route for a few reasons, Kim said. It allowed them to hire back two employees and provided structure. Under the program, a set number of meals are prepared each day. Wherewithall has been cranking out at least 150 meals a day. More importantly, the program is a way to give back to neighbors who are struggling during the pandemic.
"For so long, we were just chasing ourselves, trying to figure out who we were," Kim said. "I feel really confident: This is who we are."
Kim said some people have been reluctant to buy the meals for 1 cent, worried they might be taking meals from people who need the food more. But she wants neighbors to know the meals are for everyone in need, not just those who are destitute. The meals are also for furloughed or laid-off workers struggling to pay rent.
Kim encouraged neighbors who aren't struggling to pay what they can because that is what will keep the project going.
"People who are doing better because of the pandemic, this is a good way to help," she said. "Maybe instead of buying your office lunch, you can [put] that same budget to buying a lunch meal here and knowing that it's going to go toward buying free meals for other people."
Subscribe to Block Club Chicago. Every dime we make funds reporting from Chicago's neighborhoods.
Already subscribe? Click here to support Block Club with a tax-deductible donation.