LINCOLN SQUARE — A developer planning a grocery store at a prime Lincoln Square intersection is avoiding sharing details about the project by invoking a non-disclosure agreement and breaking up construction into two phases that bypass city oversight, local leaders said Thursday.
Developer Hubbard Street Group is pursuing a two-story commercial development at the Fifth Third Bank building at 4800 N. Western Ave. that would include a national grocery store chain taking up the entire second floor. The first floor would include a smaller footprint for Fifth Third Bank, parking and a small section for the grocer, according to city officials
But company leaders have shared no information about which retailer would be behind the store at Lawrence and Western avenues. Many business owners suspect could it be an Amazon Fresh, prompting them to circulate a petition to demand a public hearing for the project.
At a community meeting Thursday, Alds. Andre Vasquez (40th) and Matt Martin (47th) said they are frustrated they cannot obtain the most basic details about the project to share with residents.
"The lack of information right now is not tenable," Martin said. "We don't know who that grocer is or what the details are of what their operations would look like."
The proposed project is just across the street from the 47th Ward border and a short walk from the Heart Of Lincoln Square commercial district in Martin's Ward. 
During a brief survey of around 350 attendees via the Mentimeter app, more than 200 people said they were concerned a new grocery store could hurt local businesses in the area.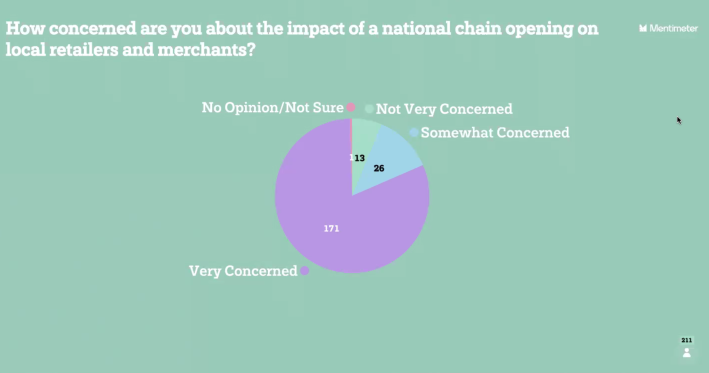 Patrick Murphey, a city zoning administrator, explained the first phase of the project involves the bank property and the developer is proposing to do the construction within the current zoning designation. Because no zoning change would be required, it skips typical aldermanic review.
The second phase involves a parking lot to the north, but it isn't clear what the developer is planning there. But Murphey said whatever happens with the lot likely will compel the developers to reconfigure an alley, and that requires permission from the city's department of transportation. 
"If the developer is not going to engage with the community then I think anytime the developer is requesting something from the city then that should be taken into account," Murphey said. "Whatever is built here, if it's built without community engagement, I think that is going to be a negative."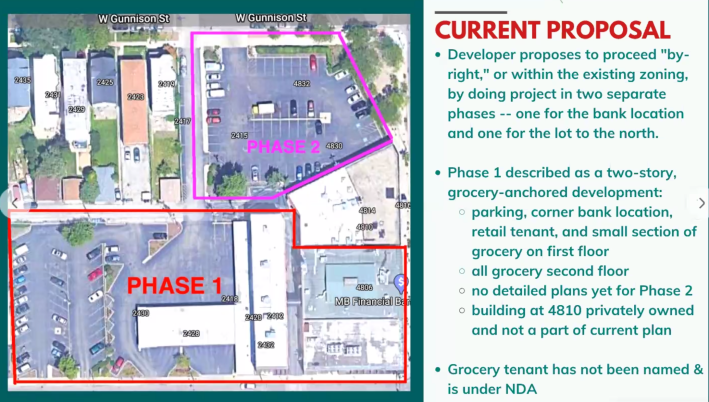 Hubbard Street Group was also invited to join in the meeting but they did not attend, Vasquez said. Ward officials also told neighbors the developer has yet to file any formal applications with the city as of Thursday, which further limits information available about the project.
When Vazquez's office got wind of the proposed project in December, the alderman said he wanted to notify neighbors as soon as possible to put pressure on the developer to speak to the public about it. Neighbors also asked if the developer had shared a timeline about when details would be revealed.
"I wish I could say that they did but they haven't," Vasquez said. "But the answers we've received are that there's a legal agreement so they just can't share it."
Hubbard Street Group did not respond to a request for comment.
John McLinden, managing partner at Hubbard Street Group, previously told Block Club his firm was finishing preliminary planning for the project before they "engaged with stakeholders."
In addition to the petition for a hearing, Lincoln Square neighbors and business owners also have launched a website arguing a new major grocery store isn't needed in Lincoln Square and that it would badly hurt the community of locally-owned businesses. 
Representatives from Lincoln Square Neighbors North, Heart of Lincoln Square, and the Greater Rockwell Organization also attended Thursday's meeting and shared their concerns a new grocer could harm nearby HarvesTime, 2632 W. Lawrence Ave., and their frustrations that the developer hasn't reached out to the community. 
"It's really hard to evaluate a project when you don't know much about it," said Adam Kingsley, planning and advocacy committee co-head for Heart Of Lincoln Square. "We don't like the fact you're avoiding this process. Even if you can build by right we think you should be engaging with the aldermen and the community organizations in this process." 
Rudy Flores, executive director of the Lincoln Square Ravenswood Chamber of Commerce, added that over 2,000 neighbors singled out the intersection of Lawrence and Western as an important "gateway" to the community in the most recently completed master plan for the area. 
"This is key because with all the processes we've gone through to create this master plan, community input has been the most important piece," Flores said.
Flores is also working with local businesses that could be impacted by the development. He also advocated for both Vasquez, Martin and the department of planning to treat the two phases of the project as one large development in order to require City Council approval of it. 
Vasquez and Martin are also collecting feedback from neighbors to share with the developer and any other parties involved in the project. To participate in the survey click here.
RELATED
Corporate Grocer At Prime Lincoln Square Intersection Would Be 'Atomic Bomb' For Local Businesses, Critics Say. But Can It Be Stopped?
Subscribe to Block Club Chicago. Every dime we make funds reporting from Chicago's neighborhoods.
Already subscribe? Click here to support Block Club with a tax-deductible donation.