CHICAGO — City leaders have flagged 40 pieces of public art throughout Chicago for review due to their connections to white supremacy, slavery and inaccurate portrayal of Indigenous people, the co-chair of a commission tasked with studying the city's monuments announced Friday.
In August, Mayor Lori Lightfoot formed an advisory committee to study over 500 public monuments and memorials to identify problematic artworks and recommend new monuments to recognize a more diverse reflection of the city's history.
The committee was formed weeks after Lightfoot "temporarily removed" three statues of explorer Christopher Columbus, including one in Grant Park that had been the scene of a violent clash between protesters and Chicago police officers.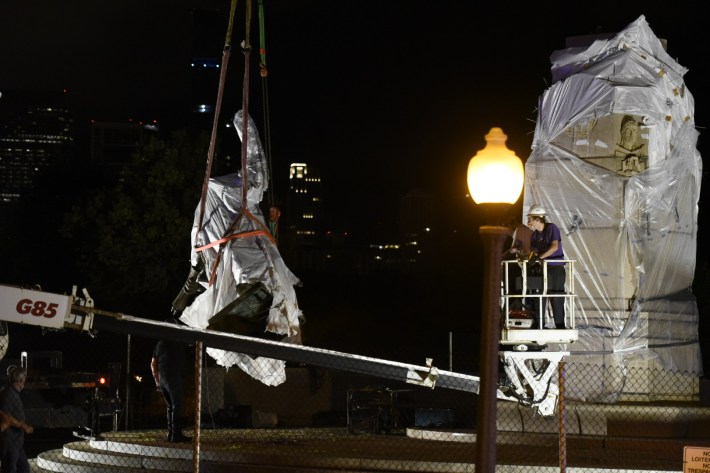 The announcement was made during the virtual Together We Heal summit, a city initiative launched last year to address systemic racism in the city and promote racial healing in the wake the coronavirus pandemic, which has disproportionately affected Black and Brown communities, and summer protests against police brutality.
Jennifer Scott, co-chair of the advisory committee and director of the Jane Addams Hull House Museum, said the 40 monuments and memorials were flagged for meeting one of several criteria:
Promoting narratives of white supremacy
Presenting inaccurate and/or demeaning characterizations of American Indians
Memorializing individuals with connections to racist acts, slavery and genocide
Presenting selective, over simplified, one-sided views of history
Not sufficiently including other stories, in particular those of women, people of color and themes of labor, migration and community building
Creating conflict between groups of people who see value in these artworks and those who do not
A list of the 40 monuments will be announced "very soon" and a website will be created to solicit feedback, officials said. Scott did not say what actions could be taken to address the problematic monuments.
During the summit, several artists and historians who sit on the committee reflected on the importance of public art, reviewed artworks in Chicago and shared details of new artwork under development or in the planning stages.
The panel did not reveal the fate of the three Columbus statues removed this summer in the wake of local and nationwide attempts to remove memorials to the explorer, criticized for raping and pillaging the Indigenous communities he encountered upon landing in the Americas.
After saying for months the monument would remain, Lightfoot ordered the statue to be "temporarily removed" in the middle of the night on July 24. A second Columbus statue in Little Italy's Arrigo Park was also removed that evening. A week later, a third statue honoring the explorer was removed from an intersection on Chicago's South Side at East 92nd Street.
Lightfoot has not commented on the future of the statues, saying they will be part of the assessment of the monuments and memorials advisory committee.
The update on the group's work began with a showing of the short film "Acknowledgement" by Santiago X that featured a spoken word poem recognizing Chicago was founded and continues to exist on the land of Indigenous people.
Santiago X, an Indigenous artist and advisory committee member who created  an earthen effigy mound in Horner Park and is planning another earth work that will be conjoined with the mound, said his video was "intended to acknowledge the ancestral people's, the land, the water, the air, the earth," from different perspectives and languages. 
"When we confront the foundations of what this place is, the histories, the atrocities, we can establish, through this recognition and acknowledgement, the embedded truth in this land, the truth in the people that prospered since this erasure," he said. 
He is also working on augmented reality artwork that will allow residents and tourists to learn Indigenous history through a mobile application that will shed the "veil of colonialism" to unlock the history of "unceded lands" across the city.
Adam Green, an associate professor of American history at the University of Chicago, said "truth telling is tremendously important."
"Part of the reckoning that we have to come to terms with now is that if we continue to believe in half-truths, or if we continue to believe in outright misrepresentations of who we were and where we came from and what we've experienced, we will have a society that can't stand," he said.
Cesario Moreno, visual arts director of the National Museum of Mexican Art, said the murals and graffiti works found throughout Pilsen and Little Village are "extremely powerful … crucial and celebration of our past, or present struggles in this country."
Amanda Williams, an artist who was commissioned to erect a monument to educator and politician Shirley Chisolm in New York City, said it's "important to ask how we can heal when a trauma is ongoing."
"I think it's important…to really emphasize the idea that the accountability and the acknowledgement are not just saying the words, but are really sitting with the pain, not just for those who were the recipients, but for those who are the actors as well," she said.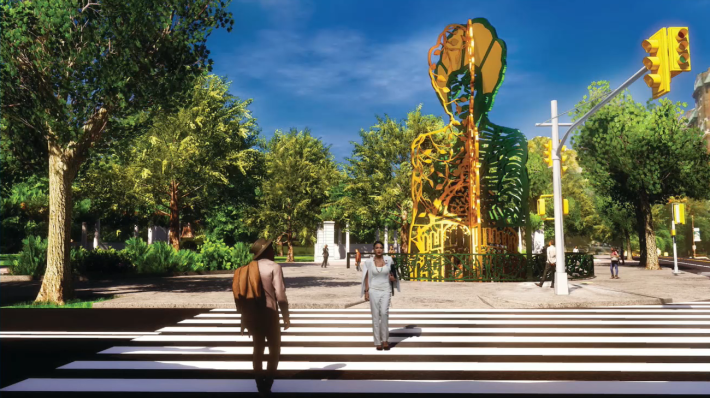 Subscribe to Block Club Chicago. Every dime we make funds reporting from Chicago's neighborhoods.
Already subscribe? Click here to support Block Club with a tax-deductible donation.