LOGAN SQUARE — Red Star Liquor, a fixture on Logan Square's Milwaukee Avenue since 1991, is no longer just a liquor store — it's also an Italian sub spot.
Owner Esam Hani converted an under-used area of the liquor store at 2725 N. Milwaukee Ave. into a walk-up deli counter to bring in more revenue during the coronavirus pandemic.
Like so many other restaurant and bar owners across the city, Hani is struggling to keep his businesses afloat during the pandemic. The deli counter, called Red Star Deli, is an "extra source of revenue to get us through this," Hani said.
"During these times, we all try to get creative and innovate and try to figure out how to survive," he said.
Hani quietly opened the deli counter about three months ago, but in recent days he put up signs and opened up the windows to draw in more customers.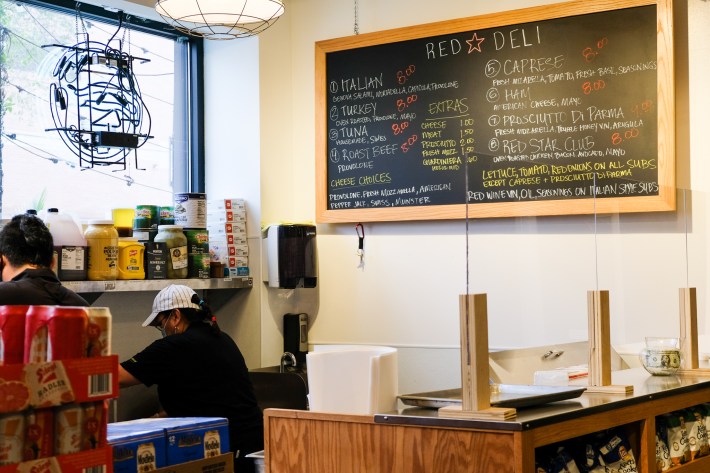 Red Star Deli serves an array of Italian sandwiches. The counter, tucked into Red Star Liquor, is open 11 a.m.-8 p.m. daily for pickup and delivery.
Hani said he was inspired by Hero's sub shop, a longtime North Center favorite that closed in 2017. All of the sandwiches at Red Star Deli are made on fresh bread brought in daily.
"I grew up going to Hero's. We used to go there and get our subs, so I always crave those subs," he said. "I said, 'You know what, it'd be great if we could recreate that.'"
Hani also recently opened a hot dog joint, called Mr. E's Late Nite, at 2704 N. Milwaukee Ave. It's his sixth restaurant or bar on the block. He owns The Old Plank, Saba, Café Con Leche, Harding Tavern and The Walk In.
Hani said he's lost "a lot of money" during the pandemic and has had to use savings to cover expenses, but so far he's been able to keep up with his bills and avoid permanent closures. He said Red Star Liquor and Café Con Leche, two of his oldest spots, are bringing in enough money to keep the other restaurants and bars afloat.
"It's 30 years' worth of work I've got under my belt. I'm not going to give up that easy," he said. "It's important to me. It's important to this neighborhood."
In Hani's quest to keep his empire alive, Red Star Deli is just one piece of the puzzle.
Hani said he received a Paycheck Protection Program loan from the federal government during the first round and recently applied for a second round of funding. Officials recently relaxed restrictions on indoor dining and Hani is taking advantage of the change at all of his restaurants and bars.
As is the case for many restaurants and bars in the city, none of these things, on their own, will save Hani's businesses — but all of them together just might.
"Our biggest thing right now is getting the foot traffic," Hani said. "The foot traffic with the weather and pandemic isn't what it was."
He's optimistic that in the spring, when he hopes the pandemic will have subsided, "It's going to be just fine."
You can order from Red Star Deli here.
Subscribe to Block Club Chicago. Every dime we make funds reporting from Chicago's neighborhoods.
Already subscribe? Click here to support Block Club with a tax-deductible donation.