CHICAGO — Mayor Lori Lightfoot blasted two aldermen for making "racist" and "xenophobic" comments Wednesday as the City Council voted to expand protections for immigrants under the city's sanctuary city law.
The mayor slammed Ald. Anthony Napolitano (41st) and Ald. Raymond Lopez (15th), who both opposed changes to the Welcoming City ordinance Wednesday.
"Being an immigrant is not a crime," the mayor said, addressing both aldermen by name at a press conference after the meeting. "I just have to say, shame on you."
"Spirited debate, which is at the heart of our democracy, is not the same as using racist tropes and xenophobic rhetoric to promote yourself on the backs of others and demonize them," Lightfoot said. "And we dare not be silent when that happens, particularly not when it's coming from the mouths of City Council members."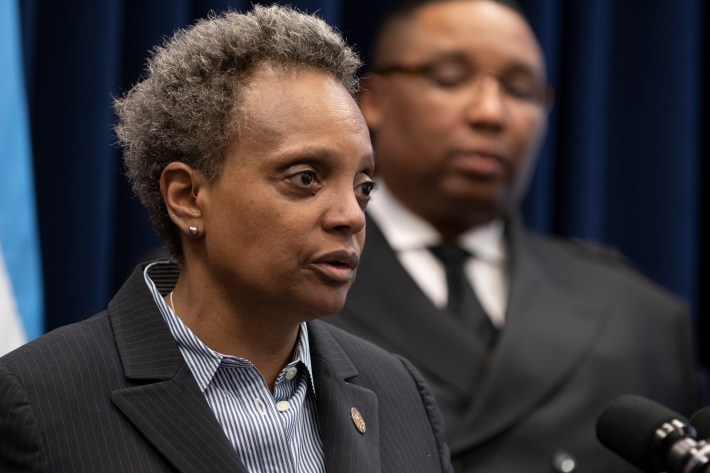 The council approved the revamped law by a 41-8 vote, closing loopholes that had allowed for the Chicago Police Department to work with Immigration and Customs Enforcement agents in some scenarios.
Napolitano, the council's lone Republican member who said he's a "proud son" of immigrants, said that by eliminating those exceptions "we are essentially welcoming criminals to our city." 
"If you are an illegal immigrant and a convicted felon, or a fugitive, what better place to go than Chicago," he said. "This ordinance irresponsibly offers protections to those who have possibly broken the law to hide underneath this ordinance and gives them safe haven from federal prosecution."
Napolitano said he knew he'd receive criticism for his "no" vote, but said he wanted the Council to know he'd "lose more sleep every night knowing how we failed our citizens with our alarming crime rate, homicides, carjackings, shootings."
Ald. Raymond Lopez (15th) said he opposed the changes "not because of racism and xenophobia, but because I too represent immigrant communities." He said the law threatens the safety of residents in his Southwest Side ward and some undocumented immigrants in his area are gang members.
"They have been sucked in by the generational violence that impacts so many of our communities," he said. Those individuals would be treated with the "same compassion" as law abiding members, he said.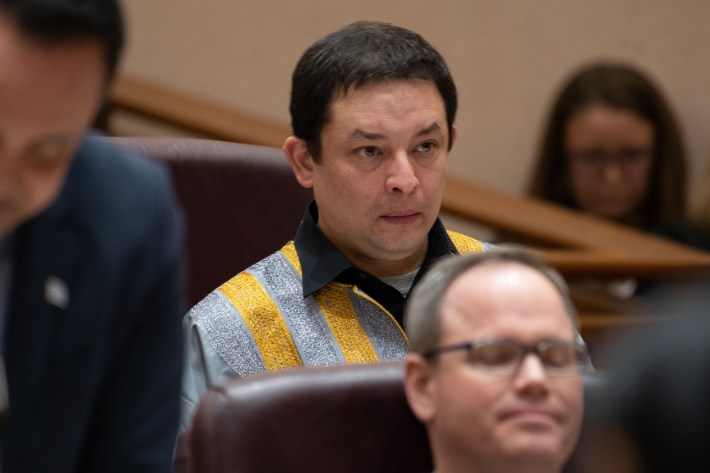 Lightfoot said it was "fear mongering" to suggest the ordinance would make the city less safe.
"When we seek to protect any group of vulnerable residents, that somehow we are inviting criminals to run amok, that is wrong, it is racist and I condemn it in the strongest terms possible," she said. 
Lightfoot also called out former President Trump for using his Twitter feed like a "cudgel against anyone he felt like demonizing," especially immigrants and refugees.
"This man spared no opportunity to deepen the divides, that is not what we need in Chicago," she said. "We are better than that as a country, as a state and certainly as a city."
Along with Napolitano and Lopez, Ald. Marty Quinn (13th), Ald. Matt O'Shea (19th), Ald Silvana Tabares (23rd), Ald. Nick Sposato (38th), Ald. Brendan Reilly (42nd) and Ald. Jim Gardiner (45th) also voted no.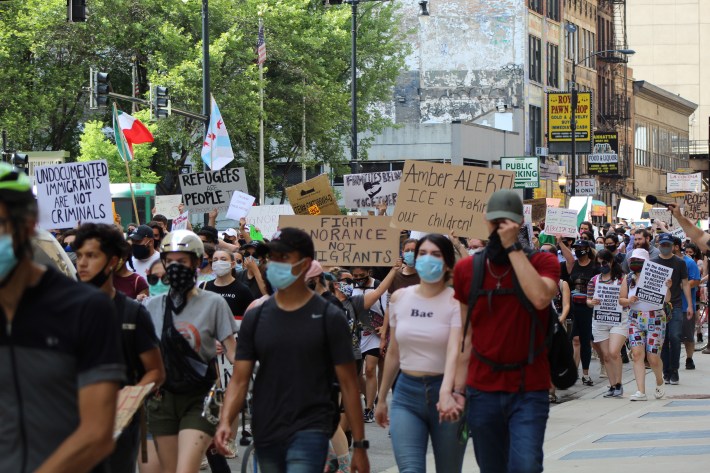 The sanctuary city measure first created by former Mayor Harold Washington through an executive order in 1985. It became law in 2006. It prevents city departments and officials from providing information on or assisting investigations into the immigration status of Chicago residents.
But the law had four exceptions until Wednesday's vote. Police could support U.S. Immigration and Customs Enforcement agents when the subject of an investigation:
has an outstanding criminal warrant;
has a felony conviction;
is a defendant in a pending criminal case involving felony charges;
has been identified as a known gang member in a law enforcement database or by their own admission.
The ordinance eliminates those exceptions, requires police to work with victims and witnesses who report crimes regardless of immigration status and mandates that crime survivors who help police investigations are provided paperwork to obtain a federal U Visa.
The refashioned ordinance also eliminates the word "citizen" in several places in the municipal code to "make it clear those provisions of the city code include all Chicago residents," Ald. Carlos Ramirez-Rosa (35th) said.
The changes were co-sponsored by Lightfoot and Ramirez-Rosa.
Ramirez Rosa said the passing of the ordinance, which advanced out committee last week on Trump's last day in office, would move the city away from "Trumpism."
"We are showing that not only did President Trump's attempt to undo our sanctuary city policies fail, but we are coming out of his presidency by strengthening them," he said.
Ald. Rossana Rodriguez Sanchez (33rd) said the passage of the changes marked a "beautiful moment" in the city and criticized Lopez.
"I just want to say this is about due process and undocumented people are not being afforded the right to due process, so that's what we are talking about," she said.
Last year, the City Council passed an ordinance that limited the assistance and data sharing between city departments and ICE, and terminated the agency's access to the Chicago police's controversial gang database. 
That ordinance also required police officers to document requests for assistance it received from federal immigration authorities, but it failed to eliminate the exemptions in the Welcoming City ordinance. 
In fall, Lightfoot faced blowback from the City Council's Latino Caucus for attaching the elimination of the exemptions in the Welcoming City ordinance to the budget, essentially daring those who opposed her spending plan to also vote against a measure meant to protect immigrants from ICE.
Ramirez Rosa told WTTW protections for immigrants should not be "held hostage" in negotiations over the controversial budget.
Lightfoot removed the measure from budget negotiations and introduced a new ordinance in December, co-sponsored by Ramirez Rosa. But Lopez sent it to the rules committee, a maneuver meant to delay or kill unwanted legislation.
By directly introducing a new version of the ordinance into committee last week., Lightfoot and Ramirez Rosa sidestepped Lopez's tactic. 
Subscribe to Block Club Chicago. Every dime we make funds reporting from Chicago's neighborhoods.
Already subscribe? Click here to support Block Club with a tax-deductible donation.