CHICAGO — The first phase of a $100 million project adjacent to the 43rd Street Green Line stop in Bronzeville is closer to reality after getting a key city committee approval Tuesday.
The development, a joint-venture of The Habitat Company and P3 Markets, proposes bringing 99 apartments and 6,000 square feet of retail to a city-owned lot at 43rd Street and Calumet Avenue.
By tapping into low-income housing tax credits and a state grant, 50 of the units will be affordable, Phil Beckham of P3 Markets said during a virtual hearing of the city's Committee on Zoning Tuesday. The project was among several big-ticket items across the city to be approved, sending them to the full City Council for final review.
Ald. Pat Dowell (3rd) said the building will be the first transit-oriented development in the area, and she hopes it will be a "catalyst" for other development.
Beckham said the project is "personal" to him, with the neighborhood being home to him, his father and his grandfather.
"Everything this project entails is something that the community has been talking about and wanting for over ten years of meetings, block clubs meetings and block parties," he said. "It's exciting to reignite a dead retail corridor with three Black-owned businesses."
'Big Deahl' Development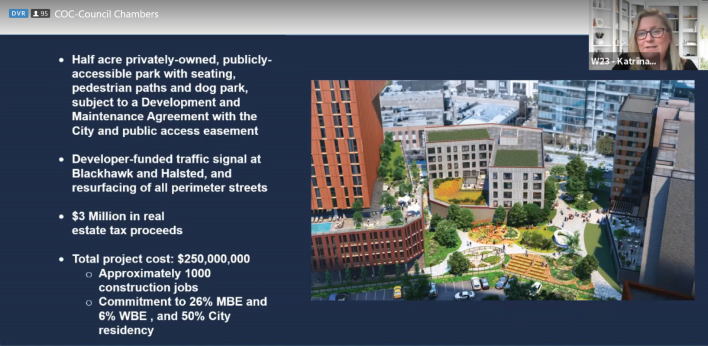 Meanwhile, Structured Development received approval for a zoning change to accommodate its $250 million Big Deahl project in the Halsted Triangle district, home to big box retailers and large residential towers.
The plan would bring 450 apartments across three buildings, including a 27-story tower, to an area that has undergone significant changes over the last two decades. 
The project would bring a rare form of housing to the city: 34 affordable condos. The condos will be made affordable at 100 percent of the local area median income. Developer Mike Drew said they will be three to four bedrooms and priced at a "maximum of $330,000-$360,000," roughly half of the market rate for similar condos in the area.
To comply with the city's affordable housing requirements, an additional 33 three-bedroom townhomes will be built at Harrison Street and Francisco Avenue in the 27th Ward, and are being sold for $229,000, he said. 
Ald. Walter Burnett Jr. (27th) supported the project, which was approved unanimously. Although the buildings will be built in his ward, the current residents in the area are largely in Ald. Brian Hopkins' 2nd Ward, who also supported development.
"It's a win-win for the city, it's a win-win for the community, it's a win for affordable housing, so we support this 100 percent," Burnett said.
Small Cheval, Plumbers' Parking And More
The committee approved several other projects in Burnett's ward, including a 14-story, hotel at 310 N. Peoria St, the fourth location of popular burger joint Small Cheval at 1352 W. Lake St., and an office and 500-space parking garage for the Plumbers Local 130 union.
The Double Door is one step closer to reopening in Uptown after the committee approved plans for development firm Cedar Street to build a 62-unit apartment building on a parking lot at 4600 N. Kenmore Ave. and relocate the iconic music venue to the Wilson Theater, adjacent to the lot.
A minor zoning change was approved for the former home of California Clipper, at 1002 N. California Ave. in the 26th Ward. The building's landlord, Gino Battaglia sparred with former tenant, Brendan Sodikoff of Hogsalt fame, over the tavern's rent this summer. No immediate plans for the former tavern were shared during the meeting.
Ald. Matt Martin (47th) announced during the meeting the developers of two projects in his ward had agreed to restrictive covenants to provide more affordable housing units than the city requires.
Eight units, instead of four, will be included in the six-story mixed use project with 39 residential units at 1800 W. Bernice Ave. Four affordable units, instead of two, plus an additional three accessible units will be created at an old screw factory at 4046 N. Hermitage Ave.
Warren Silver, zoning attorney of the Hermitage project said, in another deal struck with Martin, the developer would work with Access Living to market the accessible units.
Misericordia's plans to convert the site of a former tennis club at 1925 W. Thorne Ave. into housing for 120 residents at its West Ridge campus were approved. Ald. Harry Osterman (48th) said the project would be a "welcome addition" to the "campus environment" that Misericordia has grown over the years.
The Emmett Till and Mamie Till-Mobley House
Three buildings received approval to be designated as historic landmarks, including the former home of Emmett Till.
The Emmett Till and Mamie Till-Mobley House, 6427 S. Lawrence Avenue in the 20th Ward, was the former home of the 14-year old-Chicagoan killed by white supremacists in Mississippi in 1955, helping to spark the Civil Rights movement of the 50s and 60s.
Chairman of the committee, Ald. Tom Tunney (44th) said it was an initial step for the city to recognize and honor Till. 
Also, the former home of "Word Jazz" creator Ken Nordine, which sold this summer for $1.38 million, will also be designated a historic district, pending City Council approval. 
Tunney said the new owners, Richard Logan and Angela Spinazze, have committed to repairing historic features of the home. 
Like the two homes, the Illinois Bell Building, 225 W. Randolph, had already received approval from the Commission on Chicago Landmarks before receiving approval Tuesday.
All items will be presented for a vote at Wednesday's City Council meeting. 
Several projects were deferred until another meeting, including a 1,000-seat Esports arena in the 3rd Ward and a 167-room hotel at 3440 N. Broadway in the 44th Ward. 
Subscribe to Block Club Chicago. Every dime we make funds reporting from Chicago's neighborhoods.
Already subscribe? Click here to support Block Club with a tax-deductible donation.