BUCKTOWN — Chicago police are upping the number of officers assigned to respond to carjackings around the city and, in one neighborhood, moving a camera with license plate reading capabilities closer to the Kennedy Expressway.
The department is adding 40 officers to its carjacking unit and detectives will begin meeting with carjacking victims on scene, leaders within the Shakespeare (14th) Police District said during a Monday webinar.
Detectives meeting with carjacking victims and witnesses immediately after the crime is similar to how homicides are investigated, 14th District Cmdr. Elizabeth Collazo said.
"We're treating these carjackings, because it's so chronic … as something as serious as a homicide," she said, referring to the immediate police response. "CPD is a very important piece of this puzzle … but we all have to work together."  
The district is also moving a camera with license plate reading technology to the intersection of Wood Street and Armitage Avenue in an attempt to catch more carjackers as they leave the neighborhood and hop on the Kennedy Expressway.
Ald. Daniel La Spata (1st) said his office is working toward adding a camera to the six-corner Wicker Park intersection of Damen, North and Milwaukee avenues, as recent carjackings have occurred in this area.
Carjackings have been surging in Chicago for more than a year. After a 135 percent jump in 2020, the trend is continuing with 144 carjackings reported in the first 20 days of 2021.
City Council discussed the issue for five hours during a Friday Zoom call with the Chicago Police Department, the State's Attorney's Office, the State Police and other agencies.
In Chicago, most of the attackers are between 15 and 20 years old and their motives include "joyriding and to facilitate anonymity while committing other crimes," Chicago Police Supt. David Brown has said. 
The majority of people arrested in connection with a carjacking are actually charged with a less serious offense, police statistics presented during Friday's meeting showed.
Out of 1,127 arrests related to carjackings last year, 949 ended in charges of criminal trespassing to a vehicle, which is a misdemeanor. The other 178 resulted in charges for vehicular hijacking or armed vehicular hijacking.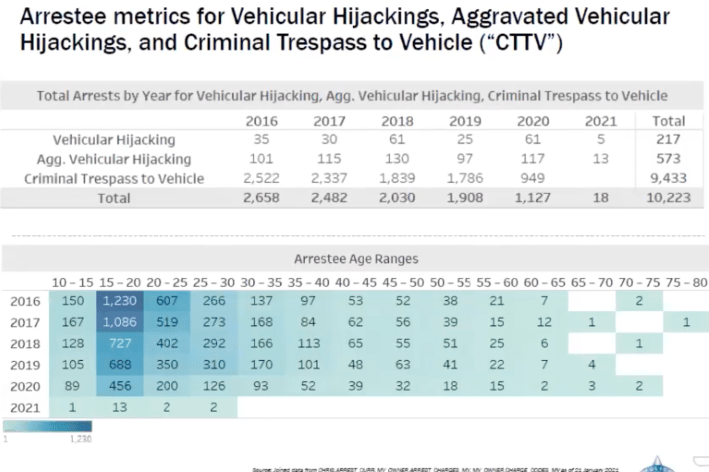 RELATED: Families Of Carjacking Victims Ask City, State Leaders To Do Something To Stop Surge: 'This Is … Chicago Crying For Help'
Ald. Scott Waguespack (32nd) said he was upset no one from the Chief Judge Timothy Evans' Office attended Friday's hearing. One of his big takeaways from the State's Attorney's Office's presentation was that the courts are seemingly less likely to find probable cause in a carjacking case if a victim can't positively identify suspects.
"We're gonna be looking more closely at that," he said. "It was very strange, the way they approached it at that meeting. There needs to be correction or further review of what they've done and are gonna do there."
The Chief Judge's Office did not receive an invitation to Friday's hearing and learned of the meeting the day of, spokeswoman Mary Wisniewski said in an email.
Neighbors who attended Monday's webinar raised questions about how and why suspected carjackers, who are often juveniles, are being charged with misdemeanors as opposed to felonies.
If someone is a suspect in a true carjacking — not a car theft or possession of a stolen vehicle — they will be arrested and charged by police with a felony, Sgt. Mike Edens said.
After that, Edens said, the case is in the hands of the State's Attorney's Office.
"Every officer will try and go for a felony for a case when possible," he said. "We call the State's Attorney's Office and present the facts, they decide. I'm not trying to pass blame, but that's the facts."
Edens said that while he can't speak for the State's Attorney's Office, he understood why it may be difficult to prove probable cause with these cases.
From his perspective, he said it's difficult to determine who actually committed a vehicular hijacking when police pull over a vehicle that has been carjacked and four teenagers are in the car.
"How do you put a felony on one person and misdemeanor on the others? … They're all in possession, but who stole it?" Edens said. "It's easy to sit there now and say, 'We have plague of carjackings, let's lock them all up.' … Are we going to ruin a child's life because they were in a car?"
Ald. Daniel La Spata (1st) said he and other aldermen are calling for a review of programs in place to deter youth crime. He also said he believed there was a connection between the economic crisis of the pandemic and the uptick in crime.
"To see any kind of crime go up almost 250 percent from one year to another to me says we cannot ignore the destabilizing and traumatizing impact of the COVID-19 pandemic and the stay at home order," he said.
Collazo said "it takes a village," and that she hopes police can work with local neighborhood groups, faith leaders, schools and families to deter young people from engaging in this kind of criminal activity.
Collazo also expressed sympathy for the victims of the crime.
"Sometimes we forget about what happens to our victims after all is said and done," she said. "Your life is changed forever."
Carjackings will be on the agenda during the Englewood Town Hall, which begins 6 p.m. Tuesday. Register here.
A representative from the State's Attorney's Office will join a webinar at 6 p.m. next Tuesday, Feb. 2, hosted by the 43rd and 44th Wards. Register here.
Subscribe to Block Club Chicago. Every dime we make funds reporting from Chicago's neighborhoods.
Already subscribe? Click here to support Block Club with a tax-deductible donation.