WOODLAWN — A shelter for women recovering from substance abuse disorder which has spent the past three decades in Woodlawn is temporarily moving to the West Side as its leaders plan for a permanent facility on the Far South Side.
The Southside Center of Hope has operated at 6423 S. Woodlawn Ave. since 1990, but the property is water damaged and not accessible for people with disabilities, executive director Yaisa Hagood said. The center was previously known as the St. Martin de Porres House of Hope.
Since the Woodlawn shelter was shut down — and before the center makes its temporary move to a West Side spot owned by nonprofit Inner Voice — residents have transitioned to domestic violence shelters, homeless shelters and family members' homes.
"Our staff has been able to go visit them once a week and make sure everything is okay for them through this transition," Hagood said.
Women may live at the center for up to a year without cost to them or their insurance provider. Residents receive meals and social services to help them enter workforce training programs, earn a driver's license, navigate legal troubles and more.
"We often say it's a very holistic program," she said. "Addiction treatment is the medical aspect of recovery — the first step is getting clean and detoxing. We come in following that, and do a lot more intentional work on healing the person as a whole."
Many women referred to the center require accessible living spaces, and the coronavirus pandemic further underscored the need to move, Hagood said.
"Given the need for social distancing and safety concerns, having 12 to 15 people in a dorm was not best practice," she said. "Knowing we were already in the process of selling our building and the challenges COVID presented, that expedited things for us."
The center's temporary move to 2425 W. Jackson Blvd. was delayed after an entire construction crew at the site tested positive for coronavirus, Hagood said.
Once residents are able to move in to the East Garfield Park space, it will serve as the center's home until a planned facility in West Pullman is built.
The center is partnering with the Interfaith Housing Development Corporation on the new building at 507 W. 119th St., with the support of Ald. Carrie Austin (34th).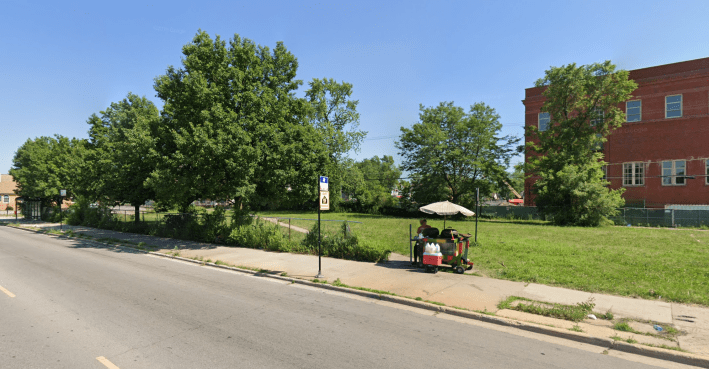 The Pullman facility is in its "very beginning stages," as Interfaith doesn't have the full project funding secured yet, president Perry Vietti said. The developer is also behind an affordable housing and retail development in South Chicago set to open by 2023.
"I like to call it lasagna financing, because it's layers and layers of funding," Vietti said. "That's part of the reason it takes a long time. You apply, sometimes get funded, sometimes you don't. To get the stack of money — the lasagna — put together, it takes time."
Existing plans call for a few dozen apartments to accommodate individuals and families, from studios to three-bedrooms. The estimated project cost is $9.5 million, though that's likely to increase as plans progress, Vietti said.
The Southside Center of Hope development will complement other projects in progress near 119th Street, said Chester Wilson, Austin's chief of staff.
These include Habitat for Humanity's effort to build new homes at 120th Street and Emerald Avenue, and the redevelopment of the former West Pullman Elementary School into 60 units of senior housing.
The hope is for women living temporarily at the Southside Center of Hope to remain in the neighborhood as homeowners once they exit the program, Wilson said.
The shelter's project "fits right in," he said. "Why have the ladies come out of there renting an apartment when they can own their own house for the same price?"
Subscribe to Block Club Chicago. Every dime we make funds reporting from Chicago's neighborhoods.
Already subscribe? Click here to support Block Club with a tax-deductible donation.