Ciro Castro knew how difficult it could be to build a life in Chicago.
He grew up working on a ranch in Mexico. He didn't go to school and immigrated to the United States when he was 15 or 16, said his daughter, Daisy Castro.
"There wasn't nothing over there," he'd tell his daughter. "I couldn't make a life over there, so I decided to come over here."
Castro found a job in Chicago — and ended up working at the same company for more than 35 years, his daughter said. He met his wife, Petra.
Together, they bought a house in Pilsen and raised their family of five kids.
The family rented out part of their home, but Castro wouldn't raise the rent — he knew their renters, many of them also immigrants, didn't have too much money, and he wanted to help them out, his daughter said.
Castro tried to help people in other ways, too, spotting them money when they needed it, helping with housework and fixing up cars.
That's what Daisy Castro first thinks of when she talks about her dad: how he helped the neighbors with everything and would say "hello" to everyone.
Ciro Castro died Dec. 30 from coronavirus. He was 59.
---
Ciro and Petra Castro were from the same small town in Mexico, though they met in Chicago, their daughter said. They were both hard workers, and they married after dating for two years.
"My dad really loved my mom — and my mom really loved my dad," Daisy Castro said.
The two were always together. Castro would surprise his wife with flowers, hug her and kiss her cheek for no reason. She'd make tamales or pork with salsa and beans, which he loved.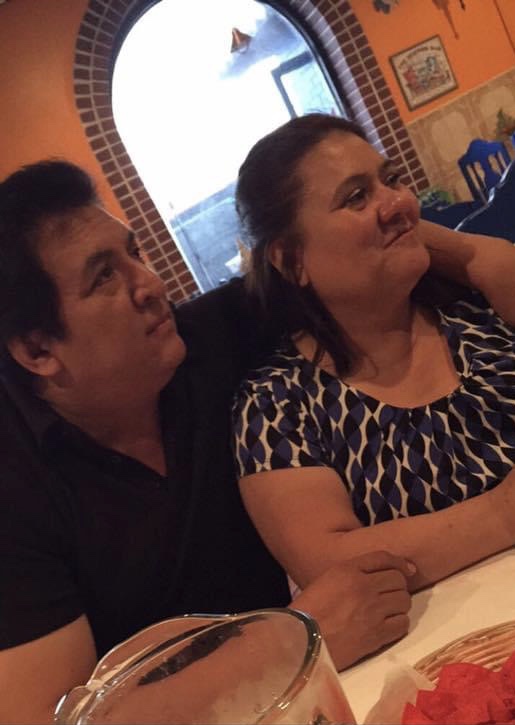 They might have a little spat, their daughter said, but an hour later "they'd be all lovey-dovey." You could look at the two and see the love between them.
With their children, Castro would tell them he loved them and provided them with everything they needed, his daughter said.
The family would go to the lakefront on the weekends, taking in the sights and having picnics. Castro told his daughter the breeze felt nice, and he liked to look at the water. He wouldn't swim — he'd just relax and enjoy the view.
As Daisy Castro grew up, her father still found ways to look after her, always offering to bring her food.
A decade ago, Daisy Castro had a daughter of her own, Vanessa Castro. At one point, she had to take a job in Texas and couldn't bring her baby.
Ciro and Petra Castro took in their granddaughter and looked after her. The little girl grew particularly close with her grandpa, who she called "Dad."
"And that was my dad's little girl," Daisy Castro said. "He would tell me, 'That's mine. That's my daughter.'"
The two were inseparable, playing at the house and going everywhere together when Castro had errands. Even when Daisy Castro came back to Chicago, her daughter frequently stayed with her grandparents, living as if she had two homes.
"I understand the bond they have together," Daisy Castro said. "She didn't have a father, but she found my dad to be her father.
"And I know that bond — that's like how he was for me."
---
Castro was a hard worker to the day he got sick. He hated to miss work, his daughter said.
But Castro developed a cough in December. On Dec. 8, he "was bad," his daughter said: His mind seemed to be somewhere else and he struggled to breathe.
Daisy Castro drove him to the hospital, but he couldn't walk inside.
The hospital tried to give Castro oxygen and intubate him, but his lungs weren't working, Daisy Castro said.
It got to the point that, on Christmas Eve, hospital workers called Castro's family and told them he didn't have much time left. They were allowed to visit for 15 minutes.
Castro was asleep when his wife and daughter came. Daisy Castro said she's not sure if he was able to hear her, but she spoke to him and touched him, father and daughter separated by the gloves she had to wear.
At Christmas the next day, the family was stuck to their phones, worried they'd get news of the worst. But they'd "seen that he was trying, he was fighting," Daisy Castro said.
Despite their hopes he'd recover, Castro died Dec. 30.
Daisy Castro couldn't tell her daughter — her father's "little girl" — until the next day. When Vanessa Castro, 10, became upset, her mother told her she could still talk to her grandpa.
"She started saying that she wanted him back and she didn't want Daddy to go away," Daisy Castro said. "I just told her that she has a big angel looking after her now."
The holidays were hard without their beloved father. Vanessa Castro, who once visited her grandparents as often as possible, now avoids going to their home. Petra Castro sometimes cries, her daughter said: She doesn't like to be at the house alone, without her husband.
But Daisy Castro said she wants people to remember her father as the generous, kind man he was.
"I would want [people] to think about the person he was," Daisy Castro said. "That he was friendly. He looked after others. His smile — he was always with a smile.
"The guy who would help whoever needed a hand."

Coronavirus was first found in Chicago on Jan. 24, 2020. In the year since, the virus has killed more than 4,500 Chicagoans. Block Club is remembering victims from across the city with our series, A Year of Loss.
Subscribe to Block Club Chicago. Every dime we make funds reporting from Chicago's neighborhoods.
Already subscribe? Click here to support Block Club with a tax-deductible donation.